ANALYSIS OF ULNAR VARIANCE DISTRIBUTION IN LOCAL ADULT ORTHOPAEDIC PATIENTS
Muhammad Zeeshan Aslam

Pakistan Naval Ship Shifa Hospital, Karachi Pakistan

Syed Waris Ali Shah

Pakistan Naval Ship Shifa Hospital, Karachi Pakistan

Mahwish Mahboob Bhutta

Bahria University Medical and Dental College, Karachi Pakistan

Mahrukh Asad Chandna

Bahria University Medical and Dental College, Karachi Pakistan
Keywords:
Method of perpendiculars, Orthopaedic patients, Ulnar variance
Abstract
Objective: To document the distribution of ulnar variance in the adult outdoor patients of orthopaedic clinic in tertiary care hospital of Pakistan.
Study Design: Cross-sectional study.
Place and Duration of Study: Pakistan Naval Ship Shifa Hospital, Karachi Pakistan, from May 2016 to May 2017.
Methodology: From the outpatient clinic of orthopaedics, 243 individuals' wrist X-rays were taken after informed consent. X-rays were in postero-anterior view with neutral arm position. Ulnar variance was measured using the method of perpendiculars. Other relevant data included were gender, age, and dominant hand. The data were then analyzed using SPSS-22.
Results: There were 175 males and 68 females in the collected sample with the mean age of 36.29 ± 11.26 years. In our study, the mean ulnar variance was 0.424 ± 1.4 with positive ulnar variance at a higher frequency of 56% followed by negative ulnar variance at 32.9% and finally neutral ulnar variance at 11.1%.
Conclusion: In the outdoor adult orthopaedic patients of Pakistan Naval Ship Shifa hospital, positive ulnar variance predominates followed by negative ulnar variance and lastly neutral ulnar variance.
Downloads
Download data is not yet available.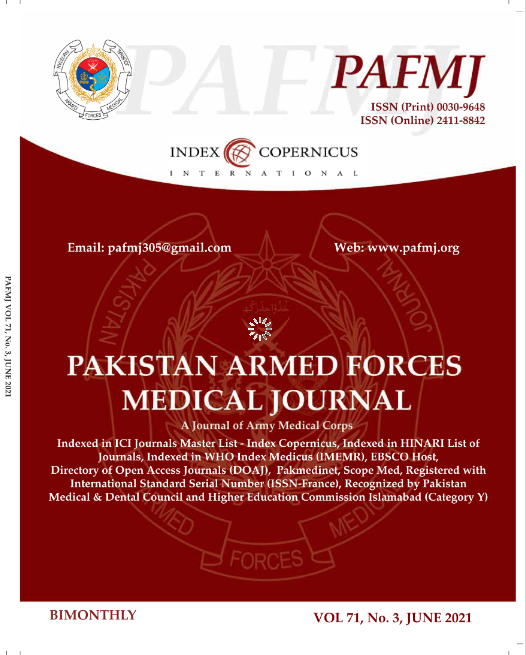 How to Cite
Aslam, M., Shah, S. W., Bhutta, M., & Chandna, M. (2021). ANALYSIS OF ULNAR VARIANCE DISTRIBUTION IN LOCAL ADULT ORTHOPAEDIC PATIENTS. PAFMJ, 71(3), 1037-40. Retrieved from https://pafmj.org/index.php/PAFMJ/article/view/6987
Section
Original Articles