COMPARATIVE ANALYSIS OF FETOMATERNAL OUTCOME IN INDUCED VS SPONTANEOUS LABOR IN NULLIPAROUS WOMEN AT TERM
Keywords:
Caesarean section, Induced labour, Neonatal outcome, Spontaneous labour
Abstract
Objective: To assess the feto-maternal outcome of spontaneous labor compared to induced labor in primiparous women at a tertiary care unit.
Study Design: A prospective comparative analysis.
Place and Duration of Study: Tertiary Care Hospital, Malir-Karachi Pakistan, from Sep 2018 to Feb 2019.
Methodology: A prospective comparative analysis of 255 subjects divided into two groups: induced labor (study) group and spontaneous labour (control) group. All low-risk nulliparous after 37 weeks with single cephalic presentation were included. Seventy six participants received induction of labour and 129 were enrolled in spontaneous labour. Fifty patients had elective caesarean section for medical/obstetric reasons. Data was collected for age, labour outcomes (vaginal delivery or caesarean section), neonatal outcomes and maternal complications.
Results: A total of 1165 deliveries occurred during the study period in hospital. Out of 255 subjects, in induced (study) group vaginal delivery rate was 46.1% whereas 83% delivered vaginally in spontaneous (control) group. Emergency caesarean section rate was 54% for study group compared with 17.1% in control group. Five percent of the patients had caesarean section due to obstetric reasons.
Conclusion: To conclude induction of labour is associated with an increased risk of caesarean delivery compared with spontaneous labour.
Downloads
Download data is not yet available.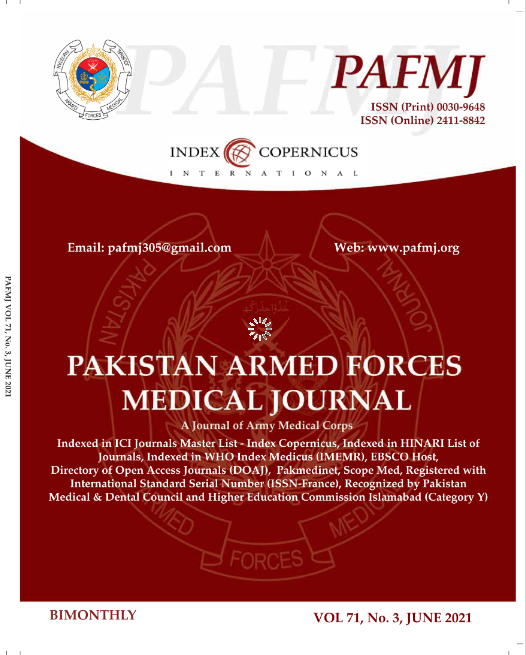 Downloads
How to Cite
Raja, A., Andleeb, M., Sohail, N., & Subuktageen, B. (2021). COMPARATIVE ANALYSIS OF FETOMATERNAL OUTCOME IN INDUCED VS SPONTANEOUS LABOR IN NULLIPAROUS WOMEN AT TERM. Pakistan Armed Forces Medical Journal, 71(3), 971–75. Retrieved from https://pafmj.org/index.php/PAFMJ/article/view/6980
Section
Original Articles