CHANGE OF NAME BY A PSYCHOTIC PATIENT: IS IT MANIFESTATION OF A PSYCHOPATHOLOGY MISSED UNTIL NOW?
Usama Bin Zubair

Liasion Psychiatry Conolly Hospital, Dublin Ireland

Eugene G Breen

Mater University Hospital Ireland,

Muhammad Shahbaz Shoaib

Combined Military Hospital Malir/National University of Medical Sciences (NUMS) Pakistan,

Hamza Bin Zubair

Holy Family Hospital, Rawalpindi Pakistan
Keywords:
Change of name, Psychopathology, Psychosis
Abstract
We present a case of a 24-year-old woman who changed her name 3 years after the diagnosis of schizophrenia. She had recurrent thoughts of changing her name for over a year and described her feelings as terrible as if captured in a dark room. She also had obsessional thoughts regarding God talking to her, body image and size. Low self-esteem was a constant feature. The psychopathology of her name changing seemed to be meshed between normal desire, obsessional fixation, overvalued ideas of its benefit, and psychotic thought processes.
Downloads
Download data is not yet available.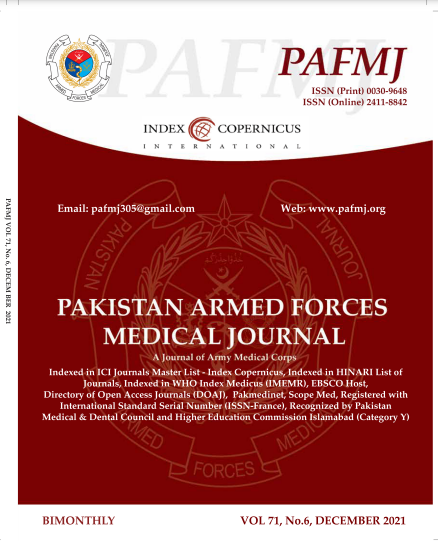 How to Cite
Zubair, U., Breen, E., Shoaib, M., & Zubair, H. (2022). CHANGE OF NAME BY A PSYCHOTIC PATIENT: IS IT MANIFESTATION OF A PSYCHOPATHOLOGY MISSED UNTIL NOW?. PAFMJ, 71(6), 2259-61. https://doi.org/10.51253/pafmj.v71i6.6973