Pattern of Congenital Heart Diseases among Term and Preterm Neonates in a Tertiary Care Hospital of a Developing Country
Fahim Ahmed Subhani

Islamic International Medical College Trust, Rawalpindi Pakistan

Abdul Wahab Siddique

Pak Emirates Military Hospital/National University of Medical Sciences (NUMS) Rawalpindi Pakistan

Ammara Ayub

Islamic International Medical College Trust, Rawalpindi Pakistan

Bilal Ahmed

Islamic International Medical College Trust, Rawalpindi Pakistan

Syed Awais ul Hassan Shah

Pak Emirates Military Hospital/National University of Medical Sciences (NUMS) Rawalpindi Pakistan

Asma Anjum

Foundation Medical University, Rawalpindi Pakistan
Keywords:
Congenital heart disease, Neonates, Pakistan
Abstract
Objective: To determine the frequency and pattern of various congenital heart diseases in a tertiary care hospital neonatal unit.
Study Design: Prospective longitudinal study.
Place and Duration of Study: Neonatal Unit of Pak Emirates Military Hospital, Rawalpindi Pakistan from Jul 2015 to Jun 2018.
Methodology: All neonates admitted to the Neonatal Unit of Pak Emirates Military Hospital, Rawalpindi Pakistan, suspected of having congenital heart disease were included in the study. Suspicion for CHD was based on the presence of murmur, cyanosis with or without feeding difficulty, signs of congestive heart failure, and variation in pre and post-ductal SpO2 reading. Echocardiography was performed on all neonates by a Paediatric cardiologist to determine diagnosis and type of lesion.
Results: One hundred and thirty-one neonates were found to have congenital heart disease with male predominance, with 79(60.3%) males and 52(39.7%) females. Ventricular Septal Defect (VSD) was the most common lesion occurring in 44(33.6%) neonates, followed by PDA in 28(21.37%) neonates. CHD occurred more frequently in term neonates (62.0%) than preterm neonates (38.0%).
Conclusion: Congenital heart disease is the most common congenital malformation, with Asia having the highest prevalence worldwide. Lack of specialized antenatal and neonatal health services and paucity of diagnostic facilities lead to delays in diagnosis, increasing morbidity and mortality of CHD cases. Therefore, drastic measures are required to improve neonatal health and transport facilities in our country to mitigate the impact of this disease.
Downloads
Download data is not yet available.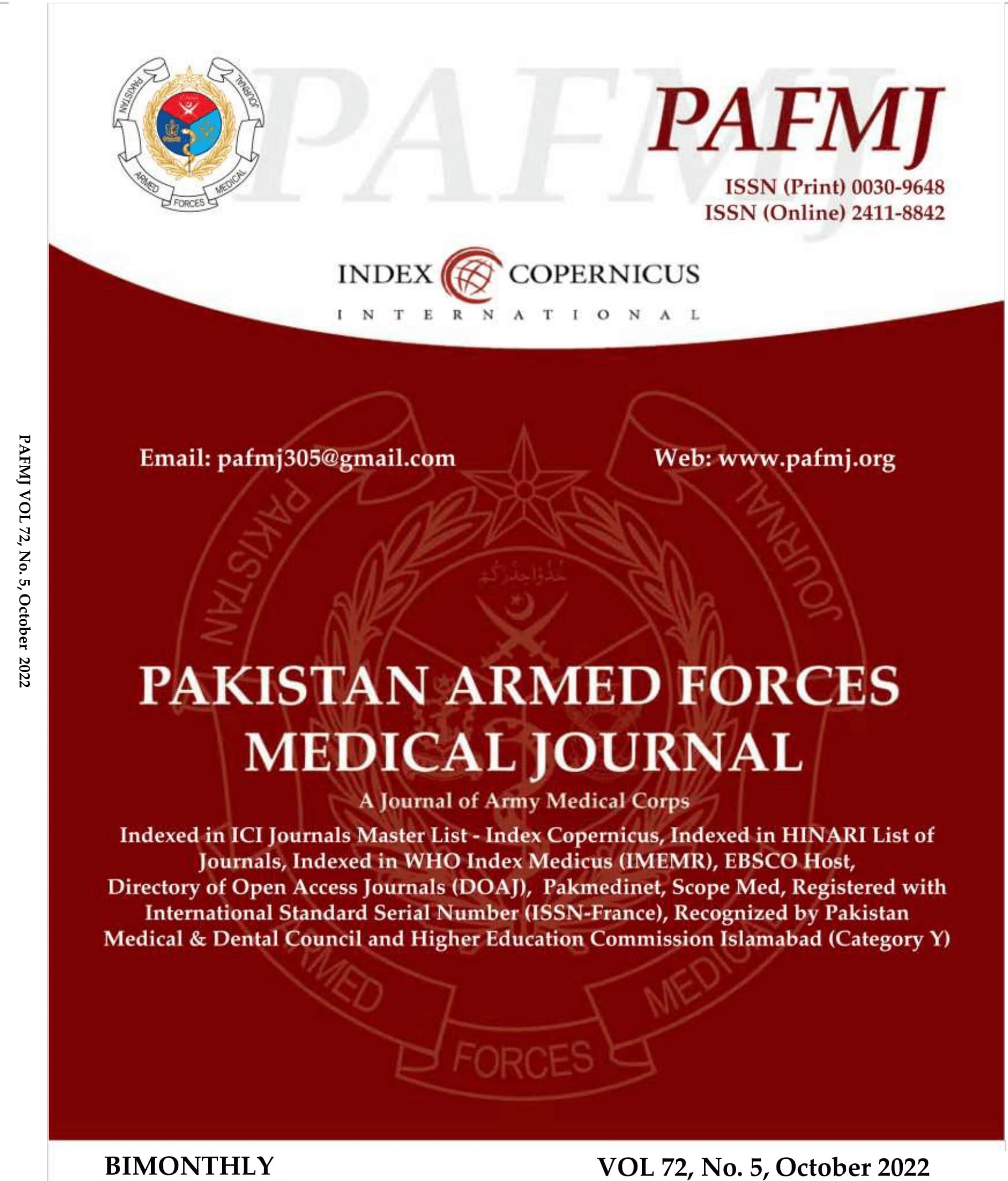 How to Cite
Subhani, F., Siddique, A., Ayub, A., Ahmed, B., Shah, S. A. ul, & Anjum, A. (2022). Pattern of Congenital Heart Diseases among Term and Preterm Neonates in a Tertiary Care Hospital of a Developing Country. Pakistan Armed Forces Medical Journal, 72(5), 1707-10. https://doi.org/10.51253/pafmj.v72i5.6909
Section
Original Articles