AMELIORATIVE EFFECTS OF PUNICA GRANATUMON RENAL TUBULAR NECROSIS INDUCED BY NANDROLONE DECANOATE IN MICE MODEL
Humaira Ali

Swat Medical College, Swat Pakistan

Liaqat Ali

Swat Medical College, Swat Pakistan

Sadia Shaukat

Mohammad College of Medicine, Peshawar Pakistan

Maria Yousaf

Army Medical College/National University of Medical Sciences (NUMS) Rawalpindi Pakistan

Faiza Umbreen

Army Medical College/National University of Medical Sciences (NUMS) Rawalpindi Pakistan

Iram Zakria

HITEC Institute of Medical Sciences, Taxila/National University of Medical Sciences (NUMS) Pakistan
Keywords:
Nandrolone decanoate, Necrosis, Punicagranatum, Renal tubule
Abstract
Objective: To observe the effects of nandrolone decanoateon renal tubules and its protection by punicagranatum (pomegranate) in mice.
Study Design: Lab based experimental study.
Place and Duration of Study: One year in Anatomy department, Army Medical College, Rawalpindi, in association with National Institution of Health, Islamabad.
Methodology: Forty healthy BALB/c mice of both sexes with weight range of 2 5-30gms were equally disseminated into four groups, A as control while B, C and D as trial groups. Three trial groups were inoculated Nandrolone Decanoate 1mg per 100gm of body weight, through intramuscular injections in the hind limb, once weekly for eight weeks. Pomegranate nector was administered in animals of trial group C (3ml per kg of body weight) en route oral gavage tube daily, whereas animals in trial group D was administered pomegranate peel extract (200mg per kg body weight) via oral gavage tube daily for eight weeks. Evaluation of the outcomes of trial groups B, C & D was done amongst them and with control group A.
Results: In nandrolone decanoate injected experimental group B, tubular necrosis were appreciated in comparison with control group A (p˂ 0.001), and showed statistical improvement when evaluation was done with pomegranate nectar and pomegranate peel extract treated trial groups C (0.001) and D (p=0.001), correspondingly.
Conclusion: Punicagranatum in two forms, as nectar and peel extract, has almost identical curative effects on steroid administered renal tubular mutilation.
Downloads
Download data is not yet available.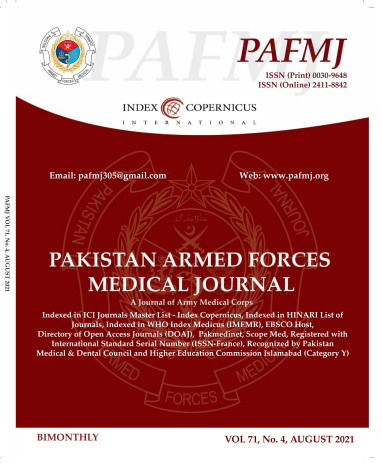 How to Cite
Ali, H., Ali, L., Shaukat, S., Yousaf, M., Umbreen, F., & Zakria, I. (2021). AMELIORATIVE EFFECTS OF PUNICA GRANATUMON RENAL TUBULAR NECROSIS INDUCED BY NANDROLONE DECANOATE IN MICE MODEL. PAFMJ, 71(4), 1248-51. https://doi.org/10.51253/pafmj.v71i4.6902
Section
Original Articles