DIAGNOSTIC ACCURACY OF SERUM FERRITIN AND SOLUBLE SERUM TRANSFERRIN RECEPTOR, TAKING BONE MARROW IRON STAIN AS A GOLD STANDARD FOR IRON DEFICIENCY ANEMIA IN HETEROGENOUS GROUP OF PATIENTS
Tayyaba Ashiq

Combined Military Hospital Lahore/National University of Medical Sciences (NUMS) Pakistan

Ammara Hafeez

Combined Military Hospital Lahore/National University of Medical Sciences (NUMS) Pakistan

Abdus Sattar

Combined Military Hospital Lahore/National University of Medical Sciences (NUMS) Pakistan

Nasiruddin .

Combined Military Hospital Lahore/National University of Medical Sciences (NUMS) Pakistan

Naureen Saeed

Shalamar Medical & Dental College Lahore Pakistan

Faiza Mushtaq

Combined Military Hospital Lahore/National University of Medical Sciences (NUMS) Pakistan
Keywords:
Anemia of chronic disease (ACD), C-reactive protein (CRP), Ferritin, Iron deficiency anemia (IDA), serum soluble transferring receptor (sTfR)
Abstract
Objective: To determine the diagnostic accuracy of serum ferritin and soluble serum transferrin receptor (sTfR), taking bone marrow iron stain as a gold standard for iron deficiency anaemia in heterogeneous group of patients.
Study Design: Cross-sectional diagnostic accuracy study.
Place and Duration of Study: Department of Diagnostic, Combined Military Hospital Lahore, from Mar to Aug 2020.
Methodology: A total of 55 adult patients, of both genders, undergoing bone marrow examination for any reason were enrolled. Patients with known hemolytic condition (sickle cell anemia, megaloblastic anemia), taking erythropoietin/iron supplements, transfused red cell concentrate (RCC) recently or undergoing chemotherapy were excluded. Age, gender, clinical history and results of bone marrow examination, complete blood count (CBC), serum Ferritin and C-reactive protein (CRP) were recorded.
Results: Serum ferritin was found to be less sensitive (28%) but more specific (100%) for reflecting reduced bone marrow iron stores as compared to sTfR (sensitivity: 60%, specificity: 96.6%). sTfR had highest likelihood ratio (15) and diagnostic accuracy (80%). On Receiver Operator Characteristic (ROC) graph Transferrin index (AUC=0.908) showed maximum accuracy, followed by Ferritin (AUC=0.884) and sTfR (AUC=0.879).
Conclusion: Serum soluble transferring receptor (sTfR) and transferrin index has advantage over serum ferritin alone in predicting the bone marrow iron stores and differentiating iron deficiency anemia from anemia of chronic disease.
Downloads
Download data is not yet available.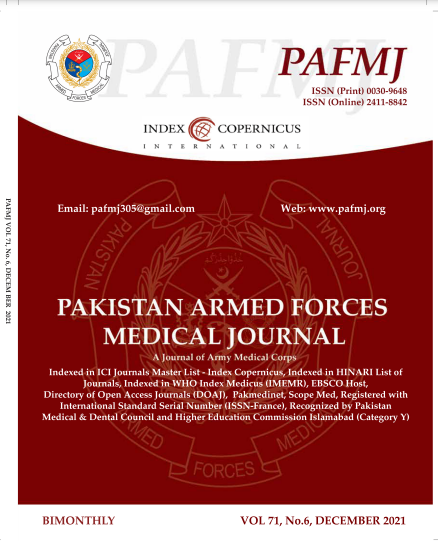 How to Cite
Ashiq, T., Hafeez, A., Sattar, A., ., N., Saeed, N., & Mushtaq, F. (2021). DIAGNOSTIC ACCURACY OF SERUM FERRITIN AND SOLUBLE SERUM TRANSFERRIN RECEPTOR, TAKING BONE MARROW IRON STAIN AS A GOLD STANDARD FOR IRON DEFICIENCY ANEMIA IN HETEROGENOUS GROUP OF PATIENTS. Pakistan Armed Forces Medical Journal (PAFMJ), 71(6), 1920-24. https://doi.org/10.51253/pafmj.v6i6.6855
Section
Original Articles