The Comparison of Hand Sewn and Stapled Anastomoses
Keywords:
Hand sewn anastomosis, Loop ileostomy, Stapler
Abstract
Objective: To compare hand-sewn and stapled sutures and the influence of intestinal excision on postoperative complications.
Study Design: Retrospective comparative study.
Place and Duration of Study: General Surgery Department of CMH Peshawar, from Jan 2020 to Jan 2021.
Methodology: Once receiving consent, all individuals hospitalized in the medical facility for ileostomy closure were included in our investigation. In a questionnaire, postoperative complications were documented.
Result: This study involved a total of 60 subjects. Individuals were scheduled for surgery after receiving clearances and a loopogram distally. Thirty patients had their wounds hand-sewn shut, while 30 others had their wounds stapled shut. The mean operating time for the hand-sewn method was 2.46 ± 0.29 hours, compared to 1.86 ± 0.17 hours mean for the stapled method. In both categories, the anastomotic leak was comparable. Thirty patients in the hand-sewn group took a mean of 2.42 ± 0.25 days to return bowel sounds after surgery, whereas it took 1.83 ± 0.20 days to return bowel sounds.
Conclusion: The stapler method greatly decreases the duration of surgery, promotes rapid recovery, and has a lower fatality rate. Stapling is a simple procedure that can be performed in inaccessible locations, such as a low colorectal anastomosis. In elective gastrointestinal procedures, stapler anastomosis can be utilized safely and successfully.
Downloads
Download data is not yet available.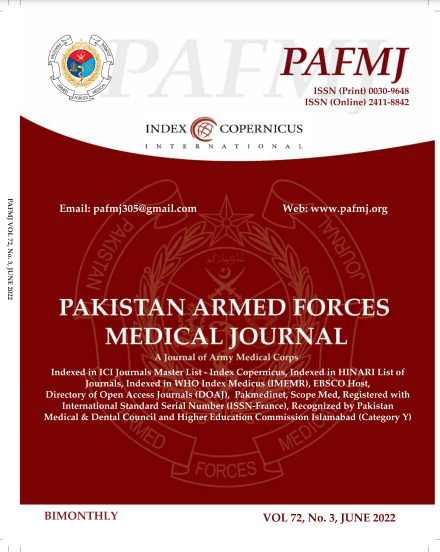 Downloads
How to Cite
Hussain, T., Jabbar, A., Ahmed, N., Shah, N., Zulfiqar, M., & ., A. (2022). The Comparison of Hand Sewn and Stapled Anastomoses. Pakistan Armed Forces Medical Journal, 72(3), 1004–07. https://doi.org/10.51253/pafmj.v72i3.6833
Section
Original Articles