Comparison of Creatinine, Cystatin C and Combined Creatinine-Cystatin C for Renal Function Assessment in Patients with Diabetes
Saba Umar

Armed Forces Institute of Urology/National University of Medical Sciences (NUMS), Rawalpindi Pakistan

Sohail Sabir

Armed Forces Institute of Urology/National University of Medical Sciences (NUMS), Rawalpindi Pakistan

Nadeem Malik Azam

Pak Emirates Military Hospital/ National University of Medical Sciences (NUMS) Rawalpindi Pakistan

Muhaamad Aamir

Armed Forces Institute of Pathology/National University of Medical Sciences (NUMS) Rawalpindi Pakistan

Afshan Bibi

Armed Forces Institute of Pathology/National University of Medical Sciences (NUMS) Rawalpindi Pakistan

Ashfaq Altaf

Armed Forces Institute of Urology/National University of Medical Sciences (NUMS), Rawalpindi Pakistan

Faud Ahmed Siddiqui

Combined Military Hospital/National University of Medical Sciences (NUMS) Rawalpindi Pakistan

Haroon Sabir

Pakistan Naval Ship Shifa Hospital, Islamabad Pakistan

Khalid Mehmood Raja

Pak Emirates Military Hospital/ National University of Medical Sciences (NUMS) Rawalpindi Pakistan

Batool Butt

Fauji Foundation Hospital, Rawalpindi Pakistan
Keywords:
Chronic kidney disease, Diabetes mellitus, Estimated glomerular filtration rate, Glomerular filtration rate
Abstract
Objective: To compare the estimated glomerular filtration rate (eGFR) assessed through the CKD-EPI equations based on creatinine, Cystatin C and creatinine-Cystatin C levels for estimating kidney function among patients with diabetes.
Study Design: Cross-sectional analytical study.
Duration and Place of Study: Nephrology Department, Armed Forces Institute of Urology, Rawalpindi Pakistan, from Aug 2020 to Mar 2021.
Methodology: A total of 70 patients were recruited. Serum samples were collected for creatinine and Cystatin C levels and 24 hours of urine for creatinine clearance. The eGFR values were calculated using the creatinine, Cystatin C and combined creatinine-Cystatin C CKD-EPI equations and compared with 24 hours of urinary creatinine clearance.
Results: A total of 22 (31.4%) patients had early stage, while 48 (68.6%) had late-stage chronic kidney disease (CKD). The highest Spearman correlation coefficient was found for eGFR CKD-EPIcr-cys (rho=0.844), followed by CKD-EPIcys (rho= 0.835) and CKD-EPIcr (rho=0.709).
Conclusion: CKD-EPIcr-cys is the most accurate, recommended method of calculating eGFR.
Downloads
Download data is not yet available.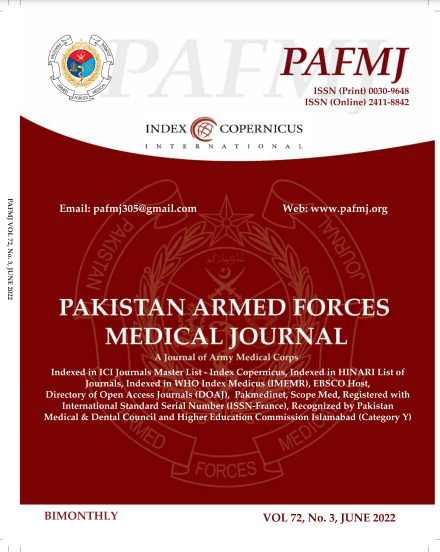 How to Cite
Umar, S., Sabir, S., Azam, N., Aamir, M., Bibi, A., Altaf, A., Siddiqui, F., Sabir, H., Raja, K., & Butt, B. (2022). Comparison of Creatinine, Cystatin C and Combined Creatinine-Cystatin C for Renal Function Assessment in Patients with Diabetes. Pakistan Armed Forces Medical Journal (PAFMJ), 72(3), 771-74. https://doi.org/10.51253/pafmj.v72i3.6712
Section
Original Articles