Klippel-Trenaunay-Weber Syndrome – A Rare Case with Visceral Manifestation and Thrombosed Marginal Vein of Servelle
Muhammad Imran Ibrahim

Combined Military Hospital/National University of Medical Science (NUMS) Rawalpindi Pakistan

Leena Hussain Awan

Combined Military Hospital/National University of Medical Science (NUMS) Rawalpindi Pakistan

Babar Khan

Combined Military Hospital/National University of Medical Science (NUMS) Rawalpindi Pakistan

Koukab Javed

Combined Military Hospital/National University of Medical Science (NUMS) Rawalpindi Pakistan

Syeda Mariam Zehra

Combined Military Hospital/National University of Medical Science (NUMS) Rawalpindi Pakistan

Mariam Hussain

Combined Military Hospital/National University of Medical Science (NUMS) Rawalpindi Pakistan
Keywords:
Hemihypertrophy, Klippel-trenaunay-weber syndrome, Marginal vein of servelle, Port-wine stain
Abstract
Klippel-Trenaunay-Weber syndrome is a rare congenital syndrome characterized by capillary, venous or lymphatic
malformation and hemihypertrophy. Only 1000 cases of this syndrome have been reported in the literature. A rare case of this syndrome is presented here, who presented with its visceral and vascular complications and was diagnosed for the first time.
Downloads
Download data is not yet available.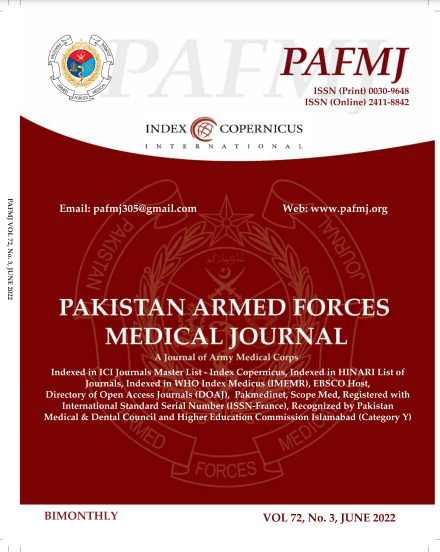 How to Cite
Ibrahim, M., Hussain Awan, L., Khan, B., Javed, K., Mariam Zehra, S., & Hussain, M. (2022). Klippel-Trenaunay-Weber Syndrome – A Rare Case with Visceral Manifestation and Thrombosed Marginal Vein of Servelle. PAFMJ, 72(3), 1142-43. https://doi.org/10.51253/pafmj.v72i3.6694