PATTERN OF PSYCHOTIC DISORDERS IN HOSPITALIZED PATIENTS OF COMBINED MILITARY HOSPITAL, LAHORE
Muhammad Kamran

Combined Military Hospital Lahore/National University of Medical Sciences (NUMS) Pakistan

Mohsin Aliemuddin

Combined Military Hospital Lahore/National University of Medical Sciences (NUMS) Pakistan

Sumaira Bukhsh

Combined Military Hospital Lahore/National University of Medical Sciences (NUMS) Pakistan

Akram Hamdani

Combined Military Hospital Lahore/National University of Medical Sciences (NUMS) Pakistan

Farrukh Salim

Combined Military Hospital Lahore/National University of Medical Sciences (NUMS) Pakistan
Keywords:
Admitted, Diagnosis, Frequency, Psychotic inpatients
Abstract
Objective: To determine the frequency of psychotic disorders in patients admitted in psychiatry ward, Combined Military Hospital, Lahore.
Study Design: Cross sectional study.
Place and Duration of Study: Combined Military Hospital Lahore, from Dec 2016 to May 2017.
Methodology: A total of 152 patients between 18-60 years of age, both male and female, meeting the inclusion and exclusion criteria, admitted in Psychiatry ward, Combined Military Hospital Lahore; were enrolled in the study after obtaining their informed consent. Patients were interviewed through Present state examination and the diagnosis was made on the basis of International Classification of Diseases (ICD) version 10. The data was recorded on the study proforma.
Results: A total of 152 cases of psychotic illness, 98 (64.5%) were male with mean age ± SD of 33.79 ± 7.907 years, while 54 (35.5%) were females with mean age ± SD of 31.72 ± 8.254 years. The most common diagnosis was schizophrenia (36.8%) followed by mania with psychotic features (21.7%) and unipolar major depressive disorder with psychotic features (14.5%). Other diagnosis included substance induced psychosis (11.8%), post-partum psychosis (7.9%) and delusional disorder (7.2%).
Conclusion: The frequency of non affective psychosis is high as compared to affective psychosis. Moreover, puerperal psychosis and the substance use disorders contribute to a major portion.
Downloads
Download data is not yet available.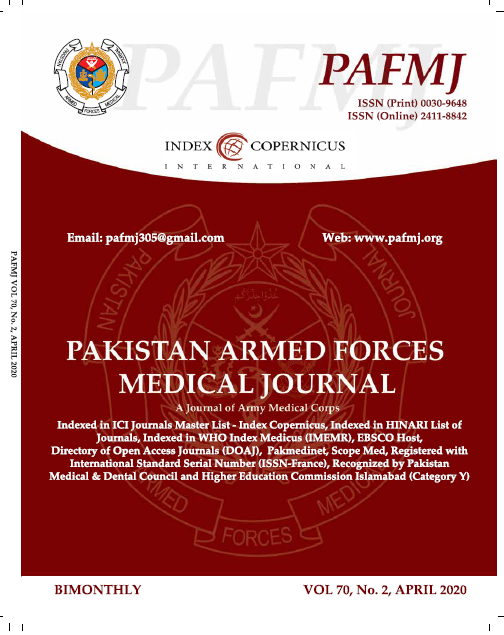 How to Cite
Kamran, M., Aliemuddin, M., Bukhsh, S., Hamdani, A., & Salim, F. (2021). PATTERN OF PSYCHOTIC DISORDERS IN HOSPITALIZED PATIENTS OF COMBINED MILITARY HOSPITAL, LAHORE. Pakistan Armed Forces Medical Journal, 71(2), 553-56. Retrieved from https://pafmj.org/index.php/PAFMJ/article/view/6670
Section
Original Articles