DIAGNOSTIC ACCURACY OF COLOUR DOPPLER ULTRASOUND USING TWINKLING ARTEFACT FOR THE DIAGNOSIS OF RENAL AND URETERIC CALCULI KEEPING NON ENHANCED CT KUB AS GOLD STANDARD
Aneela Abid

Islamabad Medical and Dental College, Islamabad Pakistan

Rabia Waseem Butt

HITEC-IMS, HIT Hospital Taxila Cantt/National University of Medical Sciences (NUMS) Pakistan

Hassan Burair Abbas

HITEC-IMS, HIT Hospital Taxila Cantt/National University of Medical Sciences (NUMS) Pakistan

Manal Niazi

Islamabad Medical and Dental College, Islamabad Pakistan

Shazia Alam

Pakistan Naval Ship, Rahat Hospital, Karachi Pakistan

Hamna Shakil

Islamabad Medical and Dental College, Islamabad Pakistan
Keywords:
CT-KUB, Urolithiasis, Twinkling artefact
Abstract
Objective: To determine the diagnostic accuracy of colour Doppler ultrasound using twinkling artefact for the diagnosis of renal and ureteric calculi keeping non enhanced CT KUB as gold standard.
Study Design: Cross sectional study.
Place and Duration of Study: Departments of Diagnostic Radiology, HIT Hospital Taxila Cantt and Akbar Niazi Teaching Hospital, Islamabad, from Jan to Jun 2020.
Methodology: The sample size of 320 patients was calculated using WHO Calculator. Non probability consecutive sampling was used for recruitment of patients. It comprised patients between ages 12-60 years irrespective of gender presenting with acute flank pain. All patients underwent colour Doppler ultrasound and subsequently CT-KUB analysis (gold standard) to determine the diagnostic accuracy of twinkling artefact on colour Doppler imaging. Data was collected on prescribed proforma and analysed using SPSS-17. Chi-square test and ROC curve analysis were used for diagnostic accuracy measurement.
Results: Study results showed that twinkling artefact on colour Doppler had a sensitivity, specificity, positive predictive value, negative predictive value and accuracy of 91.2%, 95.7%, 98.7%, 75.2% and 92.2% respectively. Likelihood ratio for positive test was 21.8.
Conclusion: Twinkling artefact on colour Doppler allows detection of renal and ureteric calculi with reasonable accuracy and can be used as an alternative tool in settings where CT scan cannot be done.
Downloads
Download data is not yet available.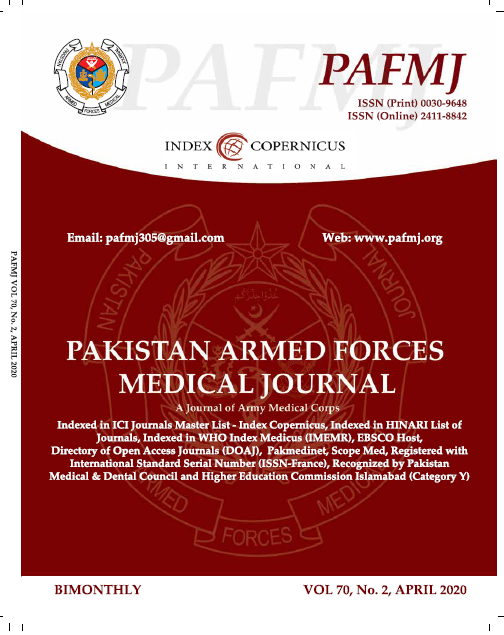 How to Cite
Abid, A., Butt, R., Abbas, H., Niazi, M., Alam, S., & Shakil, H. (2021). DIAGNOSTIC ACCURACY OF COLOUR DOPPLER ULTRASOUND USING TWINKLING ARTEFACT FOR THE DIAGNOSIS OF RENAL AND URETERIC CALCULI KEEPING NON ENHANCED CT KUB AS GOLD STANDARD. Pakistan Armed Forces Medical Journal, 71(2), 522-25. Retrieved from https://pafmj.org/index.php/PAFMJ/article/view/6665
Section
Original Articles