EVALUATION OF BREAST LUMPS THROUGH FINE NEEDLE ASPIRATION CYTOLOGY IN URBAN AREA OF DISTRICT DERA ISMAIL KHAN – A STUDY OF 100 CASES
Tariq Sarfraz

Foundation University of Medical College, Islamabad Pakistan

Saima Bashir

Gomal Medical College, Dera Ismail Khan Pakistan

Sara Arif

Gomal Medical College, Dera Ismail Khan Pakistan

Saqiba Rehman

Gomal Medical College, Dera Ismail Khan Pakistan

Fazeelat Samad

Gomal Medical College, Dera Ismail Khan Pakistan

Ahmed Jan

DHQ Teaching Hospital, Dera Ismail Khan Pakistan
Keywords:
Breast cancer, Fine needle aspiration cytology, Palpable lump
Abstract
Objective: To assess the usefulness of fine needle aspiration cytology in evaluation of breast lumps before any surgical intervention and finding out the frequency and histological pattern of benign and malignant tumors of breast, diagnosed through this technique in area of District Dera Ismail Khan, Khayber Pakkhtunkhwa, Pakistan.
Study Design: Cross-sectional study.
Place and Duration of Study: Rauf Medical Center, Dera Ismail Khan, from Apr 2018 to Mar 2019.
Methodology: The procedure was done using 23-gauge needle fitted on 10 cc disposable syringe. The air-dried smears were stained with Haemacolour stain for Rapid on Site Evaluation (ROSE) of aspirates for checking specimen adequacy and making diagnosis. The wet smears were fixed with 95% alcohol and stained with Hematoxylin and Eosin and Papanicolaou stains.
Results: A total of 100 cases were analysed. As Haemacolour stain for Rapid on Site Evaluation was done, so all the specimens were adequate. Benign tumors contributed to 50 (50%) cases and malignant tumors to 30 (30%) cases. Among benign tumor, fibroadenoma was the most common tumor which constituted 45 (90%) cases, while invasive ductal carcinoma was the most common malignant breast tumor, comprising 26 (86.6%) cases.
Conclusion: Fine needle aspiration cytology can be used as a useful preliminary investigation in evaluation of breast lumps and accurate results can be obtained in most of the cases. The most common benign tumor seen in our patients is fibroadenoma and the most common malignant tumor is invasive ductal carcinoma.
Downloads
Download data is not yet available.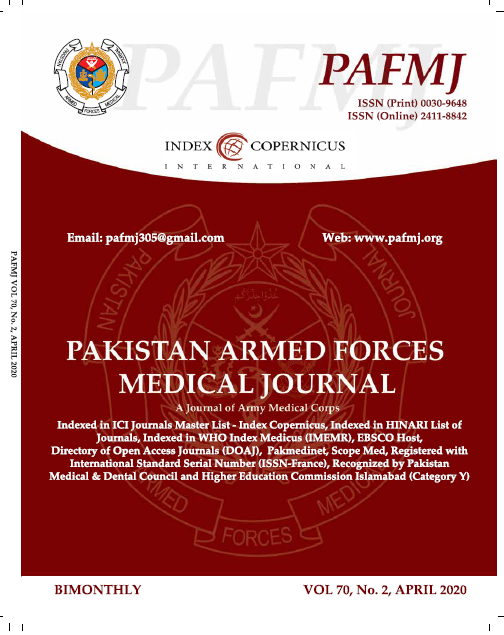 How to Cite
Sarfraz, T., Bashir, S., Arif, S., Rehman, S., Samad, F., & Jan, A. (2021). EVALUATION OF BREAST LUMPS THROUGH FINE NEEDLE ASPIRATION CYTOLOGY IN URBAN AREA OF DISTRICT DERA ISMAIL KHAN – A STUDY OF 100 CASES. Pakistan Armed Forces Medical Journal, 71(2), 490-93. Retrieved from https://pafmj.org/index.php/PAFMJ/article/view/6662
Section
Original Articles