REASONS OF CONFLICTS IN TERTIARY CARE HOSPITAL: A CROSS SECTIONAL STUDY
Tahir Sardar

Armed Forces Post Graduate Medical Institute/National University of Medical Sciences (NUMS) Rawalpindi Pakistan

Muhammad Alamgir Khan

Army Medical College/National University of Medical Sciences (NUMS) Rawalpindi Pakistan

Muhammad Naveed Akhtar

Army Medical College/National University of Medical Sciences (NUMS) Rawalpindi Pakistan

Arshad Gul

Army Medical College/National University of Medical Sciences (NUMS) Rawalpindi Pakistan
Keywords:
Administrative staff, Clinical staff, Conflict causes, Conflict management, Tertiary care hospital
Abstract
Objective: To assess the reasons of conflicts in tertiary care hospital Rawalpindi.
Study Design: Cross sectional study.
Place and Duration of Study: Tertiary care hospital Rawalpindi, from Aug 2008 to Jul 2009.
Methodology: Hospital staff comprising of health administrators, clinicians, nurses and paramedics working in tertiary care hospital Rawalpindi were included in the study.
Results: These questions were asked to assess the general understanding of the respondents regarding the subject of conflicts to deduct their possible response in conflict situations. As per "Traditional" view conflict was considered as dysfunctional, destructive and irrational. The "Human relations view" describes conflict as natural, suggests tolerating it whereas the latest "inter-actionist view" defines conflict as a means for keeping us viable and creative, and suggests encouraging it. Average 44% of the respondents, mainly administrators and clinicians have fair idea regarding current concept of conflict.
Conclusion: Clinical and administrative staffs of hospitals are like parts of a train track. The irrational relationship between them will result in distortion and lower quality of services. Therefore, effective strategies to decrease staffs" experience of conflict need to be developed. This might create a healthier and more productive work environment which positively affects the care quality.
Downloads
Download data is not yet available.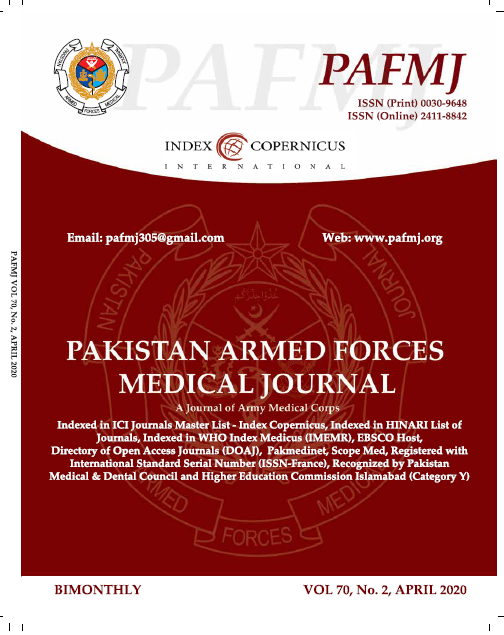 How to Cite
Sardar, T., Khan, M., Akhtar, M., & Gul, A. (2021). REASONS OF CONFLICTS IN TERTIARY CARE HOSPITAL: A CROSS SECTIONAL STUDY. Pakistan Armed Forces Medical Journal, 71(2), 382-86. https://doi.org/10.51253/pafmj.v71i2.6654
Section
Original Articles