HOST GENOME INTERACTIONS IN COVID-19: DIFFICULTIES IN PATIENT MANAGEMENT AND HEALTHCARE POLICY MANAGEMENT
COVID-19
Sikandar Hayat Khan

PNS Hafeez Hospital Islamabad Pakistan

Mehreen Gilani

PNS Hafeez Hospital Islamabad Pakistan
Abstract
Mankind during current pandemic has displayed the best possible responses utilizing researched knowledge base, cutting edge biotechnology and most importantly the will to take down tis mammoth menace of our times. Though mixed sorrows and failures progress towards the "war on COVID-19" without doubt outshined against the challenger from the development of timely diagnostics and prognostics to novel therapeutics and vaccinations. The more we explore the delicate & detailed intricacies surrounding the ongoing pandemic, there remains questions still to be answered. Rather, a reply most of the time in itself opens up newer Pandora boxes and it seems like an ongoing unlimited brawl with few troughs in between. While targeting statistical exactness among Homo Sapien's response to COVID-19 infection, we remain less educated to decide for nature's defined hostgenome variability about disease pathogenesis. While we all humans are the same genetically, but then we
are not that same again genetically.
Downloads
Download data is not yet available.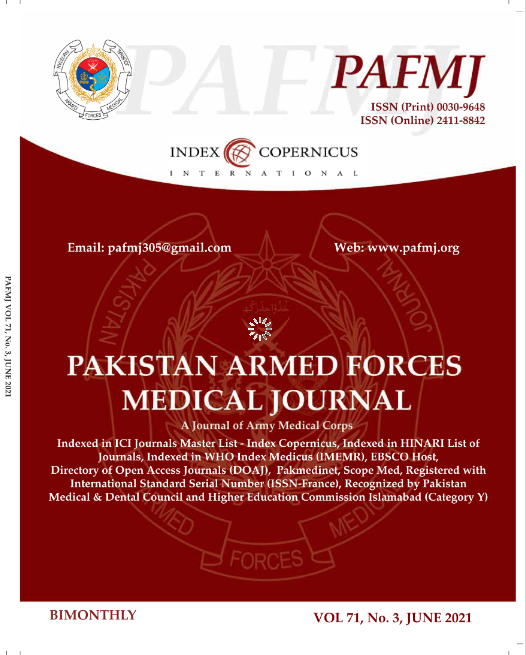 How to Cite
Khan, S., & Gilani, M. (2021). HOST GENOME INTERACTIONS IN COVID-19: DIFFICULTIES IN PATIENT MANAGEMENT AND HEALTHCARE POLICY MANAGEMENT. PAFMJ, 71(3), 722-23. https://doi.org/10.51253/pafmj.v71i3.6632