EMOTIONAL INTELLIGENCE AND JOB SATISFACTION AMONG MEDICAL TEACHING FACULTY
Uzma Bano

Foundation University Medical College Islamabad Pakistan

Anis Ahmed

Rawalpindi Medical College & Allied Teaching Hospitals, Rawalpindi Pakistan

Shahid Aziz

Foundation University Medical College Islamabad Pakistan

Noreen Tassadaq

Fauji Foundation Hospital, Rawalpindi, Pakistan

Omar Ahsan

Foundation University Medical College Islamabad Pakistan

Minahil Wasim

Shifa College of Medicine Islamabad Pakistan
Keywords:
Career success, Emotional intelligence, Job satisfaction
Abstract
Objective: To measure the correlation between emotional intelligence (EI) and job satisfaction (JS) among teaching faculty of Foundation University Medical College.
Study Design: Cross-sectional study.
Place and Duration of Study: Study was carried out at Foundation University Medical College (FUMC), Islamabad, from Mar to Apr 2021.
Methodology: Participants were recruited through survey sampling using "Google Forms."Faculty members with a total teaching experience of more than 05 years in FUMC were included in the study. EI was measured using Wong and Law Emotional Intelligence scale- Short version (WLEIS), while JS was measured using Brayfield and Rothes scale on a 5-point Likert scale. Data was entered and analyzed using SPSS version 17. The WLEIS score was correlated to the JS score using Pearson r correlation.
Results: Total 89 faculty members had a teaching experience of more than 5 years. Survey had a response rate of 76.4%. Study included 68 faculty members; 26 (38.2%) were from basic sciences and 42 (61.8%) were from clinical sciences. The mean EI score was 3.22 ± 0.70; and the mean JS satisfaction score was 3.05 ± 0.86. All facets of emotional intelligence as well as overall emotional intelligence scores showed significant positive correlation with job satisfaction scores; which were statistically significant; p<0.05.
Conclusion: There was a statistically significant positive correlation between all components of emotional intelligence and job satisfaction. Hence, it is important for the medical colleges to concentrate on those practices that promote emotional intelligence among their teaching faculty.
Downloads
Download data is not yet available.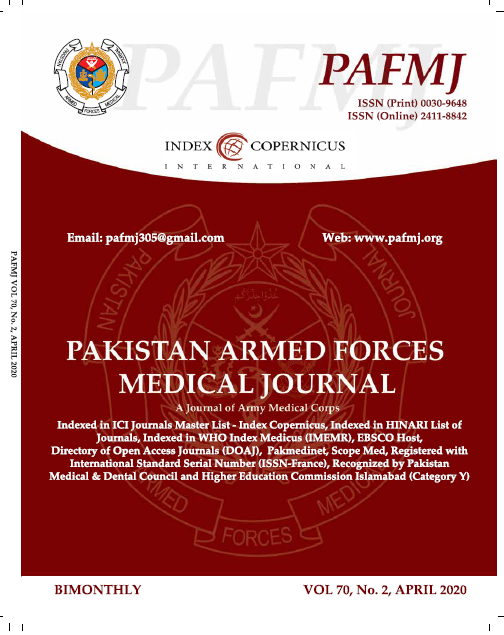 How to Cite
Bano, U., Ahmed, A., Aziz, S., Tassadaq, N., Ahsan, O., & Wasim, M. (2021). EMOTIONAL INTELLIGENCE AND JOB SATISFACTION AMONG MEDICAL TEACHING FACULTY. Pakistan Armed Forces Medical Journal, 71(2), 512-16. https://doi.org/10.51253/pafmj.v71i2.6615
Section
Original Articles