Antenatal Diagnosis, Surgical Approach and Maternal Morbidity with Placenta Accreta
Nadia Arif

Combined Military Hospital, Okara/National University of Medical Sciences (NUMS) Pakistan

Bushra Zafar

Pak Emirates Military Hospital/National University of Medical Sciences (NUMS) Rawalpindi Pakistan

Raja Qaseem Ahmed

Combined Military Hospital, Okara/National University of Medical Sciences (NUMS) Pakistan

Farrukh Shehzad

Pak Emirates Military Hospital/National University of Medical Sciences (NUMS) Rawalpindi Pakistan
Keywords:
B-lynch, Morbid placental adherence, Obstetrical hysterectomy, Placenta accrete
Abstract
Objective: To emphasize the importance of antenatal diagnosis of the morbidly adherent placenta, employ management options accordingly and their impact on the patient's outcome.
Study Design: Cross-sectional study.
Place and Duration of Study: Combined Military Hospital, Okara Pakistan, Jan 2018 to Aug 2020.
Methodology: One hundred and twenty-four patients were enrolled in the study. Diagnosed morbidly adherent placenta was made through trans-abdominal ultrasound, and a Doppler study in selected cases of posterior placenta previa magnetic resonance imaging (MRI) was performed. The surgical approach was either a high transverse placenta sparing or a classical incision on the uterus. After delivery of baby, conservative management included resection of part of uterus with adherent placenta followed by reconstruction of the lower uterine segment, segmental resection of myometrial tissue and hemostatic sutures, and over sewing of placental bed. The requirement of blood transfusion, intensive care unit stay, post-operative recovery, and day of discharge, along with all demographic and surgical details, was noted.
Results: In 87(70%) patients, high transverse or placental sparing incision was made to assess the baby. Over sewing of the placental bed was done in 37(29.8%) patients, and myometrial segment resection was done in 57(46%) patients. An obstetrical hysterectomy was carried out in 30 patients. Blood transfusion of > 4 units RCCs was required in 92(74%) patients. 16% the patients required intensive care management.
Conclusion: Antenatal diagnosis of morbidly adherent placenta through useful imaging modality allowed for a planned surgical approach and minimized......
Downloads
Download data is not yet available.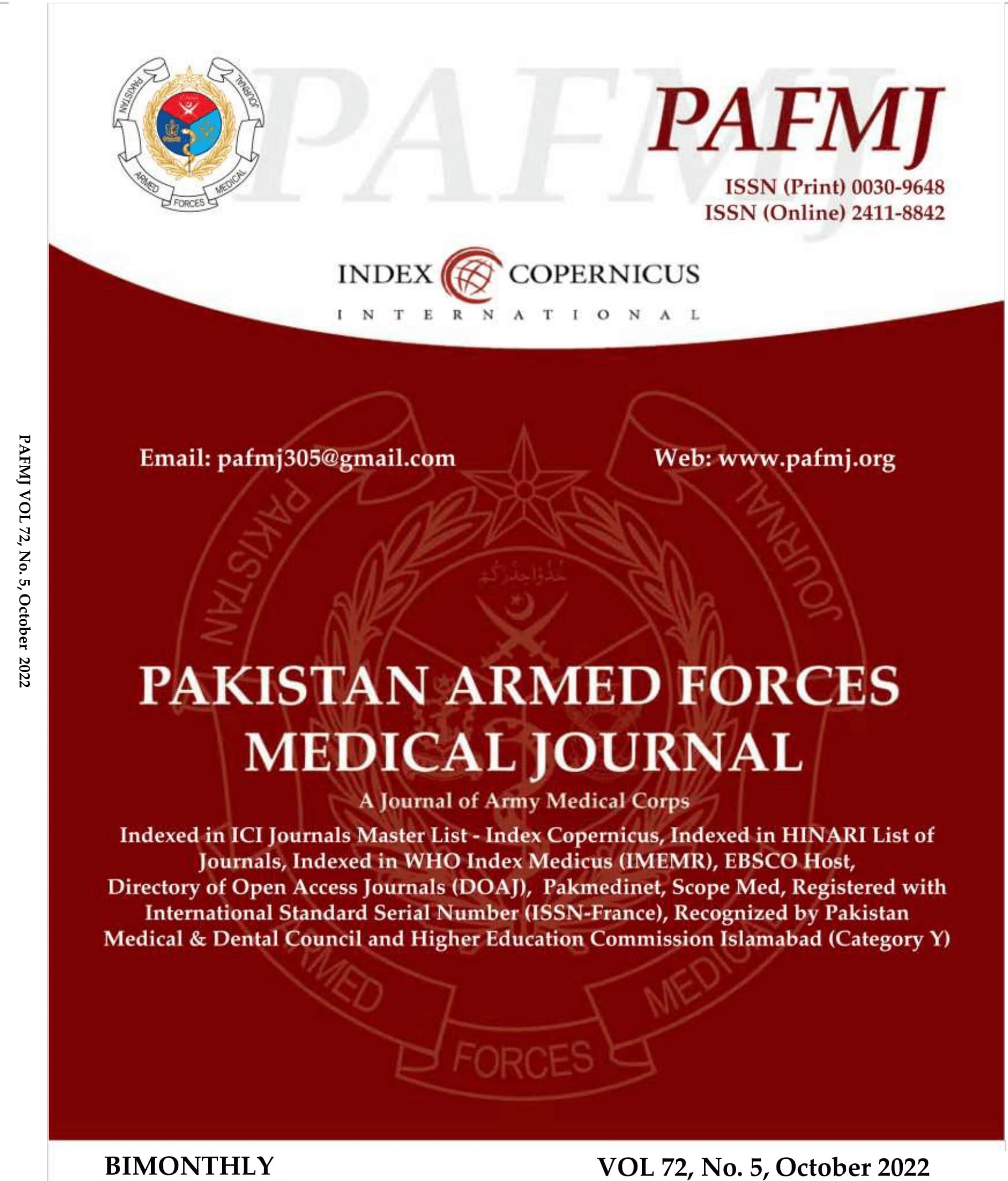 How to Cite
Arif, N., Zafar, B., Ahmed, R., & Shehzad, F. (2022). Antenatal Diagnosis, Surgical Approach and Maternal Morbidity with Placenta Accreta. Pakistan Armed Forces Medical Journal, 72(5), 1678-81. https://doi.org/10.51253/pafmj.v72i5.6606
Section
Original Articles