EFFECT OF OBESTATIN ON PITUITARY GONADAL AXIS, LEPTIN AND MDA LEVELS IN OBESE SPRAGUE DAWLEY RATS
Nadia Latif

Army Medical Collage/National University of Medical Sciences (NUMS) Rawalpindi Pakistan

Amina Rasul

Wateem Medical Collage Islamabad Pakistan

Sajid Ali

Army Medical Collage/National University of Medical Sciences (NUMS) Rawalpindi Pakistan

Rimsha Zia

Army Medical Collage/National University of Medical Sciences (NUMS) Rawalpindi Pakistan
Keywords:
Leptin, Obestatin, Obesity, Testosterone
Abstract
Objective: To determine the effect of obestatin administration on FSH, LH, testosterone, leptin and MDA levels in obese Sprague Dawley Rats.
Study Design: Laboratory based animal study.
Place and Duration of Study: Physiology department, Army Medical College Rawalpindi, from Mar to Jun 2015.
Methodology: This randomized controlled trial was conducted at Physiology Department Army medical college. Male healthy Sprague Dawley rats were randomly divided into 3 groups (n–15 each) i.e. control group (group I) fed with normal pellet diet (NPD), obese group (group II) and obestatin treated obese group (group III) fed with high fat diet (HFD). After 10 weeks, group III was treated with obestatin (1nmol/100ml intraperitoneally). Blood samples were obtained by terminal intracardiac sampling for bioasssays of FSH, LH, testosterone, leptin and MDA by ELISA.
Results: Obestatin supplementation in obese rats showed significant increase in LH levels (3.79 ± 0.05) and testosterone levels (2.07 ± 0.22) when compared to the non treated obese rats (2.19 ± 0.07) and (1.37 ± 0.15) respectively while significant decrease in leptin (3.85 ± 0.23) and MDA levels (1.62 ± 0.07) was observed when compared to the non-treated control groups (6.10 ± 1.18) and (1.95 ± 0.07) respectively. However, serum FSH levels remained unchanged among the treated and nontreated groups.
Conclusion: Obestatin increases the testosterone levels by augmenting the pituitary gonadal axis through decrease in the oxidative stress and leptin levels in obese rats.
Downloads
Download data is not yet available.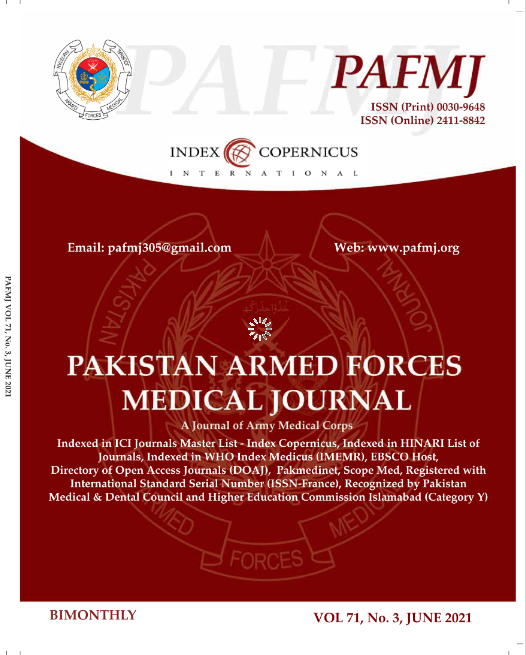 How to Cite
Latif, N., Rasul, A., Ali, S., & Zia, R. (2021). EFFECT OF OBESTATIN ON PITUITARY GONADAL AXIS, LEPTIN AND MDA LEVELS IN OBESE SPRAGUE DAWLEY RATS. PAFMJ, 71(3), 1061-65. https://doi.org/10.51253/pafmj.v71i3.6594
Section
Original Articles