EVALUATION OF DEXMEDETOMIDINE ON HEMODYNAMIC STRESS RESPONSE DURING LARYNGOSCOPY AND INTUBATION
Abdul Raafeh Jamal

Combined Military Hospital/National University of Medical Sciences (NUMS) Rawalpindi Pakistan

Bilal Yasin

Combined Military Hospital/National University of Medical Sciences (NUMS) Rawalpindi Pakistan

Mohammad Saeed

Combined Military Hospital/National University of Medical Sciences (NUMS) Rawalpindi Pakistan

Rao Ali Shan Khan

Combined Military Hospital/National University of Medical Sciences (NUMS) Rawalpindi Pakistan

Syed Hamid Ali Shah

Bharia International Hospital, Islamabad Pakistan

Muhammad Zeeshan Akbar

Combined Military Hospital/National University of Medical Sciences (NUMS) Rawalpindi Pakistan
Keywords:
Dexmedetomidine, Hemodynamic changes, Hypertension, Intubation, Laryngoscopy, Tachycardia
Abstract
Objective: To compare the efficacy of Dexmedetomidine (Precedex) in addressing the mean haemodynamic stress response to laryngoscopy and endotracheal intubation (L&I).
Study Design: Quasi-experimental study.
Place and Duration of Study: Anesthesiology Department, Combined Military Hospital, Rawalpindi, from Jun 2019 Jun 2020.
Methodology: The patients were divided into two groups. Group A was given Inj. Dexmedetomidine and group B (placebo). Operation theatre assistant randomly assigned the patients to either group A or group B each day. The second person administered the drug or placebo. The third person (researcher) recorded all the parameters mentioned in the proforma.
Results: There were 100 patients with an age range of 18-60 years. The majority of the patients were ASA-I physical status. The main surgical procedure was laparoscopic cholecystectomy. Recording of heart rate and systolic blood pressure during laryngoscopy and intubation, after administration of drug or placebo, showed mean heart rate less than mean basal value in group-A and 22% above mean basal value in group-B, and it was statistically highly significant (p-value <0.001). Whereas mean systolic blood pressure in group-A was 122.42 ± 14.91 (less than the mean basal value) as compared to group B, 155.00 ± 18.32/min (20% above mean basal value). This change was also statistically highly significant (p-value <0.001).
Conclusion: It is concluded that dexmedetomidine showed statistically significant stabilizing effects on the expected changes of the hemodynamic stress response.
Downloads
Download data is not yet available.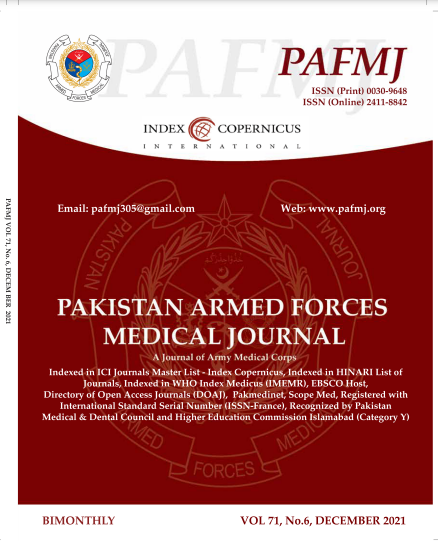 How to Cite
Jamal, A. R., Yasin, B., Saeed, M., Khan, R. A., Ali Shah, S., & Akbar, M. (2021). EVALUATION OF DEXMEDETOMIDINE ON HEMODYNAMIC STRESS RESPONSE DURING LARYNGOSCOPY AND INTUBATION. PAFMJ, 71(6), 2126-30. https://doi.org/10.51253/pafmj.v71i6.6584
Section
Original Articles