Clinical Features and Outcome of SARS-CoV 2 Virus Infection in Patients with Autoimmune Diseases
Shahida Perveen

Fauji Foundation Hospital, Rawalpindi Pakistan

Babur Salim

Fauji Foundation Hospital, Rawalpindi Pakistan

Mohammad Jamal Faisal

Fauji Foundation Hospital, Rawalpindi Pakistan

Saba Samreen

Fauji Foundation Hospital, Rawalpindi Pakistan
Keywords:
Autoimmune, Coronavirus, Prognosis, Rheumatoid arthritis, Systemic lupus erythematosus
Abstract
Objectives: To evaluate the clinical features, outcome and poor prognostic factors of COVID-19 in rheumatic disease patients.
Study Design: Cross-sectional study.
Place and duration of Study: Department of Rheumatology, Fauji Foundation Hospital, Rawalpindi, from Mar to Sep 2020.
Methodology: The study included rheumatic disease patients with COVID-19. Patients' age, gender, smoking status; details of rheumatic disorder; method of COVID-19 diagnosis, treatment and outcomes were recorded.
Results: The study included 46 patients. Overall mortality rate was 23.8%. The most common symptoms were fever (35, 83.3%), cough (26, 61.9%) and myalgia (23, 54.8%). Dyspnea was associated with mortality (p=0.013), ICU admission (p<0.001), ventilation (p=0.02) and hospitalization (p<0.001). NSAIDs increased the risk of ventilatory support (p= 0.02). Long term steroids predicted mortality (p=0.02), hospitalization (p=0.014) and intensive care admission (p=0.004). Steroid and Hydroxy-chloroquine treatment for COVID-19 was associated with intensive care admission (p= 0.001 and 0.006, respectively) and ventilation (p=0 .007 and 0.03, respectively). Mycophenolate Mofetil was related to intensive care admission, ventilation and hospitalization (p=0.03, 0.03 and 0.02, respectively), whereas Cyclophosphamide was related to hospitalization (p= 0.03). Systemic lupus erythematosus was associated with all poor outcomes except ventilation (p<0.05)
Conclusion: Systemic lupus erythematosus, long-term steroids, Mycophenolate Mofetil, Cyclophosphamide and Dyspnea are associated with severe COVID-19.
Downloads
Download data is not yet available.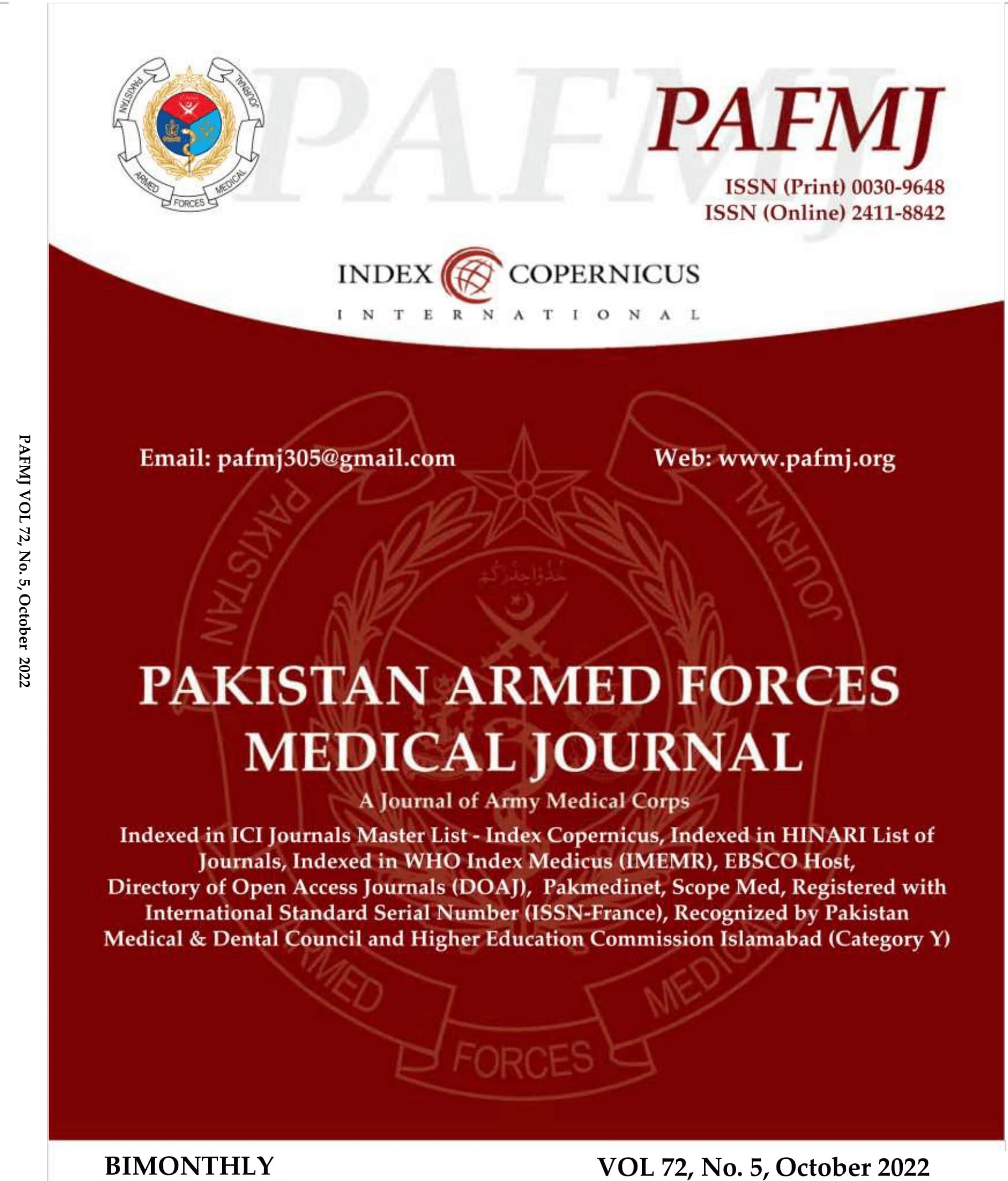 How to Cite
Perveen, S., Salim, B., Faisal, M., & Samreen, S. (2022). Clinical Features and Outcome of SARS-CoV 2 Virus Infection in Patients with Autoimmune Diseases. Pakistan Armed Forces Medical Journal, 72(5), 1667-72. https://doi.org/10.51253/pafmj.v72i5.6508
Section
Original Articles