Factors Associated with Psychiatric Morbidity among Patients who tested Positive and Isolated for COVID-19
Muhammad Hammad Athar

Combined Military Hospital Malir/National University of Medical Sciences (NUMS) Pakistan

Usama Bin Zubair

Liasion Psychiatry Conolly Hospital, Dunlin, Ireland

Muhammad Shahbaz Shoaib

Combined Military Hospital Malir/National University of Medical Sciences (NUMS) Pakistan

Hamza Bin Zubair

Holy Family Hospital, Rawalpindi Pakistan

Muhammad Yasir

Combined Military Hospital Malir/National University of Medical Sciences (NUMS) Pakistan

Muhammad Imran

Combined Military Hospital Malir/National University of Medical Sciences (NUMS) Pakistan

Nadeem Zia

Combined Military Hospital Malir/National University of Medical Sciences (NUMS) Pakistan
Keywords:
COVID-19, psychiatric morbidity, socio demographic factors
Abstract
Objective: To look for the psychiatric morbidity and associated socio-demographic factors among patients who tested positive and isolated for COVID-19.
Study Design: Cross-sectional study.
Place and Duration of Study: Combined Military Hospital, Malir Pakistan, from Mar to May 2020.
Methodology: All patients who tested positive for COVID-19 and were admitted to the COVID-19 Ward without
complications were included in the study. General Health Questionnaire-12 (GHQ-12) was administered to look for the presence of psychiatric morbidity.
Results: Out of 61 patients included in the study, 45(73.7%) showed the presence of psychiatric morbidity, while 16(26.3%) did not show psychiatric morbidity when screened with GHQ-12. 43(70.4%) were male, while 18(29.6%) were female. The mean age of the patients was 35.21±2.355 years. The advanced age and female gender have a statistically significant relationship (pvalue<0.05) with the presence of psychiatric morbidity among patients of COVID-19.
Conclusion: Many patients had psychiatric morbidity after being tested positive for COVID -19 and were isolated in the health facility. Female patients and patients aged more than 40 years were found to be more at risk of developing psychiatric morbidity among the patients admitted to COVID -19 ward.
Downloads
Download data is not yet available.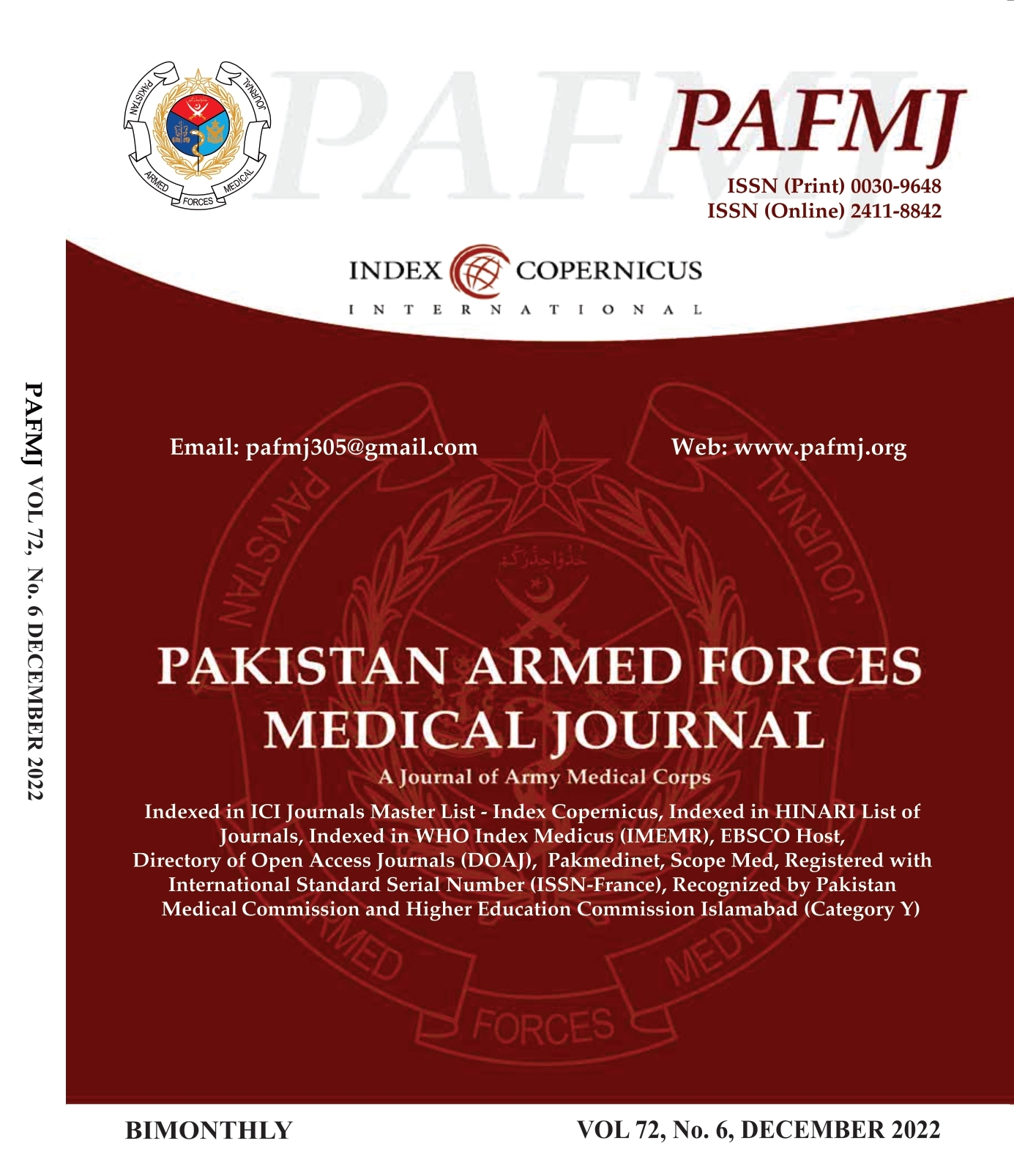 How to Cite
Athar, M., Zubair, U., Shoaib, M., Zubair, H., Yasir, M., Imran, M., & Zia, N. (2022). Factors Associated with Psychiatric Morbidity among Patients who tested Positive and Isolated for COVID-19. Pakistan Armed Forces Medical Journal, 72(6), 1961-64. https://doi.org/10.51253/pafmj.v72i6.6412
Section
Original Articles