ASSOCIATION OF ABO AND RH BLOOD GROUPS WITH COVID-19 PCR POSITIVE STATUS: A CASE CONTROL STUDY
Keywords:
COVID-19, ABO Blood Groups, SARS- COV-2, Rh blood group, RT-PCR
Abstract
Objective: To determine association of ABO and Rh blood groups with COVID-19 RT-PCR positive status.
Study Design: Case control study.
Place and Duration of the Study: Department of Pathology, Margalla Hospital Taxila, from Apr 2020 to Dec 2020.
Methodology: The sample comprised of 436 cases and 500 controls. Out of 3936 RT-PCR done during the study duration, 436 RT-PCR positives were enrolled in study as cases. 500 age and gender matched controls were selected from same population. Study variables (age, gender, blood groups, RT-PCR result) were obtained from Hospital data (HIMS). Data was analyzed using SPSS version 25. Mean and SD was calculated for age. Frequencies were calculated for categorical variables. p-value calculated applying chi square test. Odds ratios calculated to determine association.
Results: The mean age of cases was 37.3 ± 16.3. Statistically significant association was observed between age, gender and COVID-19 RT-PCR positive status. B+ blood group was most frequent both among cases (35.4%) and controls (36.2%), followed by O+ and A+. However, no significant association was observed between blood groups and COVID-19 RTPCR positivity. Odds ratios calculated for blood group O and non - O (OR=0.95), A antigen (OR=0.97) and Rh factor (OR 0.93) among cases and controls showed week negative association. Whereas a weak positive association of B antigen + and B antigen - with PCR positivity (1.07) was observed between cases and controls.
Conclusion: Susceptibility to acquire COVID-19 infection is not associated with ABO and Rh blood groups according to this study.
Downloads
Download data is not yet available.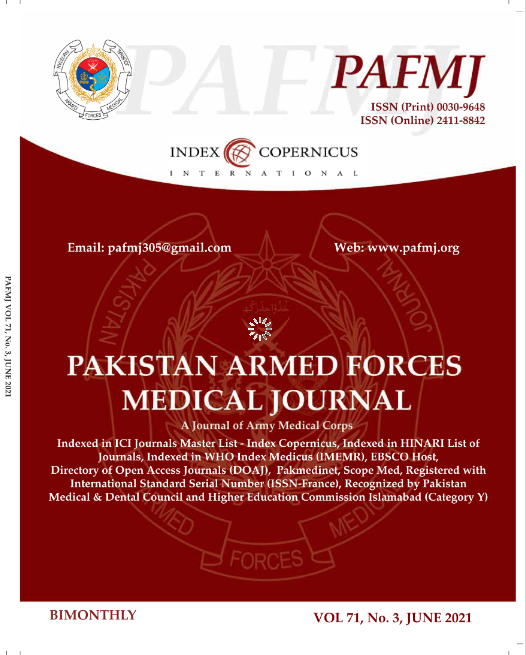 Downloads
How to Cite
Asif, S., Ahmed, A., Batool, A., Anwar, B., Gul, A., & Kayani, M. (2021). ASSOCIATION OF ABO AND RH BLOOD GROUPS WITH COVID-19 PCR POSITIVE STATUS: A CASE CONTROL STUDY. Pakistan Armed Forces Medical Journal, 71(3), 801–04. https://doi.org/10.51253/pafmj.v71i3.6348
Section
Original Articles