FOUR DIFFERENT PRESENTATIONS OF WILSON'S DISEASE IN ONE FAMILY
Asbah Rahman

Pak Emirates Military Hospital/National University of Medical Sciences (NUMS) Rawalpindi Pakistan

Qudratullah Malik

Combined Military Hospital/National University of Medical Sciences (NUMS) Rawalpindi Pakistan

Farooq Ikram

Combined Military Hospital/National University of Medical Sciences (NUMS) Rawalpindi Pakistan
Keywords:
Wilsons disease, Leipzig score, ATP7B, KF rings, Unified wilson's disease rating scale
Abstract
Wilson's disease (WD) is an important differential to consider in any child presenting with hepatic, neurological or ophthalmological manifestations of the disease. We report here 4 individuals of the same family: 2 paediatric and 2 adult patients with a spectrum of manifestations of the disease presenting to Pak Emirates Military Hospital and Combined Military Hospital Rawalpindi, Rawalpindi, from January 2019 and September 2020. The index case had neuro-wilson; the brother was diagnosed preemptively during screening; the father being completely asymptomatic despite markedly raised 24 hours urinary copper levels; and the paternal uncle being diagnosed after many years of manifesting hepatic symptoms. The purpose of this publication is to sensitize the readers to the usage of scoring tools such as the Leipzig score, the importance of regular follow-up and family screening of hereditary diseases. We would also like to highlight the possibility of missed diagnosis with serum Copper levels (S.Copper) which were within normal limits (WNL) in all 4 of our patients; and Serum
ceruloplasmin (S.ceruloplasmin) levels which were within normal limits in 3\4 of these patients, that are often used as screening tools for WD.
Downloads
Download data is not yet available.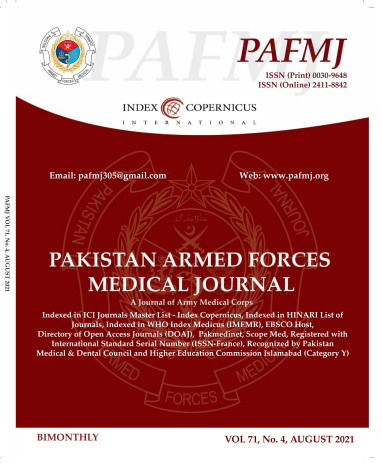 How to Cite
Rahman, A., Malik, Q., & Ikram, F. (2021). FOUR DIFFERENT PRESENTATIONS OF WILSON'S DISEASE IN ONE FAMILY. PAFMJ, 71(4), 1498-1500. https://doi.org/10.51253/pafmj.v71i4.6310