EXPERIENCE WITH DOLUTEGRAVIR IN HIV PATIENTS AT A PUBLIC SECTOR HOSPITAL IN KARACHI, PAKISTAN
Dolutegravir in HIV
Farzana Batool

Shaheed Mohtarma Benazir Bhutto Institute of Trauma & Civil Hospital, Karachi Pakistan

Sohaima Manzoor

Shaheed Mohtarma Benazir Bhutto Institute of Trauma & Civil Hospital, Karachi Pakistan

Azizullah Khan Dhiloo

Dow University of Health Sciences, Karachi Pakistan

Humera Muhammad Ismail

Shaheed Mohtarma Benazir Bhutto Institute of Trauma & Civil Hospital, Karachi Pakistan

Shah Muhammad Shaikh

Civil Hospital, Karachi Pakistan

Shehla Baqi

Shaheed Mohtarma Benazir Bhutto Institute of Trauma & Civil Hospital, Karachi Pakistan
Keywords:
Antiretroviral therapy, Dolutegravir, Efficacy, HIV, Integrase Inhibitor, Outcome, Pakistan, Tolerability
Abstract
Objective: To study the tolerability and efficacy of dolutegravir in naïve and experienced patients, their management and outcome.
Study Design: Cross sectional study.
Place and Duration of Study: Ruth KM Pfau Civil Hospital, Karachi Pakistan, from Apr 2018 to Apr 2020.
Methodology: In this study all treatment-naïve and experienced HIV infected patients were included and started on integrase strand-transfer inhibitor dolutegravir (DTG) containing fixed dose combination at Sindh AIDS Control Program (SACP) was conducted. We documented virological suppression, defined as a viral load of <1000 copies/ml, immunological and clinical outcomes.
Results: Eighty-two patients, of whom 53 (64.6%) were ARV naïve and 29 (35.4%) experienced, were started on DTG. Fifty six (68.3%) were males. The median age was 31.6 ± 9. Of 82, 61 returned for their first follow-up visit for assessment and viral load determination. Of 61, adverse effects to DTG were reported in 12 (19.6%), including 9 with pruritis. Of 35 naive patients, 30 achieved virological suppression by 3.3 ± 0.7 months and 1 at 8 months. All 26 experienced patients achieved virological suppression by 4.5 ± 0.9 months. Overall, of 61 patients, 57 (93.4%) achieved virological suppression, of whom 1 had immunelogical failure and none had clinical failure after 6 months of DTG. Three (3.6%) patients died within the first two months of
initiating DTG.
Conclusion: Dolutegravir has good tolerability, with virological suppression achieved in the majority, including in highly ARV experienced patients.
Downloads
Download data is not yet available.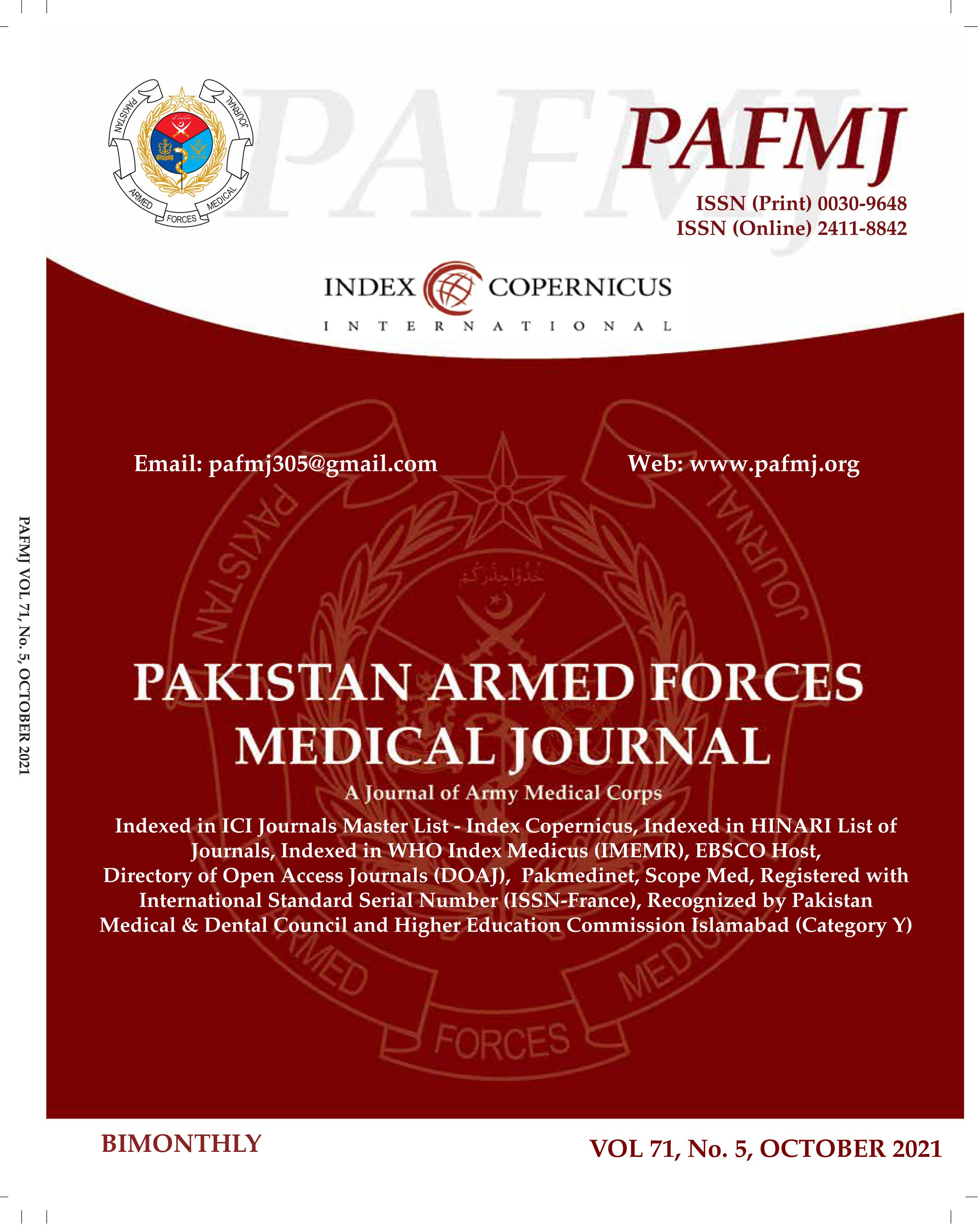 How to Cite
Batool, F., Manzoor, S., Dhiloo, A., Ismail, H., Shaikh, S., & Baqi, S. (2021). EXPERIENCE WITH DOLUTEGRAVIR IN HIV PATIENTS AT A PUBLIC SECTOR HOSPITAL IN KARACHI, PAKISTAN. PAFMJ, 71(5), 1661-65. https://doi.org/10.51253/pafmj.v71i5.6288
Section
Original Articles