FEEDBACK: DIFFERENT CONCEPTS AND PRACTICES IN A CULTURALLY DIFFERENT ENVIRONMENT-FACULTY PERCEPTIONS
Ahsan Malik

Foundation University, Islamabad Pakistan

Faiza Kiran

Army Medical College/National University of Medical Sciences (NUMS) Rawalpindi Pakistan

Fareeha Farooq

Sir Syed College of Medical Sciences for Girls, Karachi Pakistan
Keywords:
Feedback, Faculty, Institute, Pakistan, Qualitative, Research undergraduate
Abstract
Objective: To explore the faculty perceptions regarding the phenomenon of feedback and its" practices in a traditional undergraduate dental college in Pakistan.
Study Design: Qualitative following principles of phenomenology.
Place and Duration of Study: Rawal Institute of Health Sciences, Islamabad from Feb to Apr 2017.
Methodology: Purposive sampling was done, and data was gathered using semi-structured individual interviews of 12 BDS faculty members. Data was organized using qualitative software package Atlas.ti 8.0 and analyzed using thematic framework analysis.
Results: Feedback practices were found to be informally practiced in traditional BDS curriculum. Perceptions regarding purpose and beliefs on oral and written feedback were explored. The essence of the phenomenon under focus is described in terms of five domains denoted by five emergent themes: 1) "Understanding Feedback" through participants" response to/use of the term, 2) highly variant experiences of information exchange, 3) modes and forms of feedback, 4) factors affecting feedback and 5) methods achieving learning progression.
Conclusion: Faculty in our culturally different learning environment is devoid of formally instituted feedback practices, have understandings and practices that are both similar and dissimilar in nature to those often described in western-centric literature. Education about the phenomenon of feedback and faculty training to use it appropriately may help streamline the educational process in this context.
Downloads
Download data is not yet available.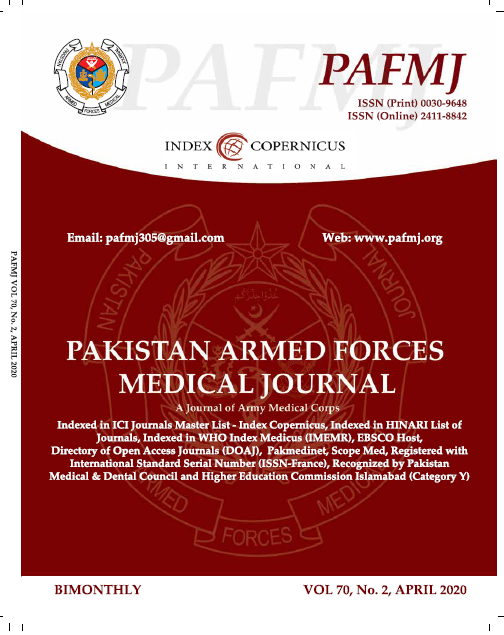 How to Cite
Malik, A., Kiran, F., & Farooq, F. (2021). FEEDBACK: DIFFERENT CONCEPTS AND PRACTICES IN A CULTURALLY DIFFERENT ENVIRONMENT-FACULTY PERCEPTIONS. Pakistan Armed Forces Medical Journal, 71(2), 655-62. https://doi.org/10.51253/pafmj.v71i2.6283
Section
Original Articles