Effectiveness of Short Message Service (SMS) based Glycaemic Control
Maria Tariq

Pak Emirates Military Hospital/National University of Medical Sciences (NUMS) Rawalpindi Pakistan

Shazia Nisar

Pak Emirates Military Hospital/National University of Medical Sciences (NUMS) Rawalpindi Pakistan

Ayesha Anwer

Pak Emirates Military Hospital/National University of Medical Sciences (NUMS) Rawalpindi Pakistan

Ahtesham Ellahi

Khaleej Diagnostics Center, Rawalpindi Pakistan

Muhammad Shahid Khan

Heavy Industries Taxila Education City Institute of Medical Sciences, Texila/National University of Medical Sciences (NUMS) Pakistan

Muhammad Zahid Hussain

Pak Emirates Military Hospital/National University of Medical Sciences (NUMS) Rawalpindi Pakistan
Keywords:
Diabetes, Glycaemic control, HbA1c, Non-communicable diseases (NCD), Short message service (SMS)
Abstract
Objective: To find out the effectiveness of short message service (SMS) on glycaemic control among patients with diabetes at a tertiary care hospital in Rawalpindi.
Study Design: Quasi-experimental study.
Place and Duration of Study: Department of Endocrinology, Pak Emirates Military Hospital, Rawalpindi Pakistan, from Jan to Jul 2020.
Methodology: A total of 218 patients with diabetes were included in the study. Patients were randomized into two groups by lottery method. Group-A received a tailored SMS package daily for six months along with printed dietary instructions, while Group-B was given only printed dietary instructions. After six months, HbA1c levels and other sociodemographic factors were compared among the two Groups A and B.
Results: In Group-A (SMS-Group) mean HbA1c levels reduced from 9.3±2.0 to 7.0±0.4 compared to Group-B (non-SMSGroup) with mean HbA1c levels from 9.7±1.8 to 8.8 ±1.4. Before SMS intervention, all variables, including HbA1c levels between the two groups, were insignificant. However, the use of structured SMS-based intervention in Group-A showed a statistically significant reduction in HbA1c levels compared to Group-B (p-value <0.05). The mean difference was 1.77(95% CI:-2.44 to -1.10).
Conclusion: This study showed Short Message Service (SMS) effectiveness by significantly reducing glycaemic levels (HbA1c)among people with diabetes compared to conventional methods of diabetic education for glycaemic control.
Downloads
Download data is not yet available.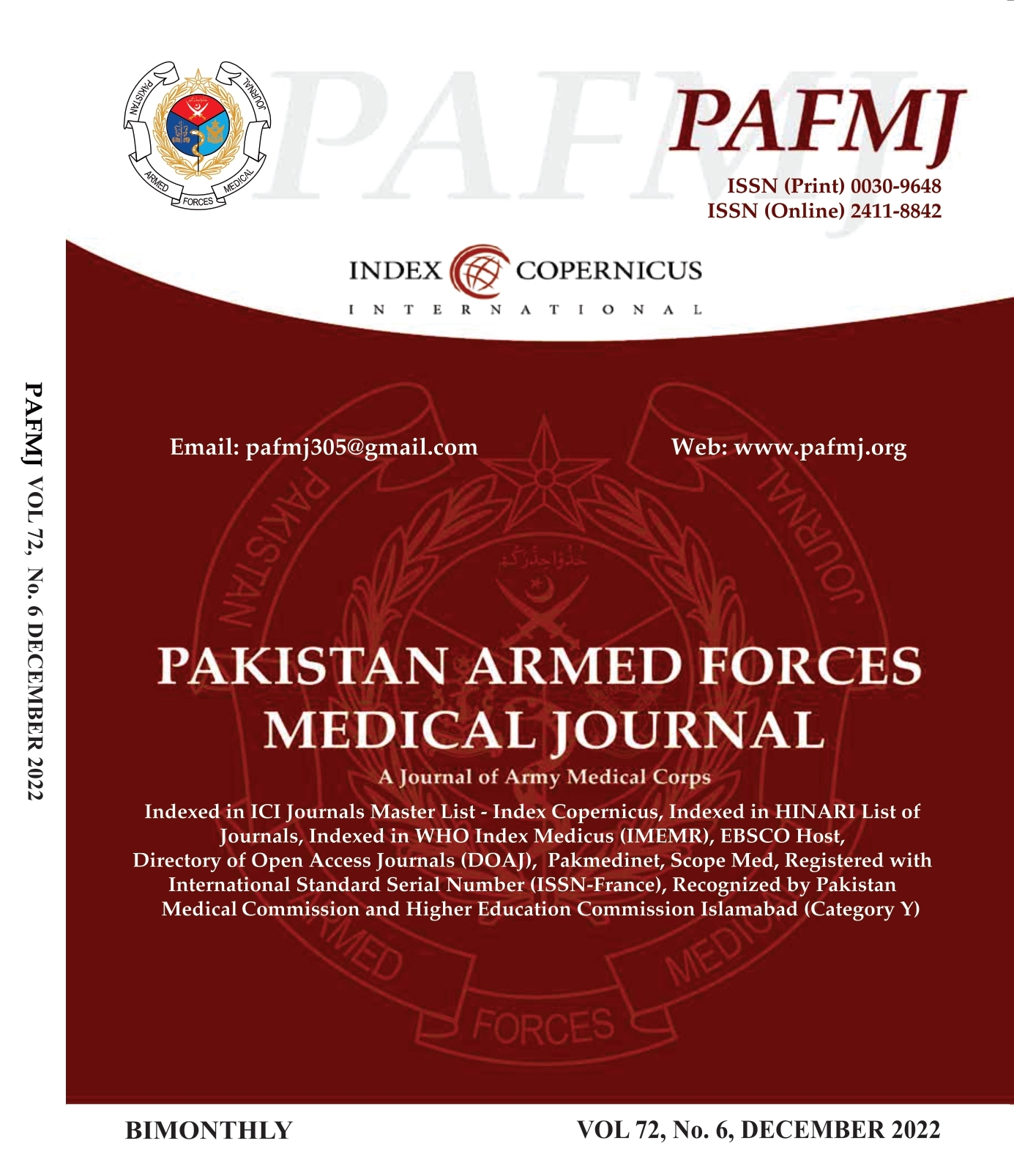 How to Cite
Tariq, M., Nisar, S., Anwer, A., Ellahi, A., Khan, M. S., & Hussain, M. Z. (2022). Effectiveness of Short Message Service (SMS) based Glycaemic Control. Pakistan Armed Forces Medical Journal, 72(6), 1957-60. https://doi.org/10.51253/pafmj.v72i6.6270
Section
Original Articles