COMPARISON OF MIRROR THERAPY AND MOTOR RELEARNING PROGRAM IN IMPROVING THE UPPER LIMB MOTOR FUNCTION OF PATIENTS WITH STROKE
Rabia Rauf

Royal College of Physiotherapy, Rahim Yar Khan, Pakistan

Abdul Rashad

United College of Physical Therapy, Karachi Pakistan

Alisha Noreen

Iqra University, Karachi Pakistan

Rabia Intikhab

Pakistan Institute of Rehabilitation and Medical Sciences, Karachi Pakistan

Tehreem Anis Suleman

Pakistan Institute of Rehabilitation and Medical Sciences, Karachi Pakistan

Seemab Mughal

University of Balochistan, Quetta Pakistan
Keywords:
Motor function, Stroke, Upper extremity
Abstract
Objective: To compare the effectiveness of mirror therapy and motor relearning program for improving the upper limb motor function in stroke patients.
Study Design: A randomized control trial with registration number IRCT20200316046791N1 (IRCT).
Place and Duration of Study: Al-Noor Hospital and Al Jannat Medicare, Rahim Yar Khan Pakistan, from Jan to Jul 2020.
Methodology: Sample size consisted of 30 patients recruited by convenient sampling. Patients were randomized into two groups. Both groups received 5 sessions a week for 6 weeks. Group A received Motor Relearning Program while the treatment of group B was Mirror Therapy. Motor part of Fugl Meyer Assessment was used as an outcome measure. Non parametric Friedman test was used for within group analysis, while for between group analyses Karuskal-Wallis test was used.
Results: The total participants who suffer from left hemiplegia were 22 whereas the patients having right hemiplegia were 8. The mean age of participants in both groups was 53.80 ± 7.6 group A median (interquartile range) at pre-assessment was 5.00 (3) at mid-assessment median=15.00 (4) while at post assessment median was 25.00 (6). Group B median at baseline was 6.00 (4), at mid-assessment median=14.00 (9), post assessment median was 17.00 (13). Mid and post assessment comparison showed both treatments improved the motor function. Statistically the results were non-significant (p>0.005). Both treatments improved the motor function in stroke patients.
Conclusion: There is no significant difference between the effectiveness of Mirror Therapy and Motor relearning program in improving the upper limb motor function of stroke patients.
Downloads
Download data is not yet available.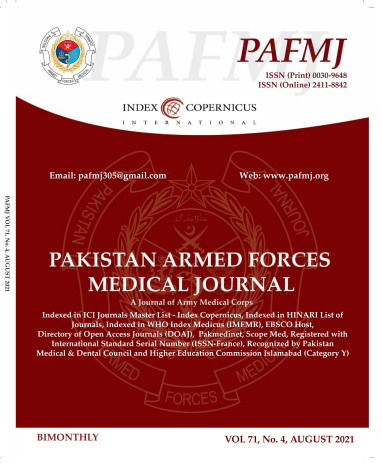 How to Cite
Rauf, R., Rashad, A., Noreen, A., Intikhab, R., Suleman, T., & Mughal, S. (2021). COMPARISON OF MIRROR THERAPY AND MOTOR RELEARNING PROGRAM IN IMPROVING THE UPPER LIMB MOTOR FUNCTION OF PATIENTS WITH STROKE. PAFMJ, 71(4), 1364-67. https://doi.org/10.51253/pafmj.v71i4.6249
Section
Original Articles