EFFICACY OF NEGATIVE PRESSURE WOUND THERAPY IN EARLY DIABETIC FOOT ULCER MANAGEMENT IN COMPARISON WITH ADVANCED MOIST WOUND THERAPY
Naveed Ahmed Sheen

Combined Militry Hospital Sibi/National University of Medical Sciences Pakistan

Ali Murtaza Samar

Salisbury District Hospital, Salisbury United Kigdom

Muhammad Ibrar Butt

Islam Teaching Hospital Sialkot Pakistan

Zeeshan Ayub

Combined Militry Hospital Quetta/National University of Medical Sciences Pakistan

Faisal Nadeem

Frontier Corps Hospital Chitral Pakistan
Keywords:
Advanced moist wound therapy, Negative pressure wound therapy, Diabetes, Foot ulcer, Wound
Abstract
Objective: To compare negative pressure wound therapy with advanced moist wound therapy in managing early diabetic foot ulcer.
Study Design: Quasi-experimental study.
Place and Duration of Study: Surgical Department, Combined Military Hospital Rawalpindi, from Jul 2016 to Jun 2018.
Methodology: A total of 100 patients of diabetic foot ulcer were randomly allocated into two equal groups for the treatment with negative pressure wound therapy (NPWT) and advanced moist wound therapy (AMWT). Ulcers were reassessed after 4 weeks for presence of granulation tissue covering entire ulcer base and reduction of 3 cm in largest diameter of ulcer.
Results: Mean age of the study participants was 57.08 ± 9.99 years. 33 patients had Wagner grade-I ulcer, while remaining had Wagner grade-II ulcer. Mean ulcer size at presentation was 6.46 ± 1.71 cm. Both study groups were comparable in terms of mean age (p=0.968), wound size at presentation (p=1.000), age (p=0.695), gender (p=1.000) and Wagner ulcer grade (p=0.288). Mean ulcer size was found smaller with negative pressure wound therapy (3.46cm, p=0.061) at follow-up visits. Reduction in ulcer size ≥3cm was achieved frequently with negative pressure wound therapy technique (72.0% vs. 38.0%; p>0.01). Mean healing time was 4.11 ± 1.65 weeks which was lower with negative pressure wound therapy (3.66 weeks vs. 4.56 weeks; p>0.05). Treatment efficacy (healing in ≤4 weeks and ≥3cm reduction in ulcer) was significantly higher with negative pressure
wound therapy (72.0% vs. 38.0%; p<0.01) as well.
Conclusion: This study demonstrates superiority of negative pressure wound therapy over advanced moist...............
Downloads
Download data is not yet available.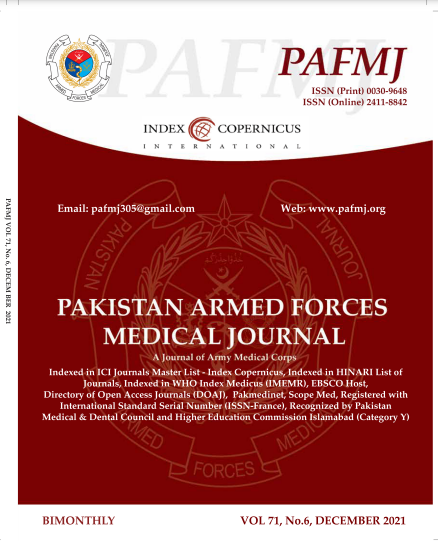 How to Cite
Sheen, N., Samar, A., Butt, M., Ayub, Z., & Nadeem, F. (2021). EFFICACY OF NEGATIVE PRESSURE WOUND THERAPY IN EARLY DIABETIC FOOT ULCER MANAGEMENT IN COMPARISON WITH ADVANCED MOIST WOUND THERAPY. PAFMJ, 71(6), 2087-90. https://doi.org/10.51253/pafmj.v6i6.6231
Section
Original Articles