PATTERNS OF CHRONIC KIDNEY DISEASE – MINERAL BONE DISEASE AND ITS RELATIONSHIP WITH SOCIO-DEMOGRAPHIC FACTORS AMONG THE PATIENTS OF CHRONIC KIDNEY DISEASE UNDERGOING HEMODIALYSIS
Keywords:
CKD-MBD, CKD, Hemodialysis
Abstract
Objective: To determine the prevalence of patterns of CKD-MBD in dialysis patients at a tertiary care hospital and analyze its relationship with various socio demographic factors.
Study Design: Analytical cross sectional study.
Place and Duration of Study: Pak Emirates Military Hospital Rawalpindi, from Jul 2017 to Dec 2017.
Methodology: The sample population comprised of 100 patients undergoing hemodialysis and blood samples of calcium, phosphate, alkaline phosphatase and intact PTH were obtained from these patients. CKD-MBD was classified on the basis of biochemical abnormalities and their relationship with age, gender, marital status, smoking history, dialysis count per week, dialysis duration was assessed.

Results: Out of 82 patients consisting of 62 males and 20 females, the mean age was 49.8 ± 16 years, 68% of dialysis patients had biochemical abnormalities of which 73% showing high turn over bone disease and 26.8% showing low turnover bone disease (adynamic and osteomalacia). After applying the logistic regression we found that age, gender, dialysis vintage and other socio-demograhic factors had no significant association with the CKD-MBD subtypes.
Conclusion: Biochemical abnormalities although common in dialysis patients but the sturdy interconnection between them is still shrouded in disputation. Special consideration should be remunerated to the dialysis population with different spectrum of CKD-MBD as propitious management can procrastinate the progression of CKD and eventually paring down the cardiovascular morbidity and mortality.
Downloads
Download data is not yet available.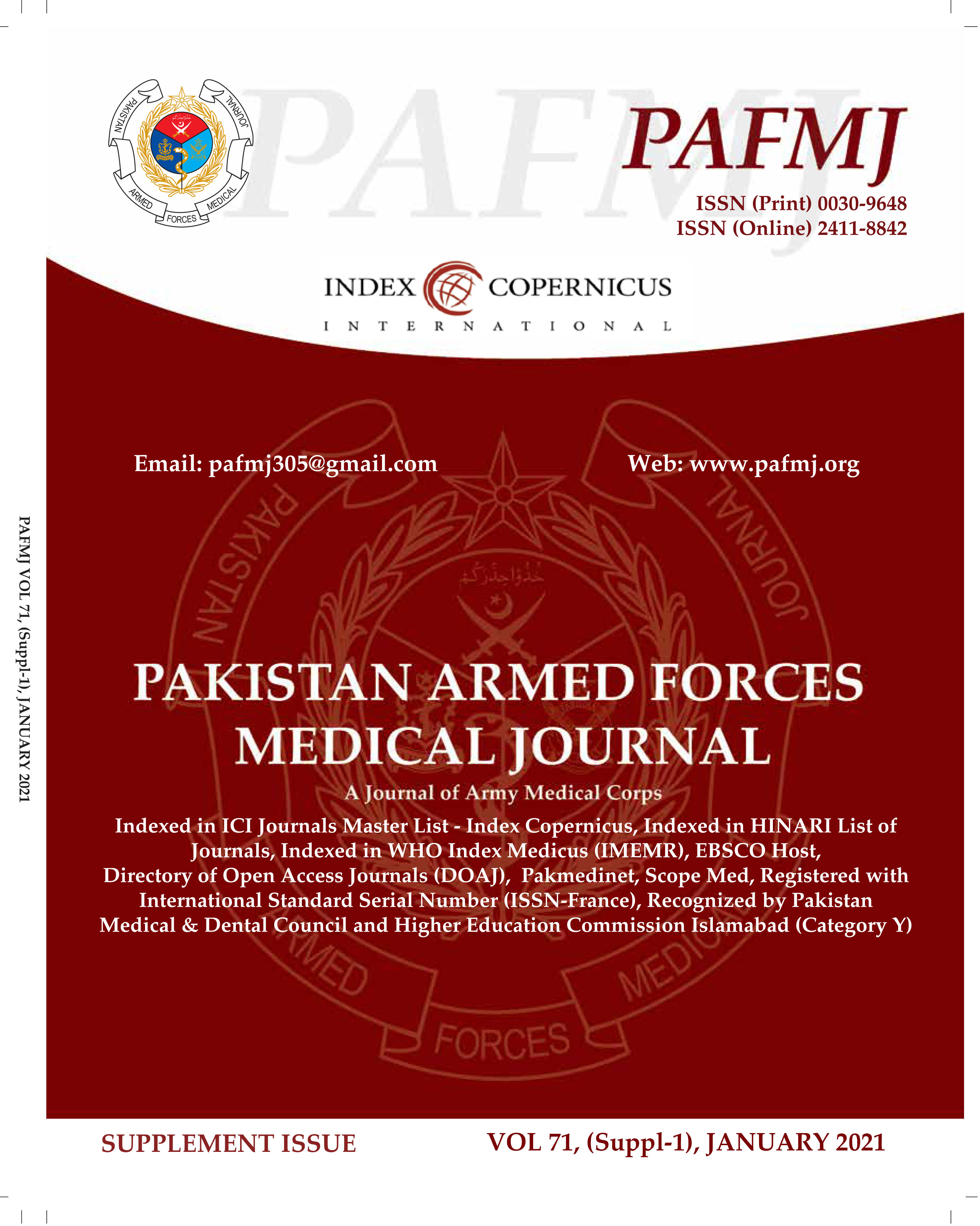 Downloads
How to Cite
Butt, B., Ejaz, T., Sabir, S., & Khan, G. (2021). PATTERNS OF CHRONIC KIDNEY DISEASE – MINERAL BONE DISEASE AND ITS RELATIONSHIP WITH SOCIO-DEMOGRAPHIC FACTORS AMONG THE PATIENTS OF CHRONIC KIDNEY DISEASE UNDERGOING HEMODIALYSIS. Pakistan Armed Forces Medical Journal, 71(Suppl-1), S197–201. https://doi.org/10.51253/pafmj.v71iSuppl-1.6215
Section
Original Articles