ASSOCIATION OF SERUM FOLLICLE STIMULATING HORMONE AND SERUM LUTEINIZING HORMONE WITH SECONDARY INFERTILITY IN OBESE FEMALES IN PAKISTAN
Humera Khan

District Headquarter Teaching Hospital, Sahiwal Pakistan

Nimrah Siddique

CMH Institute of Medical Sciences, Bahawalpur/National University of Medical Sciences (NUMS) Pakistan

Rabia Akhtar Cheema

Independent Medical College, Faisalabad Pakistan
Keywords:
Obese, Secondary infertility, Serum follicle stimulating hormone, Serum luteinizing hormone
Abstract
Objective: To finding the association of serum follicle stimulating hormone (FSH) and luteinizing hormone (LH) with secondary infertility in obese females in Pakistan.
Study Design: Cross sectional study.
Place and Duration of Study: District head quarter Hospital Sahiwal, from Mar 2018 to May 2018.
Methodology: The study was conducted at district head quarter hospital Sahiwal after approval from Institutional Review Board of Sahiwal Medical College Sahiwal. The Data was assessed by IBM-SPSS version 24. Frequency distributions of study participants were calculated. Significance of the associations was assessed by independent sample t-test. Bivariate analysis was also done to check the effect of different factors on secondary infertility separately. The p-value less than 0.05 was taken as statistically significant.
Results: Mostly (43.3%) belonged to middle class socioeconomic group. Nearly 54% were from urban residential areas. Majority belonged to (65%) age group between 31-40 years. When we calculated the association of serum follicle stimulating hormone and serum luteinizing hormone with the secondary infertility in these study participants then it was conclusive to find out that mean levels of both follicle stimulating hormone and luteinizing hormone were quite low (12.11 ± 1.14 and 21.97 ± 3.74 respectively) in patients with secondary infertility as compared to those which were not suffering from it. Association of serum follicle stimulating hormone was also found to be statistically significant with secondary infertility (p=0.042).
Conclusion: Hence it is concluded that the low levels of serum follicle stimulating hormone are strongly associated with secondary infertility in obese women.
Downloads
Download data is not yet available.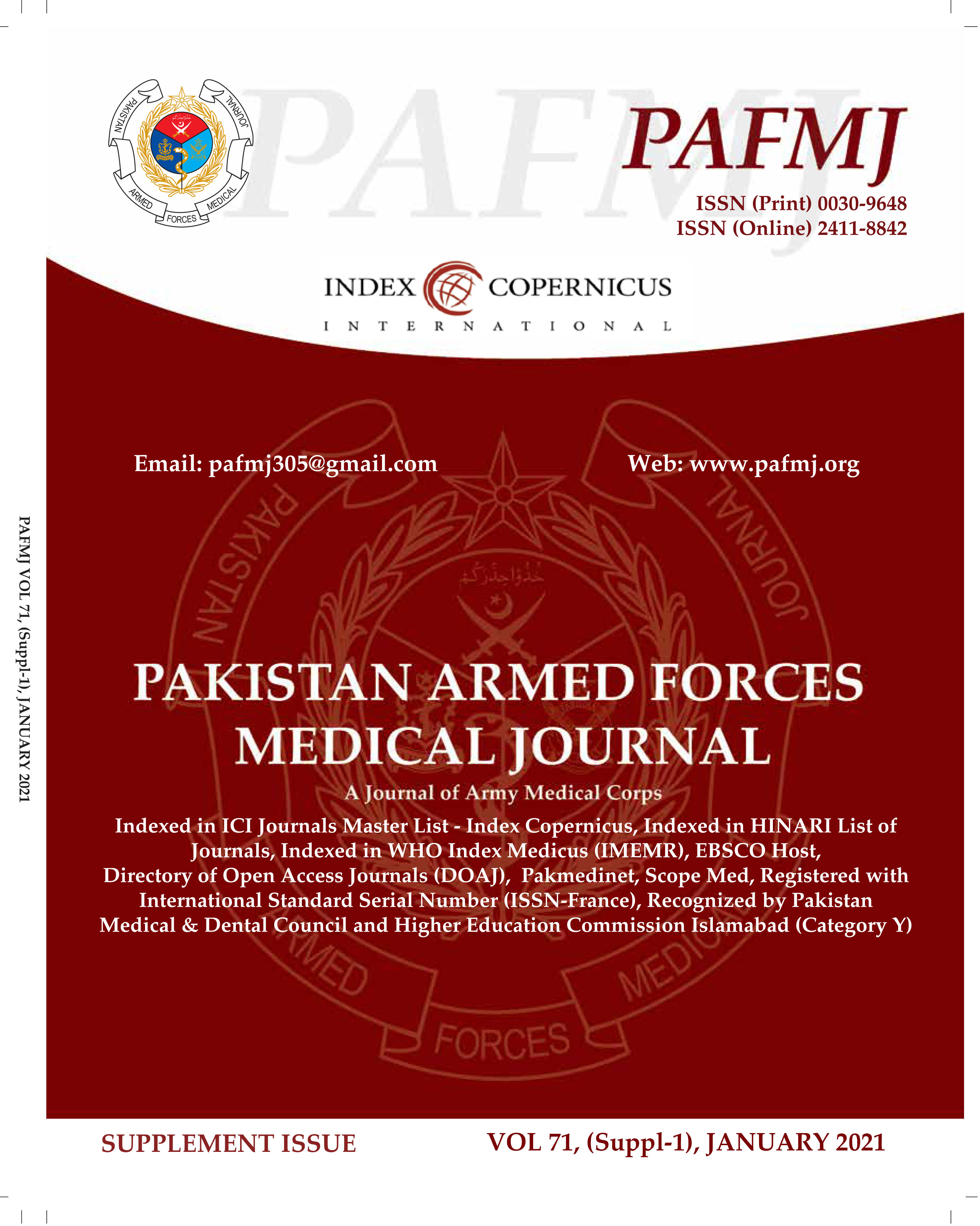 How to Cite
Khan, H., Siddique, N., & Cheema, R. (2021). ASSOCIATION OF SERUM FOLLICLE STIMULATING HORMONE AND SERUM LUTEINIZING HORMONE WITH SECONDARY INFERTILITY IN OBESE FEMALES IN PAKISTAN. PAFMJ, 71(Suppl-1), S193-96. https://doi.org/10.51253/pafmj.v71iSuppl-1.6212
Section
Original Articles