MOTHER'S KNOWLEDGE REGARDING ORAL HEALTH PRACTICES AND RISK FACTORS WITH RESPECT TO THEIR CHILDREN IN THE TWIN CITIES OF PAKISTAN
Keywords:
COVID 19, Children, Knowledge, Mothers, Pandemic, Risk factors
Abstract
Objective: To analyze the way mothers perceive oral health in their children, the importance of oral health amongst children, so that preventive advice and regime can be tailored accordingly and reinforced during the pandemic.
Study Design: Questionnaire base survey.
Place and Duration of Study: This study was conducted in the various sectors of the twin cities of Pakistan, from May to Sep 2020.
Methodology: This study was a questionnaire-based study in which survey forms were distributed online as well as in person among mothers above 18 years of age. A questionnaire was formulated and distributed amongst different areas and sectors of the twin cities in Pakistan. The data was analyzed quantitatively and entered in SPSS version 23 for analysis.
Results: Mothers from various socioeconomic backgrounds had dissimilar knowledge with regards to oral health. There was a greater gap in the knowledge of mothers from low and high socioeconomic status as compared to middle and high.
Conclusion: It is imperative that knowledge regarding oral health practices, preventive measures, risk factors of oral diseases should be imparted equally in the various socioeconomic areas of the country. Also, a widespread oral health plan to indoctrinate preventive knowledge as well as basic knowledge of oral health practices is strongly recommended.
Downloads
Download data is not yet available.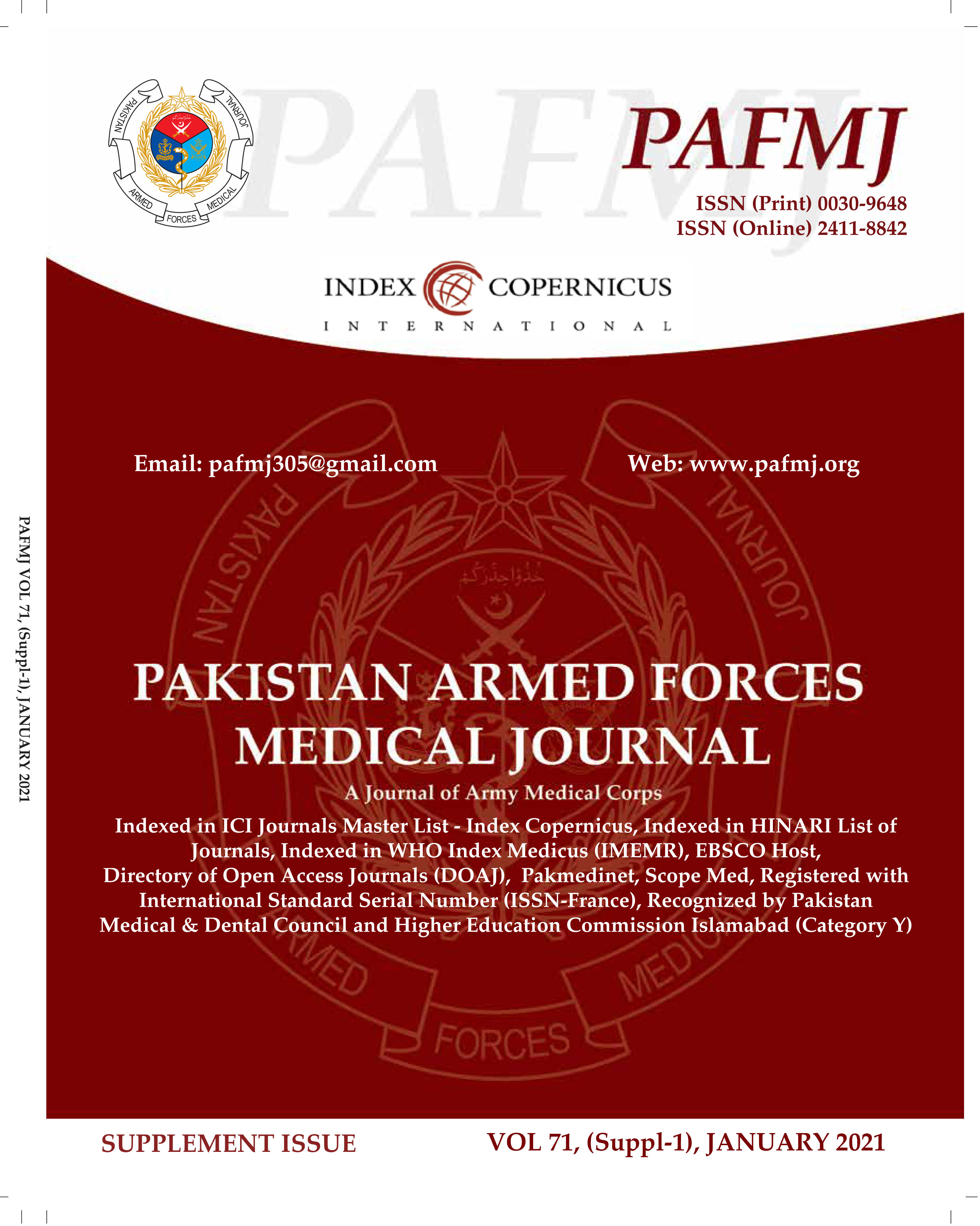 Downloads
How to Cite
Mustafa, L., Masood, A., Bangash, M., Rashid, S., Khan, K., & Zahid, S. (2021). MOTHER'S KNOWLEDGE REGARDING ORAL HEALTH PRACTICES AND RISK FACTORS WITH RESPECT TO THEIR CHILDREN IN THE TWIN CITIES OF PAKISTAN. Pakistan Armed Forces Medical Journal, 71(Suppl-1), S136–41. https://doi.org/10.51253/pafmj.v71iSuppl-1.6204
Section
Original Articles