HEARING LOSS IN BLAST TRAUMA VICTIMS. A MULTICENTRE RETROSPECTIVE STUDY
Kamran Ashfaq Ahmed Butt

Combined Military Hospital Gujranwala/National University of Medical Science (NUMS) Pakistan

Naeem Riaz Bhalli

Combined Military Hospital Gujranwala/National University of Medical Science (NUMS) Pakistan

Wasif Siddique

Combined Military Hospital Malir/ National University of Medical Science (NUMS) Pakistan

Attique Ahmed

Combined Military Hospital/National University of Medical Science (NUMS) Rawalpindi Pakistan

Maryam Khan

Combined Military Hospital Lahore/National University of Medical Science (NUMS) Pakistan

Manzoor Ahmed

Combined Military Hospital Kharian/National University of Medical Science (NUMS) Pakistan
Keywords:
Blast Injuries, Hearing loss, Otologic disease, Tympanic membrane perforation
Abstract
Objective: To describe the resultant Otologic morbidity and report on the early outcomes following blasts occurring in twin cities of Quetta and Peshawar.
Study Design: Case series.
Place and Duration of Study: ENT department Tertiary Care Centre Quetta and Tertiary Care Hospital Peshawar. Study period was, from Jan 2013 to Dec 2013.
Methodology: All bomb blast patients brought to the hospitals were included in study. Participants completed Symptom Assessment Forms followed by detailed ENT examination and Pure Tone Audiograms on arrival and after 6 weeks.
Results: A total of 504 patients were included initially of which 80% of the patients were male. About 57.8% of the patients complained of ear injury, 21.6% of the total patients had tympanic membrane perforation on initial presentation. Chances of spontaneous closure of perforation were 20.9% in our study. Chances of hearing improvement were 17.9% in our study at the end of the study period.
Conclusion: Blast related otologic injuries constituted a major source of morbidity The most common type of hearing loss following a blast trauma was mild to moderate conductive type. Chances of recovery of hearing following blast do exist (17.9%). Suspected patients should be regularly assessed and followed up. Much work needs to be done to study the impact of blast trauma on hearing in our country.
Downloads
Download data is not yet available.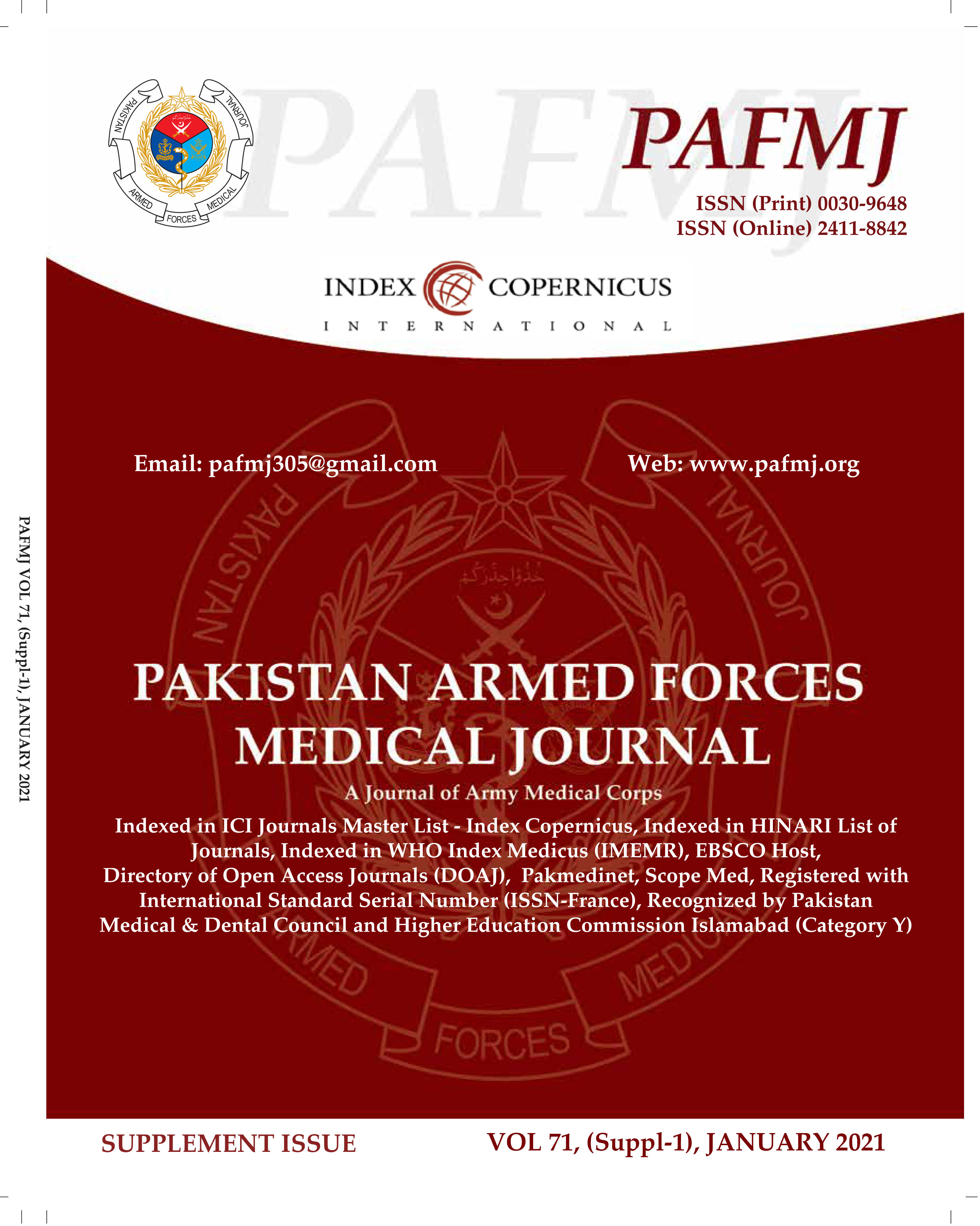 How to Cite
Butt, K. A., Bhalli, N., Siddique, W., Ahmed, A., Khan, M., & Ahmed, M. (2021). HEARING LOSS IN BLAST TRAUMA VICTIMS. A MULTICENTRE RETROSPECTIVE STUDY. PAFMJ, 71(Suppl-1), S130-35. https://doi.org/10.51253/pafmj.v71iSuppl-1.6203
Section
Original Articles