CHALLENGES OF E-LEARNING FACED BY MEDICAL TEACHERS AND STUDENTS DURING COVID-19 PANDEMIC
Keywords:
COVID-19, Coronavirus infections, Medical students, Pandemics, Qualitative research, Student experiences, Student perceptions, Student safety
Abstract
Objective: To explore perceptions of medical students and faculty, regarding challenges of e-learning they faced, during COVID-19 pandemic.
Study Design: Mixed method study (Quantitative and Qualitative - Phenomenological approach).
Place and Duration of Study: Army Medical College Pakistan, from Apr 2020 to Sep 2020.
Methodology: A self-made questionnaire, having both qualitative and quantitative elements, was developed after interviews of participants. It was pilot tested, finalized and sent via Google forms. Total 318 students and 6 faculty members responded, data was transcribed verbatim, themes were identified, and qualitative inductive content analysis of participants" reports was done.
Results: Twenty-seven subthemes were identified by analyzing students" and faculty perceptions. They were grouped under five major themes, namely, communicational, technological, institutional, related to educators and students.
Conclusion: Despite limiting factors like communication gap, digital refugee faculty teaching digital native students, limited technical support, digital divide and unplanned curricular delivery, e-learning was found to be beneficial in terms of flexibility in timings, improving learners" self-efficacy, faculty transformation and gradual acceptance. Moreover, it provided opportunity for hybrid e-curriculum development.
Downloads
Download data is not yet available.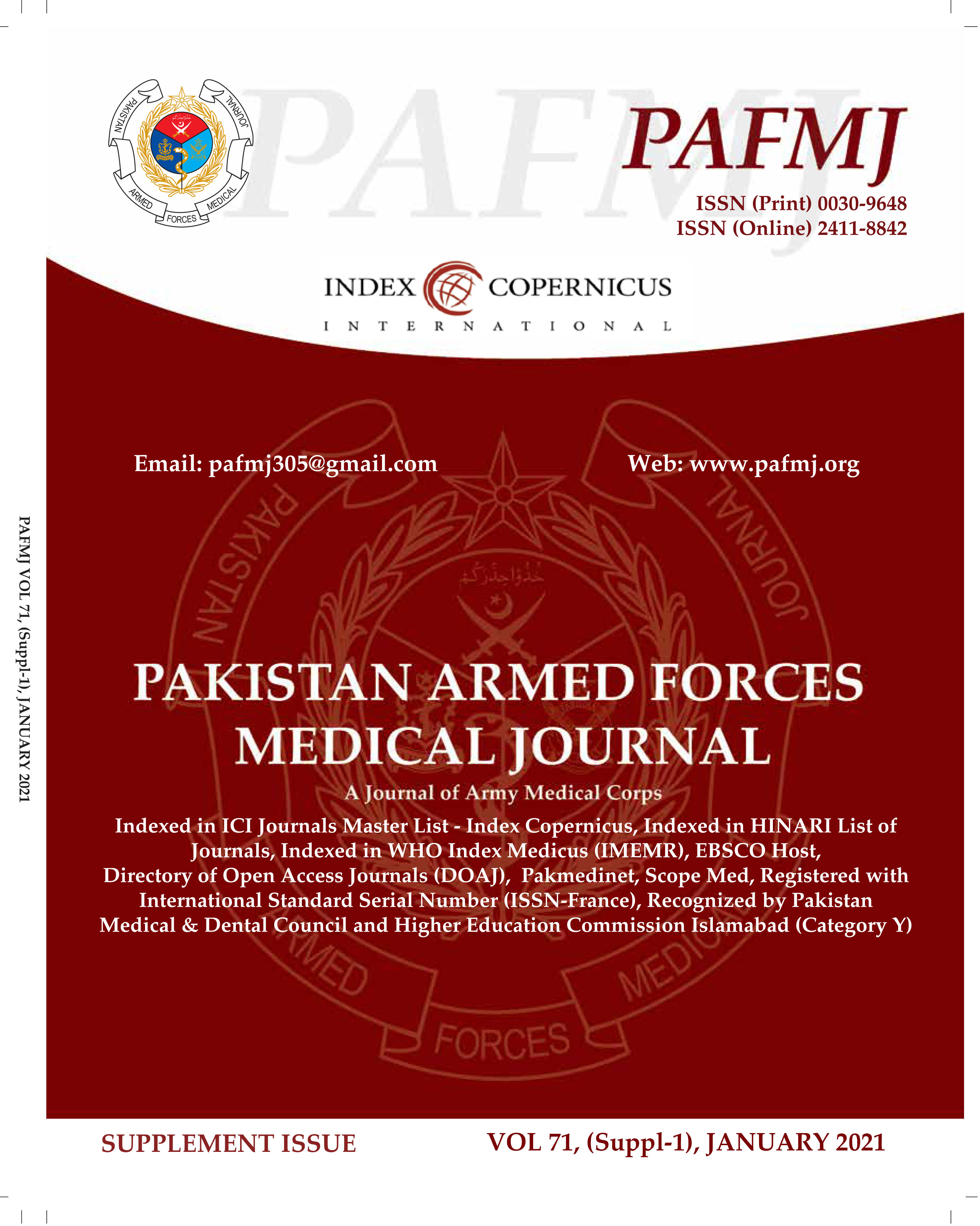 Downloads
How to Cite
Qamar, K., Kiran, F., Khan, M. A., Raza, S. N., Iram, M., & Rauf, A. (2021). CHALLENGES OF E-LEARNING FACED BY MEDICAL TEACHERS AND STUDENTS DURING COVID-19 PANDEMIC. Pakistan Armed Forces Medical Journal, 71(Suppl-1), S3–9. https://doi.org/10.51253/pafmj.v71iSuppl-1.6191
Section
Original Articles