SEMEN ANALYSIS; CORNER STONE IN EVALUATING INFERTILITY
Aysha Khan

Combined Military Hospital Kharian/National University of Medical Sciences (NUMS) Pakistan

Zunera Sajjad

Combined Military Hospital Kharian/National University of Medical Sciences (NUMS) Pakistan

Shagufta Yousaf

Combined Military Hospital Kharian/National University of Medical Sciences (NUMS) Pakistan

Abeera Ahmed

Combined Military Hospital Kharian/National University of Medical Sciences (NUMS) Pakistan

Fatima Sana

Combined Military Hospital Kharian/National University of Medical Sciences (NUMS) Pakistan

Fawad Sana

Combined Military Hospital Kharian/National University of Medical Sciences (NUMS) Pakistan
Keywords:
Asthenozoospermia, Azoospermia, Necrospermia, Oligospermia, Sperms
Abstract
Objective: To study the patterns and distribution of various abnormal semen parameters in infertile males.
Study Design: Cross sectional study.
Place and Duration of Study: Department of Pathology, Combined Military Hospital, Karachi, from Nov 2019 to Oct 2020.
Methodology: The study included 364 patients who presented with primary and secondary infertility. Consecutive convenient sampling was done. Semen analysis was performed using World Health Organization latest guidelines. Samples were categorized as normospermia, azoospermia, oligospermia, asthenozoospermia and necrospermia.
Results: The study comprised of 364 samples of infertile males. Normal sperm count was observed in 317 (87%) males, azoospermia in 28 (7.6%) and oligospermia in 19 (5.2%) males. Low ejaculated volume and higher non-motile sperms were noted in oligospermia samples in comparison with normospermia samples. Asthenozoospermia was observed in 102 (28%) and oligoasthenospermia was noted in 15 (4.1%) samples.
Conclusion: Good quality semen analysis is a corner stone to diagnose the cause of male infertility.
Sperm concentration and motility are the important markers of normal male reproductive system and are related to each other.
Downloads
Download data is not yet available.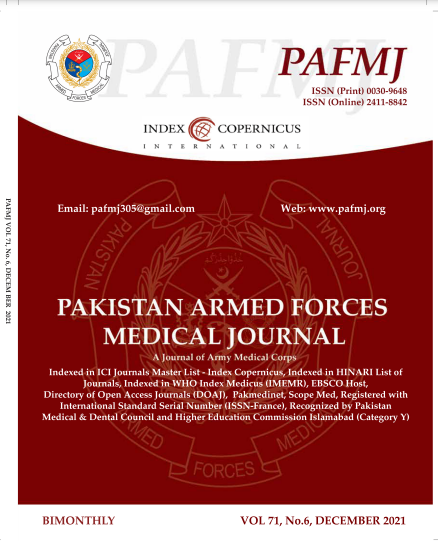 How to Cite
Khan, A., Sajjad, Z., Yousaf, S., Ahmed, A., Sana, F., & Sana, F. (2022). SEMEN ANALYSIS; CORNER STONE IN EVALUATING INFERTILITY. PAFMJ, 71(6), 2224-27. https://doi.org/10.51253/pafmj.v71i6.6150
Section
Original Articles