Association of Apolipoprotein B and Triglyceride Levels with Coronary Artery Disease
Hunain Habib

Armed Forces Institute of Pathology/National University of Medical Sciences (NUMS) Rawalpindi Pakistan

Zujaja Hina Haroon

Armed Forces Institute of Pathology/National University of Medical Sciences (NUMS) Rawalpindi Pakistan

Muhammad Aamir

Armed Forces Institute of Pathology/National University of Medical Sciences(NUMS)RawalpindiPakistan

Afshan Bibi

Armed Forces Institute of Pathology/National University of Medical Sciences (NUMS) Rawalpindi Pakistan

Haroon Javed

HITEC Institute of Medical Sciences, Taxila/National University of Medical Sciences (NUMS) Pakistan

Syed Raza Jaffer

Armed Forces Institute of Pathology/National University of Medical Sciences(NUMS)RawalpindiPakistan
Keywords:
Apolipoprotein B, Body Mass Index, Coronary Artery Disease, Hypertension, Risk factor, Triglycerides
Abstract
Objective: To find the association of Apolipoprotein B and triglycerides with coronary artery disease.
Study Design: Cross-sectional study.
Place and Duration of Study: Department of Chemical Pathology and Endocrinology, Armed Forces Institute of Pathology, Rawalpindi, in collaboration with HITEC Institute of Medical Sciences, Taxila Pakistan, from Mar 2019 to Mar 2020.
Methodology: Four hundred and forty-four individuals of either gender and 18-70 years were included in the study. According to CT angiography, participants were differentiated into those with coronary artery disease and without coronary artery disease. In addition, serum triglycerides were analysed by glycerol phosphate enzymatic endpoint method on ADVIA 1800R Clinical Chemistry Auto analyzer, and apolipoprotein B was analysed on BT1500 Clinical Chemistry turbidimetric analyzer.
Results: The sample population had 144(32.0%) females and 300(68.0%) males. 164(37.0%) patients had coronary artery disease. 120(27.0%) participants were between 35 and 45 years of age, and 96(22.0%) were between 56 and 65 years. 126(30.0%) patients had hypertension, 352(79.3%) had apolipoprotein B levels >130 mg/dl. Positive Pearson's correlation was found between apolipoprotein B and triglycerides with coronary artery disease.
Conclusion: There is a strong association between apolipoprotein B and non-fasting triglyceride levels with coronary artery disease. The apolipoprotein B can be used as a routine biomarker for screening and treatment monitoring coronary artery disease along with other lipid profile parameters.
Downloads
Download data is not yet available.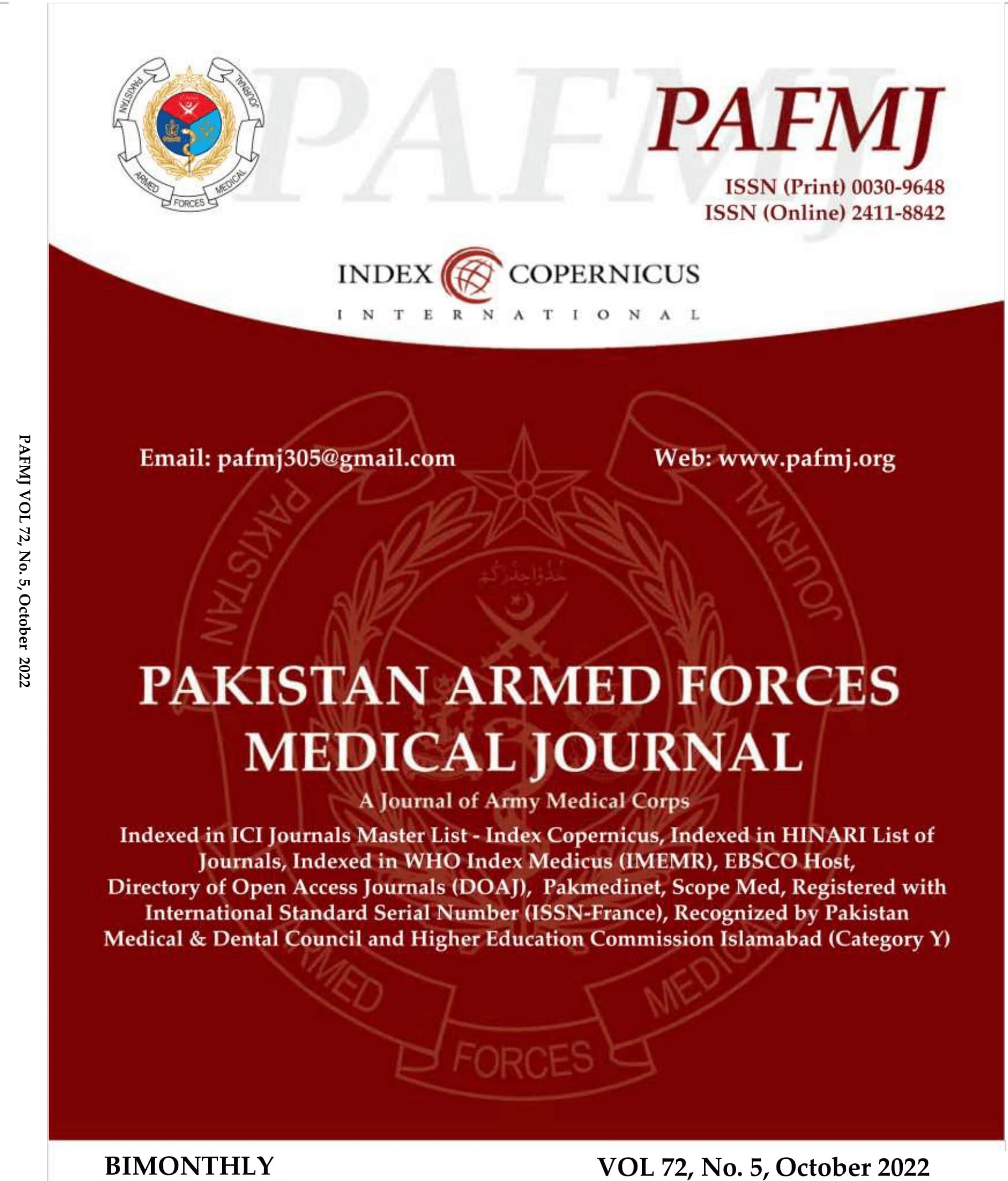 How to Cite
Habib, H., Haroon, Z., Aamir, M., Bibi, A., Javed, H., & Jaffer, S. (2022). Association of Apolipoprotein B and Triglyceride Levels with Coronary Artery Disease. Pakistan Armed Forces Medical Journal, 72(5), 1641-45. https://doi.org/10.51253/pafmj.v72i5.6114
Section
Original Articles