IS PEACEKEEPER'S STRESS SYNDROME REAL? A CROSS-SECTIONAL STUDY OF SOLDIERS AT UN MISSION
Nazia Mustafa

General Headquarter, Rawalpindi Pakistan

Fahad Haleem

General Headquarter, Rawalpindi Pakistan

Hina Iqbal

Islmia College, Peshawar Pakistan

Najm Us Saqib Khan

Naval Headquarter Islamabad Pakistan

Umair Ali

Armed Forces Institute of Radiology & Imaging/National University of Medical Sciences (NUMS) Rawalpindi Pakistan

Zakir Hussain

Quetta Institute of Medical Sciences , Quetta
Keywords:
Anxiety, Depression, Peacekeeping stress syndrome, Stress
Abstract
Objective: To study the Peacekeeping Stress syndrome and see its relationship with various demographic variables (age, years of service and marital status).
Study Design: Cross sectional study.
Place and Duration of Study: Study was carried out on Pakistani Peacekeepers who were deployed in Democratic Republic of Congo in Jun 2019.
Methodology: About 536 Pakistani male peacekeepers with mean age of 33 years, deployed in Democratic Republic of Congo were taken as study sample. By group testing method, all participants were assessed through Depression, Anxiety and Stress Scale (DASS-21), Urdu version and demographic form consisted of age, marital status, education, years of service and rank.
Results: Results revealed that DASS-21 has good reliability (α=0.71) for the present sample and prevalence of depression, anxiety and stress among Pakistani peacekeepers was low (2.9%, 4% and 4% respectively). Further to it, there was significant negative correlation of depression and stress with the age and years of service whereas relationship of anxiety with these variables (age and years of service) was non-significant. There were significant mean differences between the married and unmarried peacekeepers on Anxiety and Stress and non-significant on depression.
Conclusion: Present study provided useful information regarding the mental health of peacekeepers and highlighted the fact that Pakistani peacekeepers are resilient enough to handle the challenges of international environment.
Downloads
Download data is not yet available.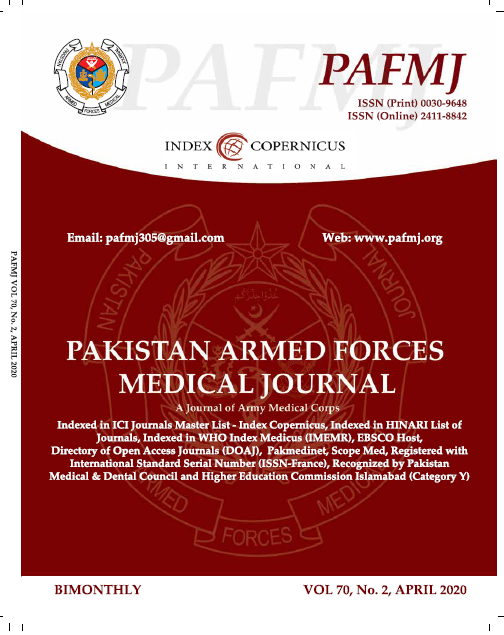 How to Cite
Mustafa, N., Haleem, F., Iqbal, H., Saqib Khan, N., Ali, U., & Hussain, Z. (2021). IS PEACEKEEPER'S STRESS SYNDROME REAL? A CROSS-SECTIONAL STUDY OF SOLDIERS AT UN MISSION. Pakistan Armed Forces Medical Journal, 71(2), 663-66. https://doi.org/10.51253/pafmj.v71i2.6110
Section
Original Articles