Etiological Pattern, Clinical Presentation and Outcome of Patients with Proptosis in a Tertiary Care Hospital
Syed Imad Zahir

Khyber Teaching Hospital, Peshawar Pakistan

Muhammad Usman Khan

WAPDA Hospital, Peshawar Pakistan

Maqsood Ahmad

Khyber Teaching Hospital, Peshawar Pakistan

Ibrar Hussain

Khyber Teaching Hospital, Peshawar Pakistan

Jawad Hamayun

Khyber Teaching Hospital, Peshawar Pakistan
Keywords:
Aetiology, Clinical features, Outcome, Proptosis
Abstract
Objective: To determine the etiological pattern, clinical presentation and outcome of patients with proptosis in a tertiary care hospital.
Study Design: Cross-sectional study.
Place and Duration of Study: Ophthalmology Department, Khyber Teaching Hospital, Peshawar Pakistan, from Jan 2019 to Jun 2020.
Methodology: This study was conducted on 60 patients having proptosis. Patients were treated either medically, surgically or both. The demographic profile included age, gender and type of proptosis. The outcome included recovery, re-treatment,referral to the relevant speciality and loss to follow-up, were measured.
Results: Out of 60 patients with proptosis, 39 were males, and 21 were female. Fifty-two patients had unilateral, and 8 had bilateral proptosis, with the majority suffering from non-axial proptosis. On aetiology exhibited tumours (45%), infectious (25%), inflammatory (16.6%), vascular (6.66%) and injury (6.66%). The surgical procedure was indicated in 27(45%) patients,while medical treatment was given in 28(46.6%) patients. Five patients (8.4%) received both surgical and medical treatment. Out of 60 patients, 26 patients (46.33%) fully recovered and 11 patients (18.33%) did not recover, 17(28.33%) patients were referred to other specialities for management, and 5(8.3%) patients lost to follow-up.
Conclusion: In our study, tumours were the main cause of proptosis, followed by infective and inflammatory causes, with the paediatric age group (<18 years) at more risk.
Downloads
Download data is not yet available.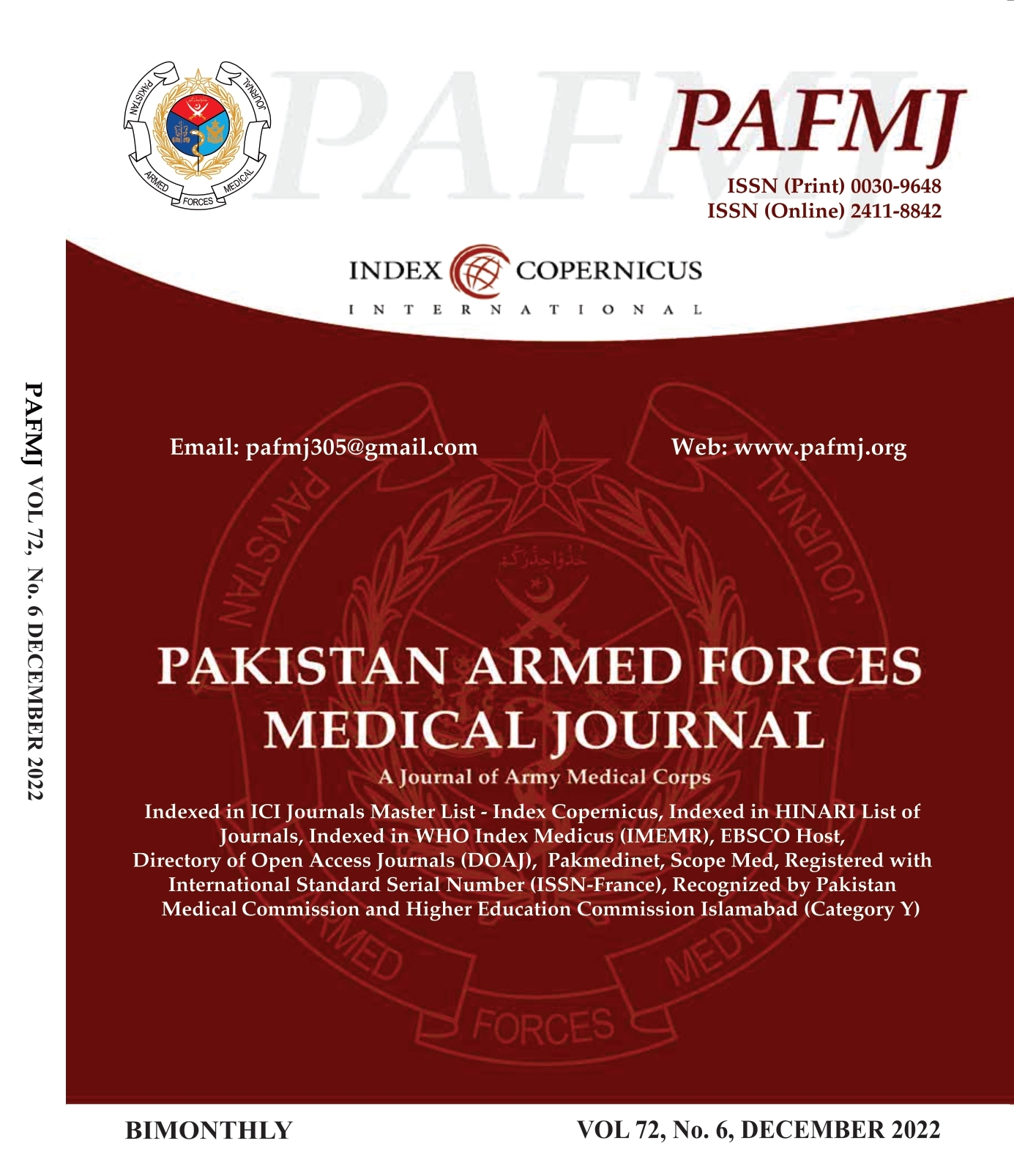 How to Cite
Zahir, S., Khan, M. U., Ahmad, M., Hussain, I., & Hamayun, J. (2023). Etiological Pattern, Clinical Presentation and Outcome of Patients with Proptosis in a Tertiary Care Hospital. Pakistan Armed Forces Medical Journal, 72(6), 2113-16. https://doi.org/10.51253/pafmj.v72i6.6097
Section
Original Articles