EXPLORING THE KNOWLEDGE AND PRACTICES OF AUSTRALIAN MEDICAL STUDENTS REGARDING INFECTION PREVENTION AND CONTROL IN HOSPITALS: A PILOT STUDY
Maha Pervaz Iqbal

School of Population Health, UNSW Sydney, Australia

Kerry Uebel

School of Population Health, UNSW Sydney, Australia

Md. Saiful Islam

School of Population Health, UNSW Sydney, Australia

Victoria Jabbour

School of Population Health, UNSW Sydney, Australia

John Hall

School of Population Health, UNSW Sydney, Australia

Najam Us Saqib Khan

Bahria University Medical and Dental College, Karachi Pakistan

Abrar A Chughtai

School of Population Health, UNSW Sydney, Australia
Keywords:
Care of medical students, Hand hygiene, Knowledge and practice, Personal protective equipment, Student, Sharps injury and disposal
Abstract
Objective: To assess the knowledge and practice of medical students regarding standard precautions in an Australian undergraduate medical programme.
Study Design: Cross sectional study.
Place and Duration of Study: University of New South Wales, Australia, duration of study was six-years.
Methodology: Fifty medical students who were involved in clinical practice, were invited to complete a comprehensive questionnaire on standard precautions.
Results: The majority of participants agreed that hand hygiene was the most important factor in infection control. Only 32 (16%) knew to use a full personal protective equipment for Ebola. Regarding sharps disposal, 46 (92%) students always disposed used needles in the recommended bin, 27 (54%) indicated they sometimes recapped used needle while 25 (20%) sometimes bent used needles.
Conclusion: This study showed that there is a gap between knowledge and practice of medical students regarding hand hygiene and other infection control measures. There is a need for standardized and regular student training in the use of standard precautions in infection prevention and control.
Downloads
Download data is not yet available.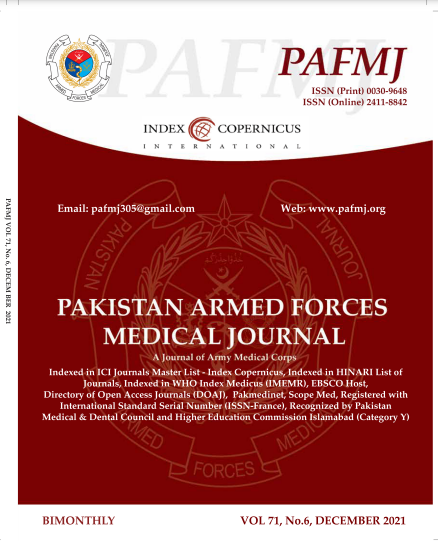 How to Cite
Pervaz Iqbal, M., Uebel, K., Islam, M. S., Jabbour, V., Hall, J., Khan, N. U., & Chughtai, A. (2022). EXPLORING THE KNOWLEDGE AND PRACTICES OF AUSTRALIAN MEDICAL STUDENTS REGARDING INFECTION PREVENTION AND CONTROL IN HOSPITALS: A PILOT STUDY. PAFMJ, 71(6), 2236-41. https://doi.org/10.51253/pafmj.v71i6.6086
Section
Original Articles