COMPARISON OF EFFECTIVENESS OF CARBAMAZEPINE VERSUS TOPIRAMATE FOR THE MANAGEMENT OF TRIGEMINAL NEURALGIA
Ramish Tariq

Allied Hospital, Faisalabad Pakistan

Omer Sefvan Janjua

Allied Hospital, Faisalabad Pakistan

Sana Mehmood

Allied Hospital, Faisalabad Pakistan

Muhammad Usman Khalid

Allied Hospital, Faisalabad Pakistan

Khurram Jah Zafar

Allied Hospital, Faisalabad Pakistan

Saad Hameed

Allied Hospital, Faisalabad Pakistan
Keywords:
Carbamazepine, Topiramate, Trigeminal Neuralgia
Abstract
Objective: To compare the effectiveness of Carbamazepine versus Topiramate for the management of trigeminal neuralgia.
Study Design: Comparative prospective study.
Place and Duration of Study: Oral and Maxillofacial Surgery department, Allied Hospital, Faisalabad Pakistan, from Nov 2017 to Nov 2018.
Methodology: A total of 60 patients (30 in each group) were included. Group A was treated with Carbamazepine 100mg TDS and group B with Topiramate 25mg TDS. Visual analogue scale was used to access pain and was calculated at 1st visit (baseline), at 7th day, at 14th day and at 28th day.
Results: Out of 60 patients, mean of age was 54.78 ± 8.49 years. Right and left side of the face was involved in 41 (68.3%) and 19 (31.7%) patients respectively. Maxillary branch was involved in 24 (40%) and mandibular branch was involved in 36 (60%) patients. The mean of visual analogue scale after 7 days in group A was 4.53 ± 0.93 and in group B was 7.1 ± 1.07, after 14 days mean of visual analogue scale in group A was 3.7 ± 1.02 and in group B was 4.03 ± 1.27. Mean of visual analogue scale after 28 days in group A was 3.27 ± 1.01 3.93 ± 1.28. The results were statistically significant with p-value of 0.03.
Conclusion: Topiramate has comparable efficacy as that of Carbamazepine at dose of 75-100mg with lesser side effects. So Topiramate can be used as first line of treatment in trigeminal neuralgia.
Downloads
Download data is not yet available.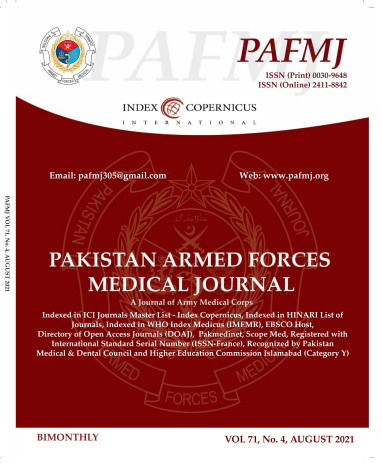 How to Cite
Tariq, R., Janjua, O., Mehmood, S., Khalid, M., Zafar, K., & Hameed, S. (2021). COMPARISON OF EFFECTIVENESS OF CARBAMAZEPINE VERSUS TOPIRAMATE FOR THE MANAGEMENT OF TRIGEMINAL NEURALGIA. PAFMJ, 71(4), 1360-63. https://doi.org/10.51253/pafmj.v71i4.6083
Section
Original Articles