EFFECTIVENESS OF COMPREHENSIVE CAMPAIGN FOR DENGUE CONTROL IN SOUTHERN PUNJAB, PAKISTAN - AN EXPERIENCE OF 2 YEARS
Muhammad Younas

Combined Military Hospital Multan/National University of Medical Sciences (NUMS) Pakistan

Muhammad Asif Aziz

Combined Military Hospital Multan/National University of Medical Sciences (NUMS) Pakistan

Raja Kamran Afzal

Combined Military Hospital Multan/National University of Medical Sciences (NUMS) Pakistan

Hamid Iqbal

Combined Military Hospital Multan/National University of Medical Sciences (NUMS) Pakistan

Mohsin Hussain

Combined Military Hospital Multan/National University of Medical Sciences (NUMS) Pakistan

Rabia Salar Mir

Combined Military Hospital Multan/National University of Medical Sciences (NUMS) Pakistan
Keywords:
Dengue fever, Indoor residual spray, Vector surveillance
Abstract
Objective: To determine the effect of comprehensive campaign for dengue control in Southern Punjab, Pakistan.
Study Design: Cross sectional study.
Place and Duration of the Study: Station Health Organization Multan and Departments of Pathology, Combined Military Hospital Multan, from Mar 2019 to Dec 2020.
Methodology: This study was conducted by implementing a comprehensive campaign by involvement of public health workers in high risk dengue area of Multan. There were five phases of this campaign; awareness, situation analysis, vector surveillance, indoor residual sprays where vector was found and contact tracing of dengue fever cases. The system was developed in 46 Mohallas/localities of Multan. Hot spot for mosquitoes breeding were identified at 15 places. Total of 23 health workers were recruited including 3 female workers. Insecticide spraying was carried out by indoor residual spray pumps & thermal foggers in a cyclic pattern.
Results: During 2019, 42 larvae were identified followed by insecticide sprays & follow up visits; 26 cases of dengue fever were diagnosed and treated at CMH Multan in a dedicated dengue ward. Contact tracing was carried out and indoor residual sprays were carried out in 20 houses around residence of these cases. In 2020, 5 larvae were identified followed by sprays & follow up visits; 2 cases of dengue fever were diagnosed and treated.
Conclusion: Comprehensive campaign against dengue fever was quite successful to control spread of dengue fever.
Downloads
Download data is not yet available.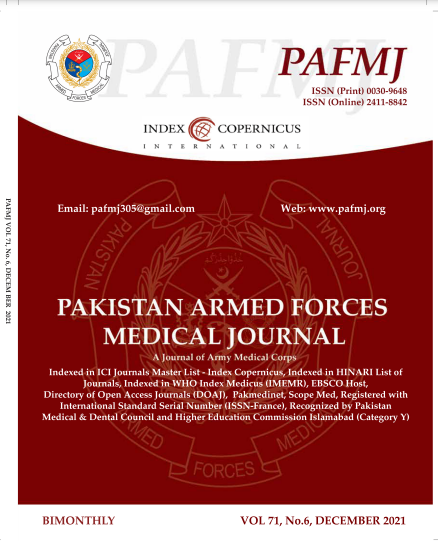 How to Cite
Younas, M., Aziz, M., Afzal, R., Iqbal, H., Hussain, M., & Mir, R. (2021). EFFECTIVENESS OF COMPREHENSIVE CAMPAIGN FOR DENGUE CONTROL IN SOUTHERN PUNJAB, PAKISTAN - AN EXPERIENCE OF 2 YEARS. PAFMJ, 71(6), 2122-25. https://doi.org/10.51253/pafmj.v71i6.6072
Section
Original Articles