Spectrum of Disorders Leading to Sudden Cardiac Death
Keywords:
Cardiac disorders, Ischemic heart disease, Sudden cardiac death
Abstract
Objective: To determine the frequency of disorders leading to sudden cardiac death (SCD).
Study Design: Cross-sectional study.
Place and duration of study: Pathology Lab in collaboration with the Cardiology Department, AFIC & NIHD, Rawalpindi Pakistan, from Jan 2017 to Dec 2018.
Methodology: A total of 305 cases of sudden cardiac death reported within the last 24 hours of a death to AFIC Rawalpindi were included consecutively. Cases with a history of extracardiac diseases leading to sudden death were excluded. Most of the included cases were diagnosed phenotypically based on clinical examination, biochemistry, ECG, echocardiography, angiography, thallium scan, electro-physiological studies, cardiac CT scan, MRI and routine autopsy whenever recommended.
Results: Out of 305 cases, 197 (65%) were males and 108 (35%) females. Disorders leading to SCD were found in 178 (58.3%) cases due to ischemic heart disease (IHD), aortic dissection (0.7%), hypertrophic cardiomyopathy (HCM) (0.3%), dilated cardiomyopathy (DCM) (10.5%), congenital heart disease (12.1%) and valvular heart disease (7.9%). While in cardiac channelopathies, catecholaminergic polymorphic ventricular tachycardia (CPVT) in 5 (1.6%) and congenital long QT syndrome (LQTS) in 2 (0.7%) cases. However, 24 (7.9%) cases remained as sudden unexplained deaths (SUD).
Conclusion: In our setup, ischemic heart disease and dilated cardiomyopathy were the commonest causes of sudden cardiac death, followed by congenital heart disease and valvular heart diseases.
Downloads
Download data is not yet available.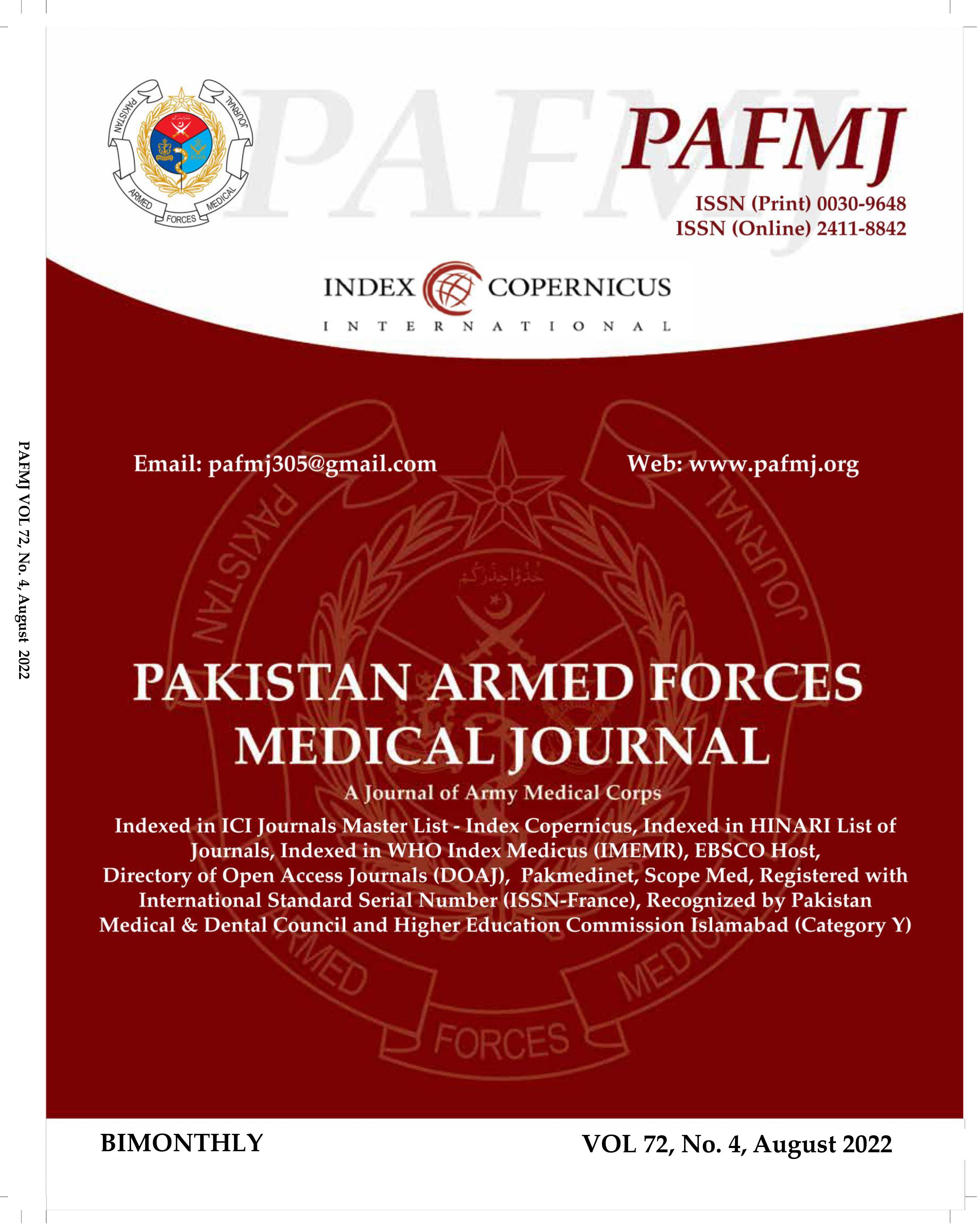 Downloads
How to Cite
Gilani, S. T. A., Khan, D. A., Iftikhar, G., Khan, K. A., Rauf, A., & Siddiqui, A. H. (2022). Spectrum of Disorders Leading to Sudden Cardiac Death. Pakistan Armed Forces Medical Journal, 72(4), 1249–52. https://doi.org/10.51253/pafmj.v72i4.6070
Section
Original Articles