DEMOGRAPHICS AND MAJOR INDICATIONS FOR THE WARFARIN USE, THE COMPLIANCE RATE AND THE FACTORS CONTRIBUTING IN NON-ADHERENCE AMONG PATIENTS PRESENTING TO A TERTIARY CARDIAC CENTER OF PAKISTAN
Muhammad Talha Bin Nazir

Rawalpindi Institute of Cardiology, Rawalpindi Pakistan

Muhammad Mujtaba Ali Siddiqui

Rawalpindi Institute of Cardiology, Rawalpindi Pakistan

Hamid Sharif Khan

Rawalpindi Institute of Cardiology, Rawalpindi Pakistan

Mohsin Saif

Armed Forces Institute of Cardiology/National Institute of Heart Disease (AFIC/NIHD)/National University of Medical Sciences (NUMS) Rawalpindi Pakistan

Shabana Kousar

Rawalpindi Institute of Cardiology, Rawalpindi Pakistan

Muhammad Usman Sajid

Combined Military Hospital Jhelum/ National University of Medical Sciences (NUMS) Pakistan
Keywords:
Compliance, Warfarin therapy, Warfarin clinic
Abstract
Objective: To assess the impact of a dedicated hospital based warfarin clinic assessing patients' knowledge and improving the drug compliance in a tertiary cardiac center of Pakistan.
Study Design: Descriptive cross sectional study.
Place and Duration of Study: Rawalpindi Institute of Cardiology from Jan 2019 to Jul 2019.
Methodology: Patients presenting in the anticoagulation clinic using warfarin for different cardiovascular indications from Jan to Jul 2019 were included in the study. Patients were assessed for their underlying cardiovascular condition, their international normalized ratio levels checked using a standard technique. The patients' knowledge about the drug and the degree of compliance was judged by eight-item Morisky Medication Adherence Scale (MMAS-8). The patients were thoroughly counseled and reassessed six months later assessing the improvement in compliance with the warfarin therapy.
Results: Total number of 401 patients using warfarin for different cardiovascular diseases were studied. The mean age was 43.3 ± 13.3 years with 218 (54.5%) patients being male. Most of the patient 300 (75%) belonged to the low socio-economic group with average monthly income of <PKR 10,000/$65. In addition, 61.4% of the patients belonged to the rural set up. Mechanical valve replacement made the bulk of the indication for warfarin therapy with 44.7% of patients with mechanical mitral valve, 14% with mechanical double valve and 13% with mechanical aortic valve replacement. 13.7% of the patients on warfarin therapy had atrial fibrillation while 6.9% either had venous thromboembolism and pulmonary embolism. The compliance was good in 76.1% on baseline visit which increased to 86.7% on the first visit at six-month interval. Residence in rural areas and low socioeconomic status were the two factors contributing to poorer compliance which improved on the first visit.
Conclusion: Low socioeconomic status and residents of rural areas were resulting in comparatively poorer compliance with warfarin therapy which improved by educating such patients in specific warfarin clinic.
Downloads
Download data is not yet available.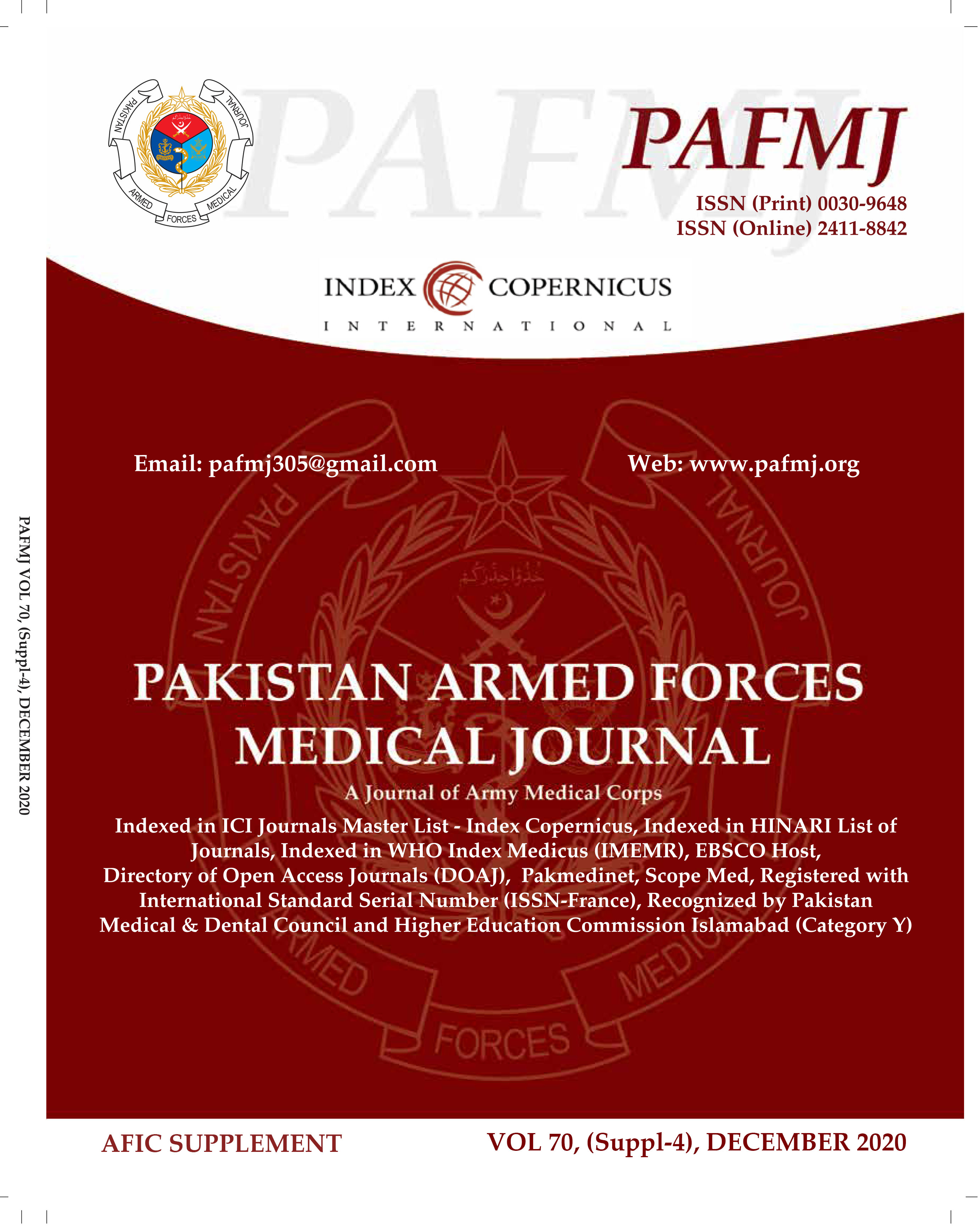 How to Cite
Nazir, M. T., Siddiqui, M. M., Khan, H., Saif, M., Kousar, S., & Sajid, M. (2021). DEMOGRAPHICS AND MAJOR INDICATIONS FOR THE WARFARIN USE, THE COMPLIANCE RATE AND THE FACTORS CONTRIBUTING IN NON-ADHERENCE AMONG PATIENTS PRESENTING TO A TERTIARY CARDIAC CENTER OF PAKISTAN. Pakistan Armed Forces Medical Journal, 70(Suppl-4), S887-91. https://doi.org/10.51253/pafmj.v70iSuppl-4.6049
Section
Original Articles