IN STENT RESTENOSIS (ISR) IN PATIENTS UNDERGOING PERCUTANEOUS CORONARY INTERVENTION (PCI) FOR CORONARY ARTERY DISEASE (CAD)
Keywords:
Coronary artery disease, Percutaneous Coronary intervention, Restenosis
Abstract
Objective: To study the frequency of In-Stent Restenosis and its treatment in patients undergoing Percutaneous Coronary Intervention for coronary artery disease.
Study Design: Descriptive cross sectional study.
Place and Duration of Study: Department of Cardiology, Armed Forces Institute of Cardiology & National Institute of Heart disease (AFIC/NIHD) Rawalpindi, from Jul 2017 to Jul 2019.
Methodology: All the patients who underwent Percutaneous Coronary Intervention for Coronary Artery Disease at our institute were considered for this study. A consecutive sampling method was used and inclusion/exclusion criteria was applied. Following data was obtained; 1) Demographic information and clinical risk factors like history of hypertension, hyperlipidemia, diabetes mellitus, smoking, coronary artery disease characteristics
(number of diseased arteries, bifurcation lesions, calcification, chronic total occlusions-CTO and tortuosity) 3), Stent factors (under expansion, fracture, longitudinal miss, stent gap). Data recording, storage, assessment and analysis was done by using SPSS software version 21.
Results: Among 1332 cases, 50 had In-Stent Restenosis with overall prevalence of 3.75%. Mean age of the patients with In-Stent Restenosis was 58.76 (± 9.97), with 45 (90%) male and 5 (10%) female. Diabetes Mellitus was the commonest risk factor (22.9%) followed by Hypertension (18%). Sixty four percent of the patients (n=32) had Single Vessel Coronary Artery Disease, 14 (28%) had Double Vessel Coronary Artery Disease and 4 (8%) had Tripple Vessel Coronary Artery Disease. Left Anterior Descending was the commonest coronary artery that developed In-Stent Restenosis, followed by Right Coronary Artery and Left Circumflex respectively. Previously deployed stents which developed In-Stent Restenosis showed longitudinal geographical miss in 16%, stent under expansion in 6% and stent gap in 4%. There was statistically significant association (p-value=0.02) between stent length and frequency of In-Stent Restenosis and it was commonest in stents longer than 30 mm. Eighty six percent
(n=43) of In-Stent Restenosis cases in our study group was treated with Drug Eluting Stent followed by Drug Eluting Balloon in 32% and Plain Old Balloon Angioplasty in 22%.
Conclusion: History of diabetes mellitus and greater stent length were major risk factors in developing In-Stent Restenosis in our study. DES was the commonest treatment modality used.
Keywords: , , .
Downloads
Download data is not yet available.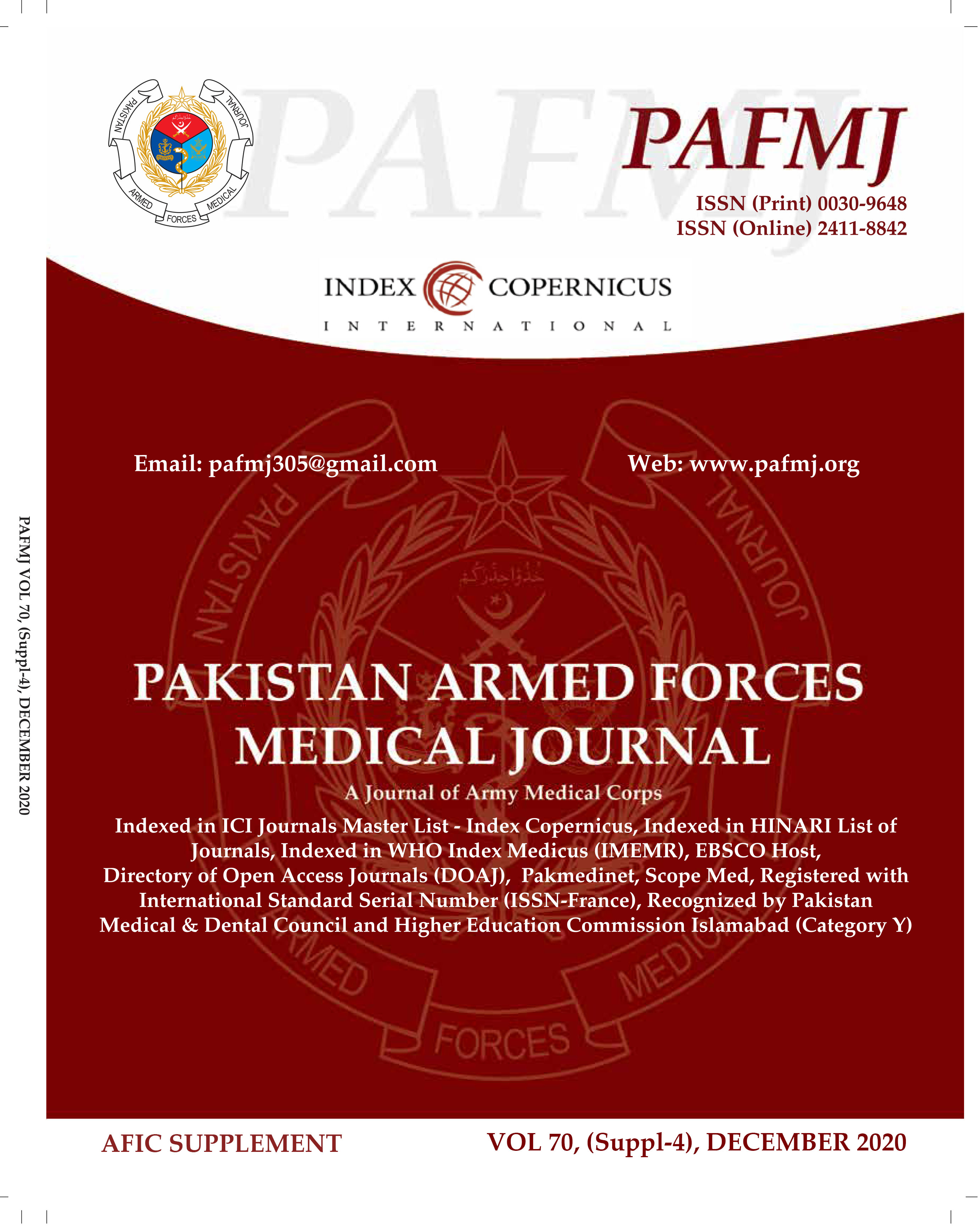 Downloads
How to Cite
Raja, W., Samore, N. A., Saif, M., Kamran, J., Waheed, S., Tariq, N., … Siddiqui, A. H. (2021). IN STENT RESTENOSIS (ISR) IN PATIENTS UNDERGOING PERCUTANEOUS CORONARY INTERVENTION (PCI) FOR CORONARY ARTERY DISEASE (CAD). Pakistan Armed Forces Medical Journal, 70(Suppl-4), S865–70. https://doi.org/10.51253/pafmj.v70iSuppl-4.6045
Section
Original Articles