FREQUENCY OF RIGHT VENTRICULAR INFARCTION AND IN-HOSPITAL OUTCOME AFTER PRIMARY PERCUTANEOUS CORONARY INTERVENTION (PPCI) IN ACUTE INFERIOR MYOCARDIAL INFARCTION (MI)
Keywords:
Acute Myocardial Infarction, Right Ventricular Infarction, ST Elevation
Abstract
Objective: To determine the frequency of Right Ventricle infarction and in-hospital outcome after primary percutaneous coronary intervention in patients with acute inferior MI.
Study Design: Descriptive Cross Sectional Study.
Place and Duration of Study: Armed Forces Institute of Cardiology/National Institute of Heart Diseases, from Dec 2018 to Jun, 2019.
Methodology: Non-probability consecutive sampling technique was used. Permission was sought from hospital ethical committee and informed consent was taken from participants of the study. Patients presenting with acute inferior MI who underwent Primary Percutaneous Coronary Intervention were assessed for presence of Right Ventricle infarct. All the patients' data and variables of the study was recorded in the data collection sheet. Patients underwent venous blood sampling for Complete blood count, Renal function tests, Liver function tests, Blood glucose random, Troponin-I, cardiac enzymes and Coagulation profile at presentation in emergency department.
Results: Total 261 patients were included according to the inclusion criteria of the study. Mean age (years) in the study was 58.0 ± 12.59 whereas there were 183 (70.1) male and 78 (29.9) female patients who were included in the study. Frequency of right ventricular infarction and in-hospital outcome (mortality) after Primary Percutaneous Coronary Intervention in patients with acute inferior MI was assessed in the study which was 73 (28.0) and 20 (7.7) respectively.
Conclusion: The study concluded that frequency of in-hospital mortality is substantial due to major adverse cardiac events in patients with right ventricle infarction.
Downloads
Download data is not yet available.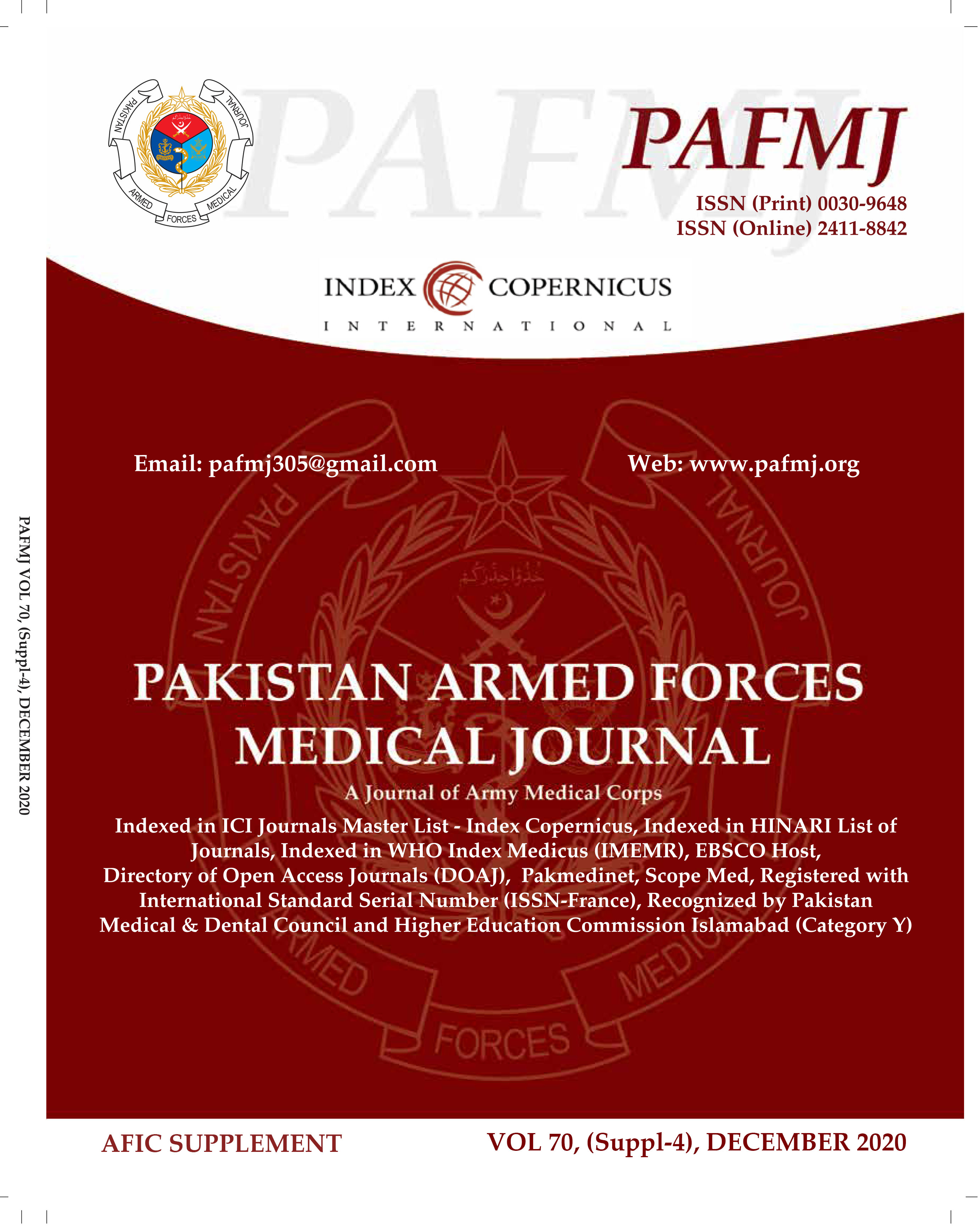 Downloads
How to Cite
Saif, M., Safi, S. I., Samin, A., Rahman, F. .- ur-., Bukhari, J., & Khan, S. (2021). FREQUENCY OF RIGHT VENTRICULAR INFARCTION AND IN-HOSPITAL OUTCOME AFTER PRIMARY PERCUTANEOUS CORONARY INTERVENTION (PPCI) IN ACUTE INFERIOR MYOCARDIAL INFARCTION (MI). Pakistan Armed Forces Medical Journal, 70(Suppl-4), S855–59. https://doi.org/10.51253/pafmj.v70iSuppl-4.6043
Section
Original Articles