IMPACT OF COVID-19 ON MENTAL HEALTH OF HEALTHCARE WORKERS DURING PANDEMIC; AN EXPERIENCE AT A TERTIARY CARDIAC CARE SET UP
Keywords:
COVID-19, Healthcare workers, Quarantine
Abstract
Objective: To assess the frequency of mental health problems among healthcare workers related to COVID-19 pandemic among health care workers in a tertiary cardiac care center.
Study Design: Descriptive cross sectional study.
Place and Duration of Study: This study was conducted at Armed Forces Institute of Cardiology/ National Institute of Heart Diseases (AFIC/NIHD) Rawalpindi (Pakistan) from Apr 2020 to Jun 2020.
Methodology: This study was a hospital-based cross-sectional study consisted of 100 healthcare workers including 50 nurses and 50 doctors who volunteered to enroll in our study were included. Approval from the clinical research ethics committee of cardiac care hospital was received before the initiation of this study. Verbal informed consent was provided by all study participants prior to their enrollment. Exclusion criteria comprised of the healthcare workers who refused to participate in it. This study followed the COVID-19 Pandemic Mental Health Questionnaire (CoPaQ) 14. Descriptive statistics were used to describe the percentages and frequencies. Descriptive statistics were used to describe the percentages and frequencies were calculated and analyzed using the Statistical Package for the Social Sciences (SPSS), version 23.0.
Results: A total of 100 healthcare workers completed the survey. Mean age of the healthcare workers was 36.5 ± 27.0 years (median=36.00), and 75 (75%) were women and men comprised 25 (25%). Of all participants, 50 (50.0%) were nurses, and 50 (50%) were doctors. A considerable proportion of participants reported symptoms of COVID19, 6 (6.0%), tested positive 14 (14%), currently quarantine 24 (24.0%). While 12 healthcare workers experienced 14 day quarantine time period. 16 healthcare workers reported COVID test positive of their closed one. The fear of infecting others with COVID-19 was found to be 30 (30%). The mental stress that that COVID-19 will personally affect us was found in 28 (28%) of healthcare workers. The fear that consequences of the COVID-19 will be severe health disasters was found in 40 (40%) of the individuals.
Conclusion: In this study of physicians and nurses in hospitals with wards for patients with COVID-19, health care workers responding to the spread of COVID-19 reported high rates of symptoms of anxiety, fear, and distress.
Downloads
Download data is not yet available.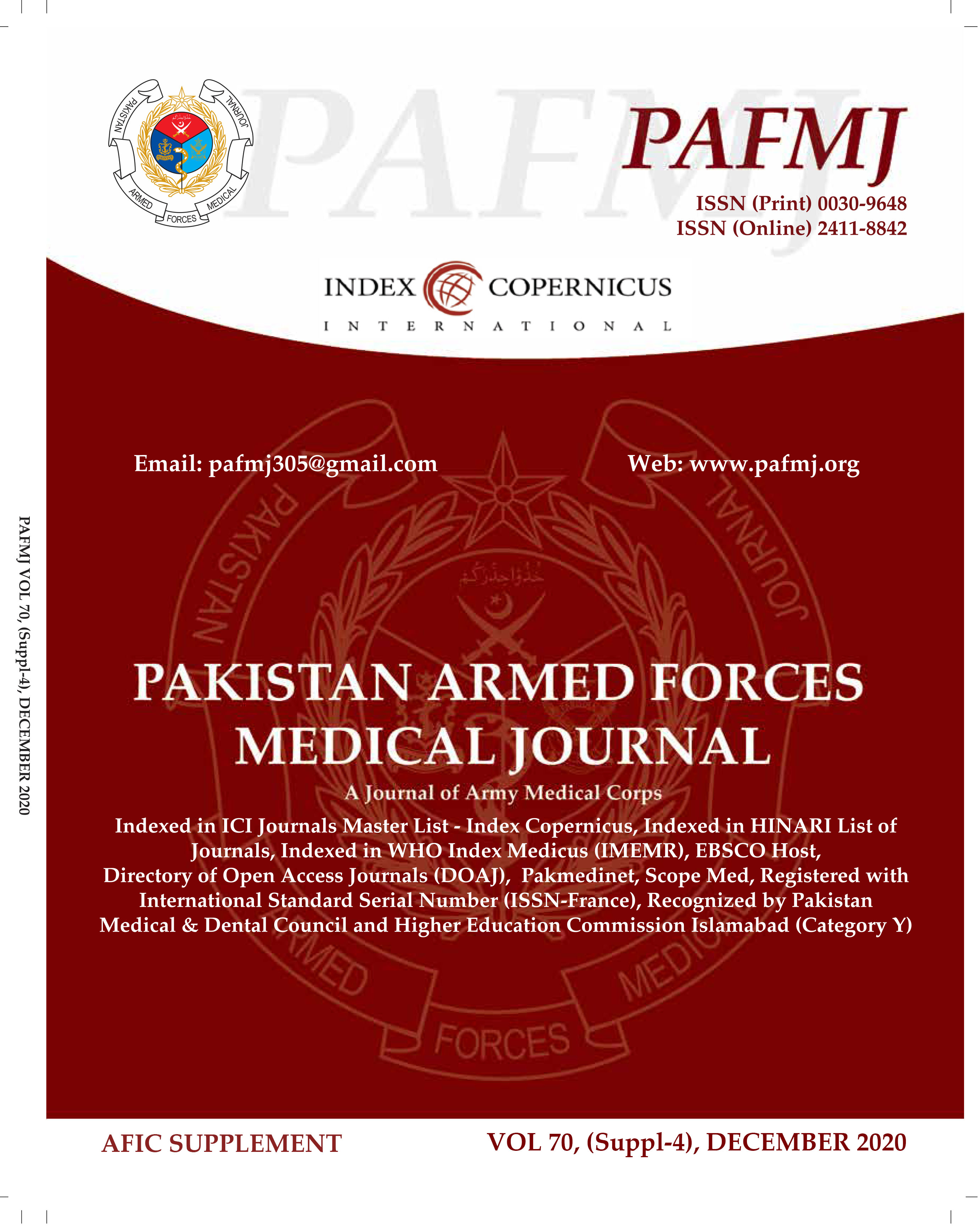 Downloads
How to Cite
Parveen, S., Awan, S., Rabbani, F., Pervaiz, F., Khan, A., Khan, F. A., … Kausar, N. (2021). IMPACT OF COVID-19 ON MENTAL HEALTH OF HEALTHCARE WORKERS DURING PANDEMIC; AN EXPERIENCE AT A TERTIARY CARDIAC CARE SET UP. Pakistan Armed Forces Medical Journal, 70(Suppl-4), S838–42. https://doi.org/10.51253/pafmj.v70iSuppl-4.6035
Section
Original Articles