FREQUENCY OF ACUTE KIDNEY INJURY AMONG PATIENTS UNDERGOING CORONARY ANGIOGRAPHY
Sajid Khan

Armed Forces Institute of Cardiology/National Institute of Heart Disease (AFIC/NIHD)/National University of Medical Sciences (NUMS) Rawalpindi Pakistan

Abdul Hameed Siddiqui

Armed Forces Institute of Cardiology/National Institute of Heart Disease (AFIC/NIHD)/National University of Medical Sciences (NUMS) Rawalpindi Pakistan

Ariz Samin

Armed Forces Institute of Cardiology/National Institute of Heart Disease (AFIC/NIHD)/National University of Medical Sciences (NUMS) Rawalpindi Pakistan

Syed Hassan Mustafa

Ayub Teaching Hospital Abbottabad Pakistan

Akhtar Gul

Armed Forces Institute of Cardiology/National Institute of Heart Disease (AFIC/NIHD)/National University of Medical Sciences (NUMS) Rawalpindi Pakistan

Muhammad Waqas Mazhar

Armed Forces Institute of Cardiology/National Institute of Heart Disease (AFIC/NIHD)/National University of Medical Sciences (NUMS) Rawalpindi Pakistan
Keywords:
Acute kidney injury, Contrast induced nephropathy, Creatinine, Myocardial infarction
Abstract
Objective: To determine the frequency of acute kidney injury among patients undergoing coronary angiography.
Study Design: Descriptive cross-sectional study.
Place and Duration of Study: Department of Cardiology, Hayatabad Medical Complex, Peshawar, from Jan 2018 to Jul 2018.
Methodology: This study was conducted in the in the Department of Cardiology, Hayatabad Medical Complex, Peshawar from 22nd Jan 2018 to 22nd Jul 2018. Through a descriptive cross-sectional study design, a total of 116 patients scheduled for coronary angiography were included in the study in a consecutive manner and baseline / follow up serum creatinine was recorded to detect acute kidney injury.
Results: In this study 116 patients were included, 61.2% males and 38.8% females. Mean age of the patients was 55.6 years with a standard deviation of 6.6 years. Mean baseline serum creatinine level was 0.9 ± 0.11mg/dl which was 1.5 ± 0.11 48 hours after coronary angiography (p 0.000). AKI was recorded in 19.8% of patients.
Conclusion: Acute kidney injury after coronary angiography is not uncommon in our population. More studies are recommended on its risk factors and complications to draw future directions for its control and prevention.
Downloads
Download data is not yet available.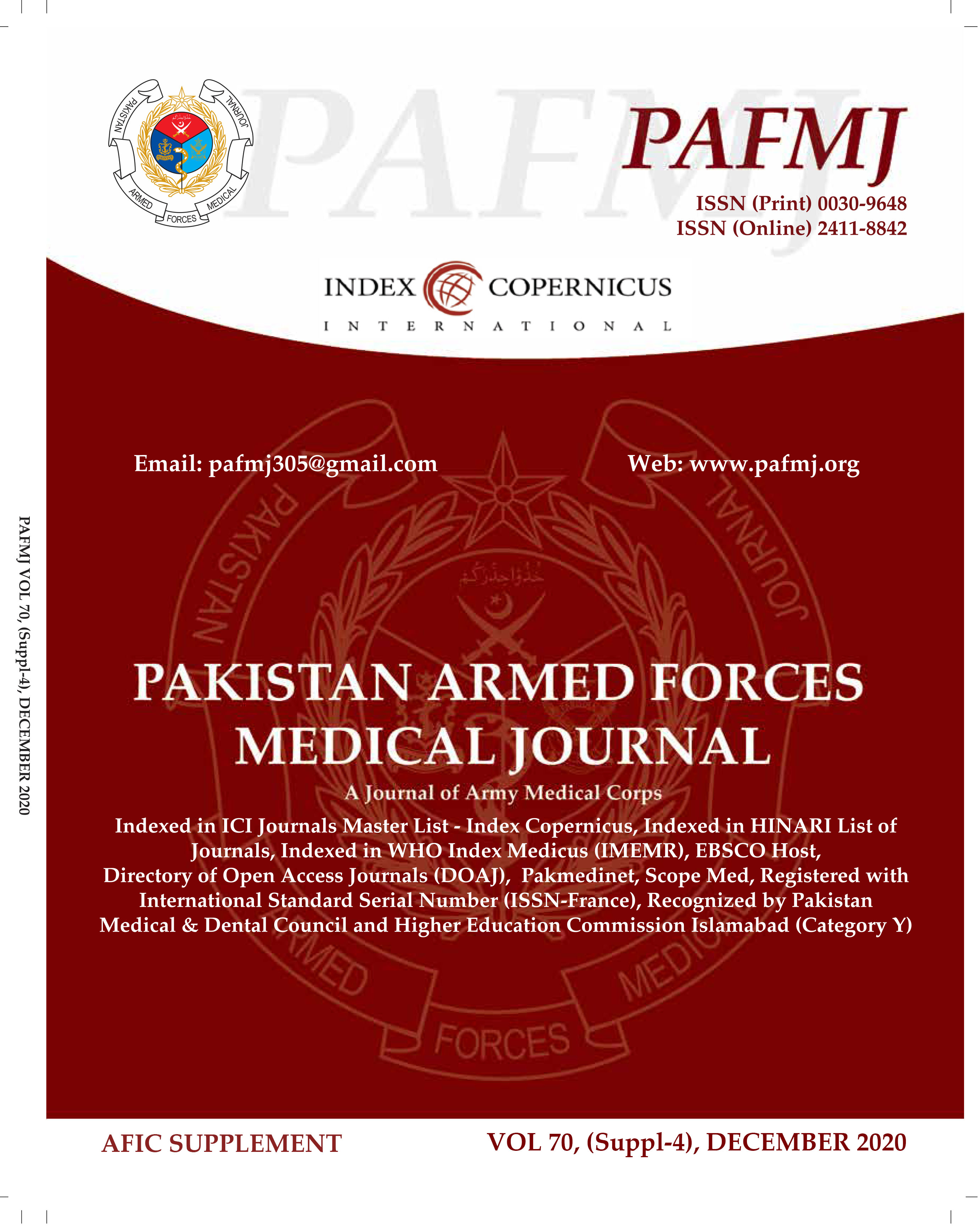 How to Cite
Khan, S., Siddiqui, A., Samin, A., Mustafa, S., Gul, A., & Mazhar, M. (2021). FREQUENCY OF ACUTE KIDNEY INJURY AMONG PATIENTS UNDERGOING CORONARY ANGIOGRAPHY. Pakistan Armed Forces Medical Journal, 70(Suppl-4), S828-32. https://doi.org/10.51253/pafmj.v70iSuppl-4.6033
Section
Original Articles