IN-HOSPITAL EARLY COMPLICATIONS IN DIABETICS VS NON DIABETICS WITH ACUTE ST ELEVATION MYOCARDIAL INFARCTION AGE GROUP 30-70 YEARS
Keywords:
Complications, Diabetic, In hospital, Mortality, Non-diabetic, Streptokinase
Abstract
Objective: To determine in hospital early complications in diabetics' vs non diabetics with acute ST elevation myocardial infarction.
Study Design: Comparative cross-sectional study.
Place and Duration of Study: The study was conducted in emergency departments and adult cardiology wards of Armed Forces Institute of Cardiology/National Institute of Heart Diseases, from Aug to Nov 2019.
Methodology: A comparative cross sectional study was conducted on 380 patients (190 patients with diabetes and 190 patients without diabetes) who presented with acute ST-Elevation MI in age group 30 to 70 years to emergency department of Armed Forces Institute of Cardiology/National Institute of Heart Disease during specified period. Patients with rescue PCI and new onset of LBBB were also included. Patients with age group lesser than 30 years or greater than 70 years with STEMI were excluded. Sampled with consecutive non probability technique in patients was assessed with ECG, cardiac enzymes, transthoracic echocardiography, renal Doppler and RFTs. All patients were admitted in wards and were followed up during hospital stay. Patients were evaluated and their record of Primary PCI and thrombolysis was also noted. Data was entered and analyzed with SPSS-23.
Results: A total of 380 patients with STEMI were included in this study consisting of 292 (76.8%) male and 88 (23.1%) female from 30 to 70 years. The patients were divided in two groups i.e. diabetic and non-diabetic, 190 patients were included in each group. It was found that frequency of ST-Elevation MI was higher in diabetic group as compared to non-diabetic group. All the patients were analyzed for complications occurred after STElevation MI. LV failure, Brady arrhythmias, atrial fibrillation, post MI angina and cardiogenic shock were the main complications noted. It was found that all these complications are more in diabetic group post MI angina which occurred most frequently in non-diabetic group.
Conclusion: In our study we observed that left ventricular failure and arrhythmias were the major complications. Mortality was higher in diabetic patients than non-diabetic patients. In both groups PPCI and SK reduced mortality. Post MI angina were found more frequent in non-diabetic group.
Downloads
Download data is not yet available.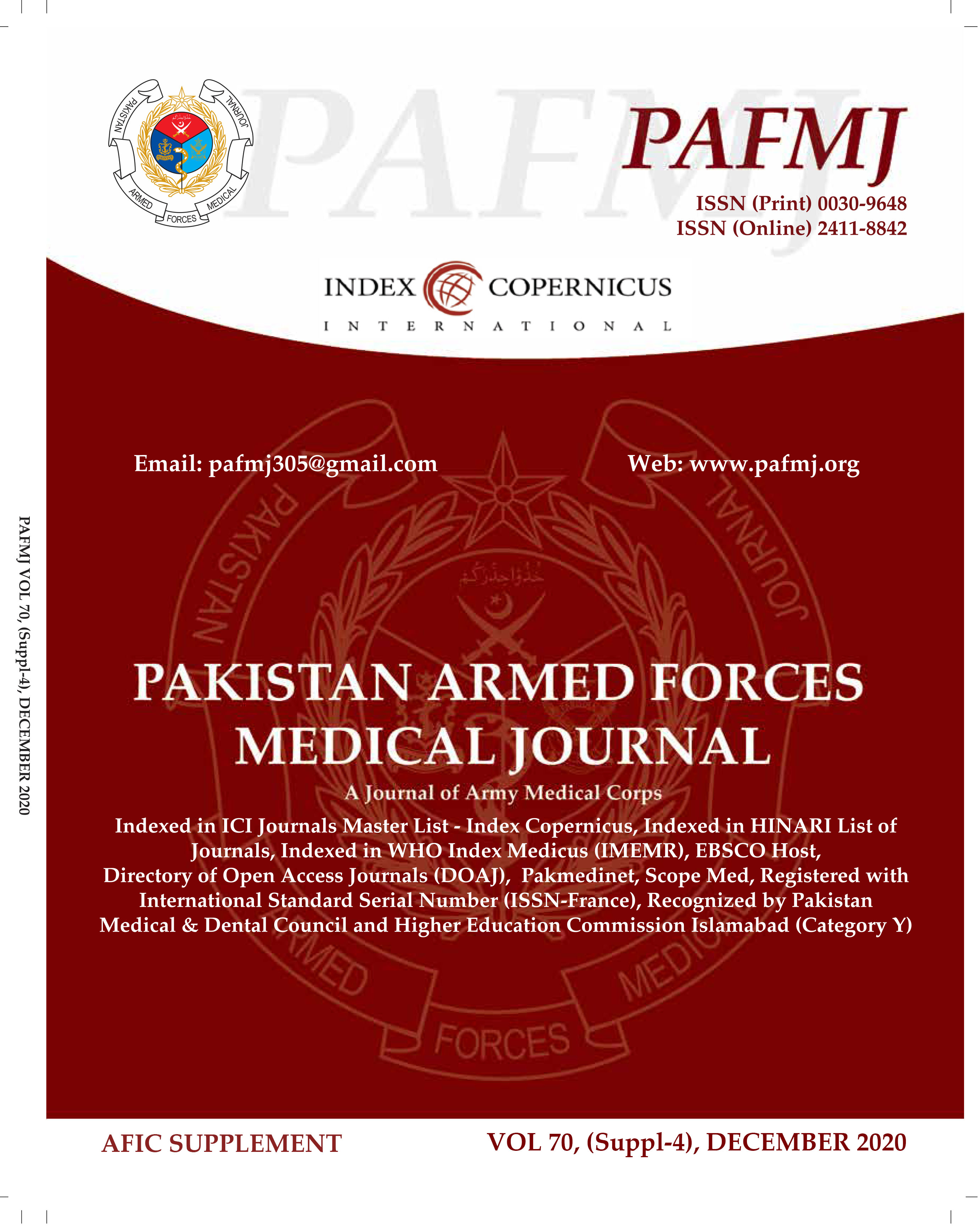 Downloads
How to Cite
Khan, G., Khan, I. A., Khan, F. A., Farhan, S., Kamran, J., Janjua, A. F., … Siddiqui, A. H. (2021). IN-HOSPITAL EARLY COMPLICATIONS IN DIABETICS VS NON DIABETICS WITH ACUTE ST ELEVATION MYOCARDIAL INFARCTION AGE GROUP 30-70 YEARS. Pakistan Armed Forces Medical Journal, 70(Suppl-4), S576–80. https://doi.org/10.51253/pafmj.v70iSuppl-4.6023
Section
Original Articles