FREQUENCY OF UNIDENTIFIED DIABETES MELLITUS IN PATIENTS WITH ACUTE MYOCARDIAL INFARCTION
Amna Rashdi

Army Cardiac Center Lahore/National University of Medical Sciences (NUMS) Pakistan

Jahanzab Ali

Army Cardiac Center Lahore/National University of Medical Sciences (NUMS) Pakistan

Ayaz Ahmed

Army Cardiac Center Lahore/National University of Medical Sciences (NUMS) Pakistan

Syed Khurram Shahzad

Army Cardiac Center Lahore/National University of Medical Sciences (NUMS) Pakistan

Khurram Shahzad

Army Cardiac Center Lahore/National University of Medical Sciences (NUMS) Pakistan

Ahmad Usman

Army Cardiac Center Lahore/National University of Medical Sciences (NUMS) Pakistan
Keywords:
Acute myocardial infarction, Cardiovascular disease, Unidentified diabetes
Abstract
Objective: To determine the frequency of unidentified Diabetes Mellitus in Acute Myocardial Infarction.
Study Design: Descriptive cross-sectional study.
Place and Duration of Study: Army Cardiac Centre Lahore, Lahore, from Jan 2020 to Feb 2020.
Methodology: Patients (male and females) with acute myocardial infarction both ST Elevation MI and non-ST Elevation MI presenting to cardiac centre were included through consecutive non probability sampling technique. Patients with gestation diabetes mellitus and diabetes type I were excluded. Data was collected through detailed questionnaire covering the necessary variables. Distribution of unrecognized diabetes in these patients were determined through Blood Sugar Fasting and HBA1c levels undersigned by the classified Pathologist.
Results: Over the study period, a total of 150 patients were included. 68.6% were males with 40.6% patients suffering from STEMI and 28% with NSTEMI. Among 31.2% females, 12.6% patients had STEMI and 18.6% had NSTEMI. Out of total patients, 40% were known case of diabetes, 26.6% were newly diagnosed diabetics, normoglycemic were 23.3% and impaired fasting blood glucose levels was present in 10% patients. Total 40 (26.6%) patients were those who were first diagnosed diabetes during admission for acute MI management. In unidentified diabetic group STEMI was more common than NSTEMI with male predominance.
Conclusion: There is a high frequency of unrecognized diabetes mellitus in patients with acute Myocardial infarction in our population. Therefore, in high risk patients for ischemic heart disease, screening for diabetes is routinely suggested to take timely preventive efforts and avoid complications.
Downloads
Download data is not yet available.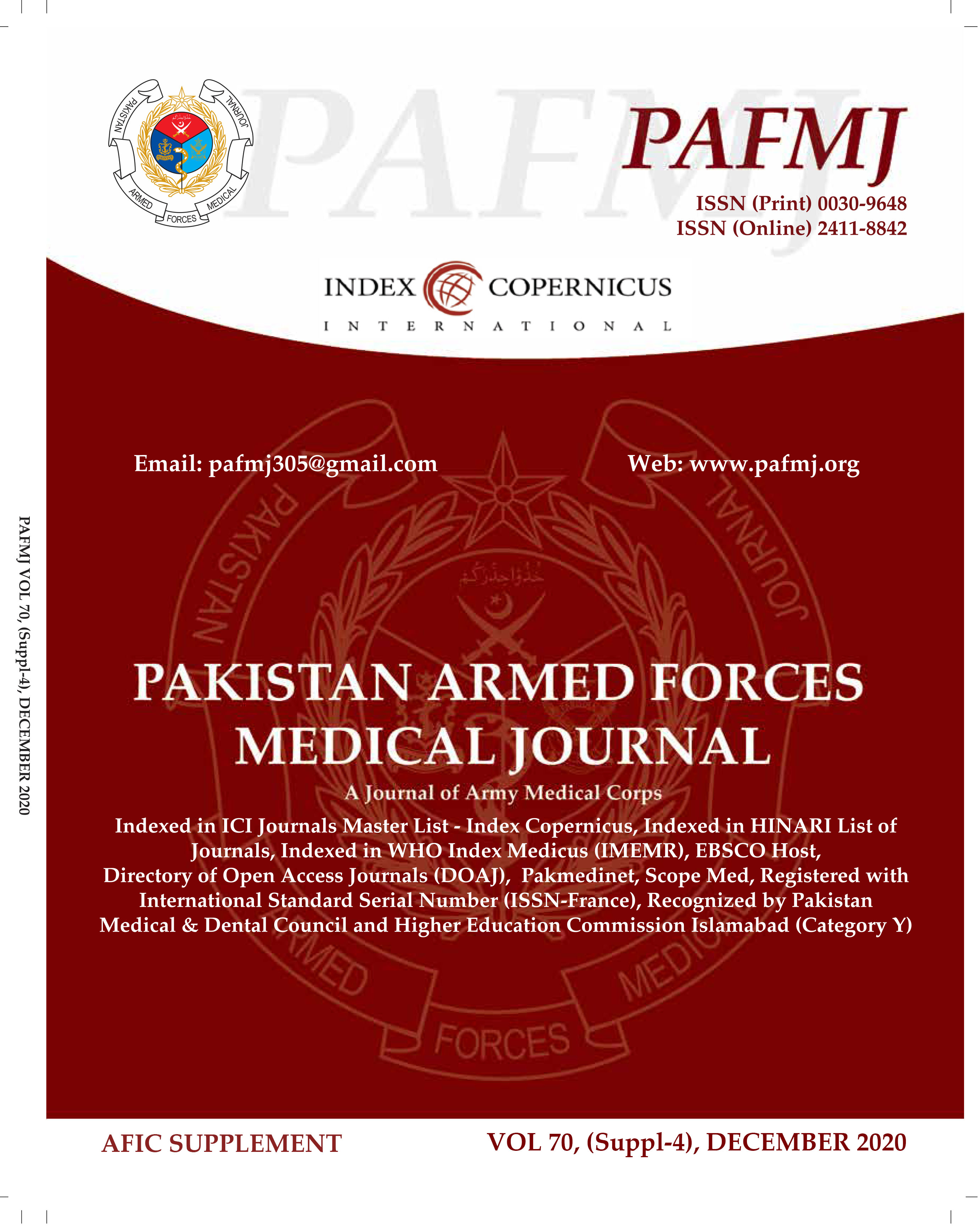 How to Cite
Rashdi, A., Ali, J., Ahmed, A., Shahzad, S., Shahzad, K., & Usman, A. (2021). FREQUENCY OF UNIDENTIFIED DIABETES MELLITUS IN PATIENTS WITH ACUTE MYOCARDIAL INFARCTION. Pakistan Armed Forces Medical Journal, 70(Suppl-4), S731-36. https://doi.org/10.51253/pafmj.v70iSuppl-4.6014
Section
Original Articles