COMPARISON OF INTRAVENOUS VERSUS INTR-ARTERIAL HEPARIN FOR THE PREVENTION OF RADIAL ARTERY OCCLUSION DURING TRANSRADIAL CORONARY ARTERY CATHETHERIZATION
Waqas Khalid

Armed Forces Institute of Cardiology/National Institute of Heart Disease (AFIC/NIHD)/National University of Medical Sciences (NUMS) Rawalpindi Pakistan

Mohsin Saif

Armed Forces Institute of Radiology & Imaging/National University of Medical Sciences (NUMS) Rawalpindi Pakistan

Aliya Halim

Armed Forces Institute of Cardiology/National Institute of Heart Disease (AFIC/NIHD)/National University of Medical Sciences (NUMS) Rawalpindi Pakistan

Anam Fatima Janjua

Armed Forces Institute of Cardiology/National Institute of Heart Disease (AFIC/NIHD)/National University of Medical Sciences (NUMS) Rawalpindi Pakistan

Kumail Abbas Khan

Armed Forces Institute of Cardiology/National Institute of Heart Disease (AFIC/NIHD)/National University of Medical Sciences (NUMS) Rawalpindi Pakistan

Amer Rauf

Armed Forces Institute of Cardiology/National Institute of Heart Disease (AFIC/NIHD)/National University of Medical Sciences (NUMS) Rawalpindi Pakistan

Zohair Aziz

Armed Forces Institute of Cardiology/National Institute of Heart Disease (AFIC/NIHD)/National University of Medical Sciences (NUMS) Rawalpindi Pakistan

Sohail Aziz

Armed Forces Institute of Cardiology/National Institute of Heart Disease (AFIC/NIHD)/National University of Medical Sciences (NUMS) Rawalpindi Pakistan
Keywords:
Angiography, Heparin, Intra-arterial, Intravenous, Radial
Abstract
Objective: To determine the relative efficacy of intravenous heparin as compared to intra-arterial heparin used during transradial coronary angiography for the prevention of radial artery occlusion.
Study Design: Comparative cross-sectional study.
Place and Duration of Study: Study was conducted at the Department of Cardiology, AFIC/NIHD Rawalpindi, Pakistan, from Jul 2019 to Dec 2019.
Methodology: A total number of 144 patients were considered for the study using the consecutive sampling technique who were undergoing diagnostic coronary angiography. Patients were divided into the intra-arterial group (n=72) who received 50 IU/kg of unfractionated heparin (maximal dose 5,000 U) intra-arterially, and an intravenous group (n=72) received the similar dose through intravenous route. All patients were administered 100 mcg of nitroglycerin to minimize radial artery spasm. Coronary Angiography was performedusing a 6F introducer sheath and diagnostic catheters. Early radial artery occlusion (RAO) at 24 hours after the procedure was detected by performing the plethysmographic (reverse Barbeau's) and doppler USG evaluation. Chronic RAO was assessed 30 days after the procedure by performing the same tests. Data was collected through a predesigned proforma and analyzed using SPSS 23. A p-value of less than 0.05 was considered as significant.
Results: Early RAO was found in 4 (5.6%) of the patients from the intra-arterial groupand 5 (6.9%) of the intravenous group. The difference was found to be statistically insignificant (p-value 0.731). Chronic RAO was observed in 3 (4.4%) of the intra-arterial group as compared to 4 (6%) of the intravenous group. This difference was also statistically insignificant (p-value 0.683) for chronic RAO.
Conclusion: Intra-arterial and intravenous heparin administration providedsimilar efficacy to prevent RAO.
Downloads
Download data is not yet available.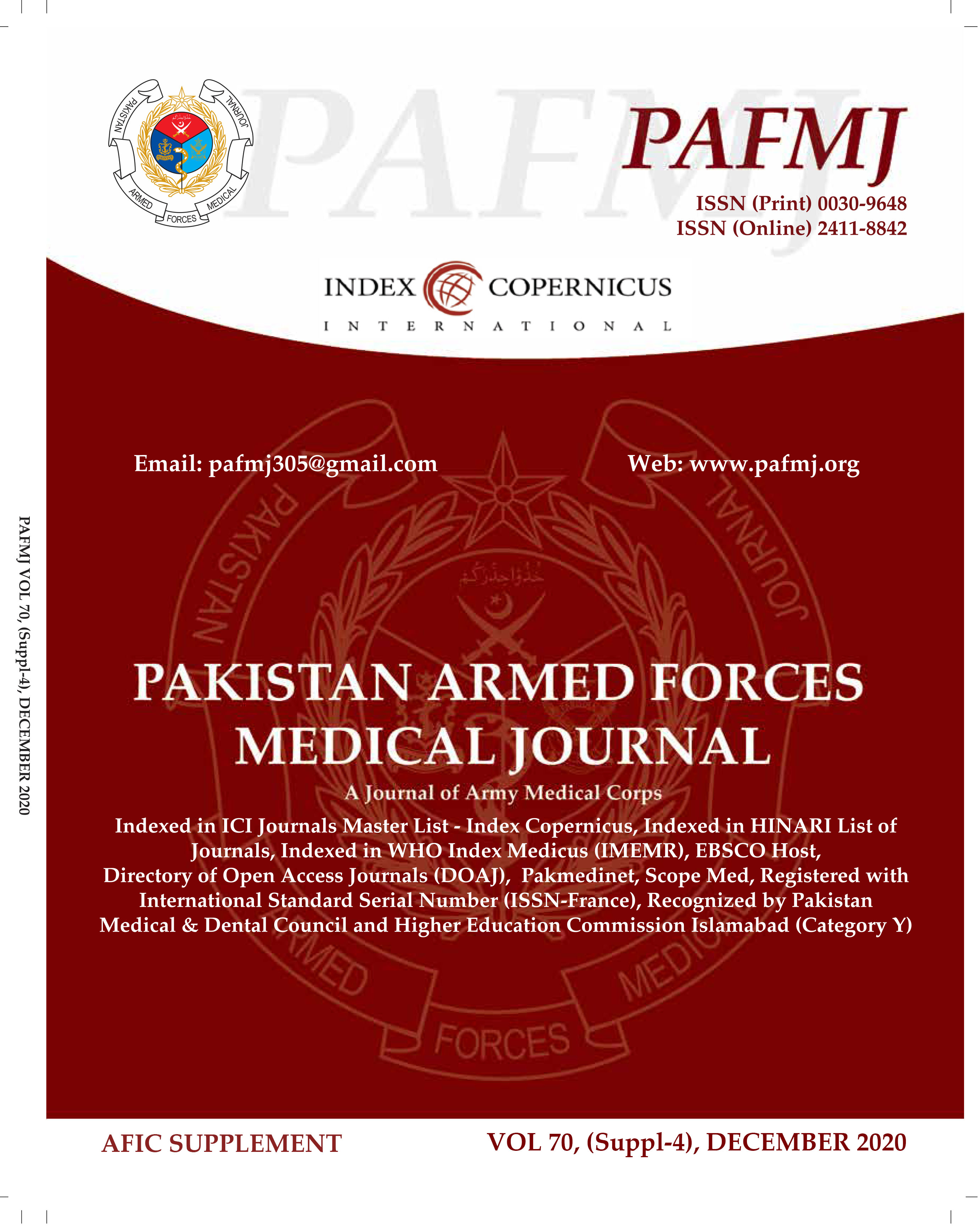 How to Cite
Khalid, W., Saif, M., Halim, A., Janjua, A., Khan, K., Rauf, A., Aziz, Z., & Aziz, S. (2021). COMPARISON OF INTRAVENOUS VERSUS INTR-ARTERIAL HEPARIN FOR THE PREVENTION OF RADIAL ARTERY OCCLUSION DURING TRANSRADIAL CORONARY ARTERY CATHETHERIZATION. Pakistan Armed Forces Medical Journal, 70(Suppl-4), S710-14. https://doi.org/10.51253/pafmj.v70iSuppl-4.6005
Section
Original Articles