ENHANCED RECOVERY PATHWAYS (ERAS) IMPLEMENTATION IN MINIMALLY INVASIVE ESOPHAGECTOMY; AN EARLY EXPERIENCE
Keywords:
ERAS, Minimally invasive esophagectomy, Perioperative care, Postoperative outcome
Abstract
Objective: To evaluate the impact of enhanced recovery pathways (ERAS) on hospital stay and postoperative outcomes in patients undergoing minimally invasive esophagectomy in comparison to conventional pathway.
Study Design: Quasi experimental study.
Place and Duration of Study: Thoracic Surgery Department, Combined Military Hospital Rawalpindi Pakistan, from Jul 2018 to Mar 2020.
Methodology: A total of 80 patients who underwent minimally invasive esophagectomy were divided in two groups. Group A underwent ERAS pathway and group B underwent conventional pathway. Both groups were compared for demographic characteristics, mean ICU stay, length of hospital stay, commencement of oral intake, and time of chest drain removal, readmission rates, postoperative morbidity and mortality.
Results: There was no significant difference in age, gender and diagnostic indication among both groups. ERAS group was found to have shorter mean ICU stay (1.18 ± 0.55 vs 2.06 ± 1.10 days p<0.012), shorter hospital stay (7.50 ± 1.23 vs 11.6 ± 3.65 days, p<.001), earlier commencement of oral feeding (4.30 ± 1.41 vs 9.10 ± 4.26 days, p<0.001) and early removal of chest drains (3.22 ± vs 4.11 ± 1.52 p<0.001); when compared to conventional group. Overall morbidity in ERAS group was 50 (40%) versus 65% (81.25%) in conventional group. Mortality was same in both groups (2.5%). There was no readmission in ERAS group.
Conclusion: ERAS in minimally invasive esophagectomy is safe and has positive impact on postoperative outcomes with marked reduction in overall morbidity in comparison to conventional regime. Results can be enhanced by ensuring better compliance to its.......
Downloads
Download data is not yet available.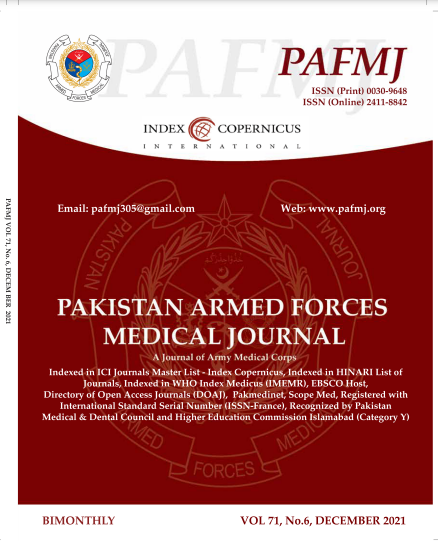 Downloads
How to Cite
Riaz, A., Umair, B., Asghar, A., Khan, M. I., Khan, R., & Bilal, A. (2021). ENHANCED RECOVERY PATHWAYS (ERAS) IMPLEMENTATION IN MINIMALLY INVASIVE ESOPHAGECTOMY; AN EARLY EXPERIENCE. Pakistan Armed Forces Medical Journal, 71(6), 2082–86. https://doi.org/10.51253/pafmj.v6i6.5943
Section
Original Articles