STRESS AND AGE AS PREDICTORS OF POOR FAMILY RELATIONS AMONG FEMALE HEALTHCARE PROFESSIONALS
Nazia Mustafa

General Headquarter, Rawalpindi Pakistan

Tahir Sardar

Army Medical College/National University of Medical Sciences (NUMS) Rawalpindi Pakistan

Najm Us Saqib Khan

Naval Headquarter Islamabad Pakistan

Muhammad Naveed Akhtar

Army Medical College/National University of Medical Sciences (NUMS) Rawalpindi Pakistan

Javaria Mumtaz

Tehsil Headquarter Hospital, Arifwala Pakistan

Usama Bin Zubair

Pak Emirates Military Hospital/National University of Medical Sciences (NUMS) Rawalpindi Pakistan
Keywords:
Family Relations, Healthcare Professionals, Daily life Stress
Abstract
Objectives: The present study aimed to investigate the role of stress and age in managing family relations.
Study Design: Cross sectional study.
Place and Duration of Study: Public sector hospitals in Rawalpindi and Islamabad from May 2018 to June2018.
Methodology: A sample of 103females healthcare professionals (Doctors=15, Psychiatrists= 14, psychologists=29, Nurses=22 and Others = 23) (Married=53, unmarried=50) with mean age of 30years (range from 20to50years) were taken from various hospitals in Rawalpindi and Islamabad. Data was collected by using the Perceived Stress Scale and the Index of Family Relations.
Results: Results revealed significant positive correlation between age and poor family relations whereas correlation between stress and family relations is not significant. Regression analysis showed age as predictor of poor family relations. These findings were interpreted with the
support of literature.
Conclusion: It is concluded a work- family life balance should be achieved and presence of stress or mental health problems should be screened timely in order to manage them before it's too late.
Downloads
Download data is not yet available.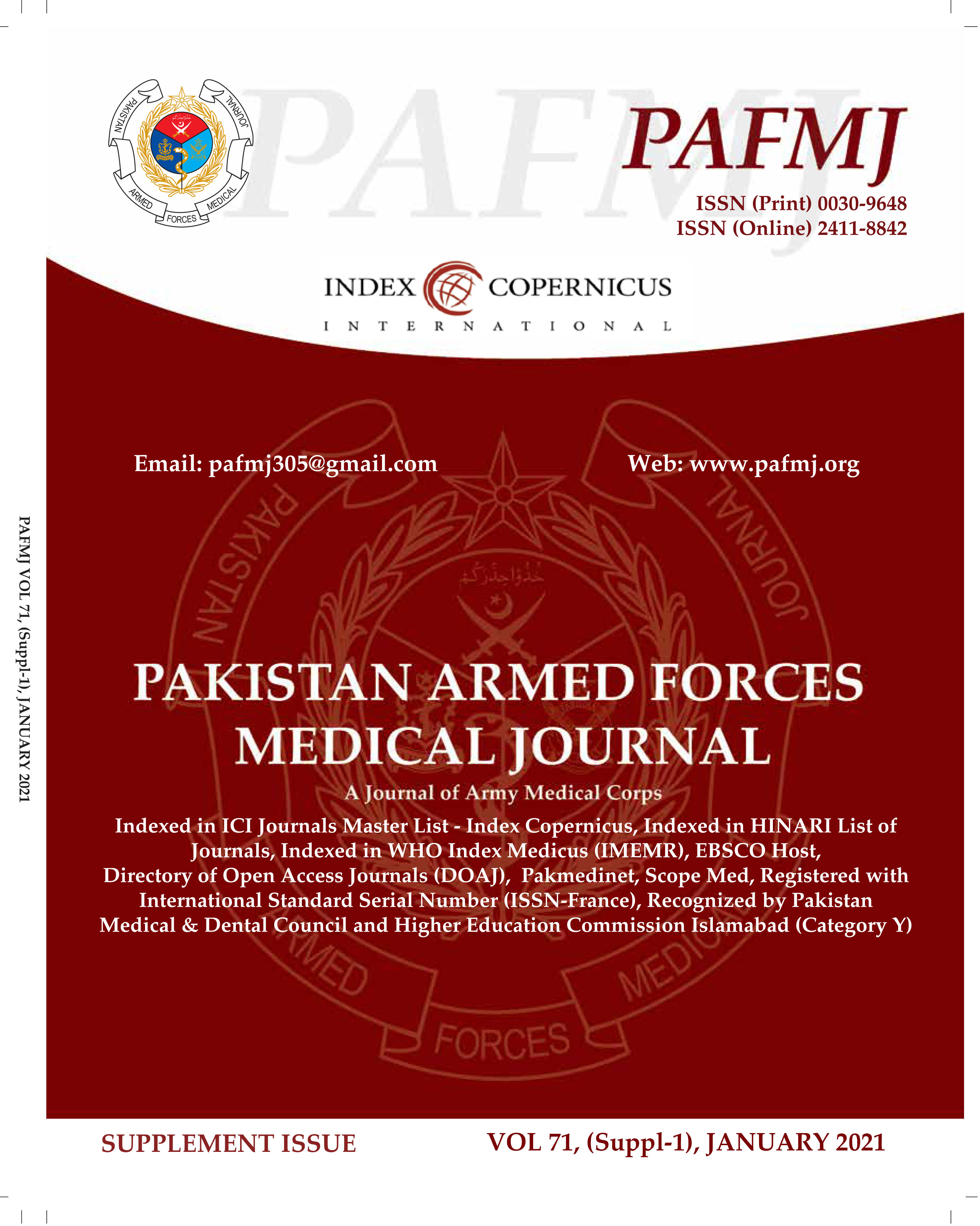 How to Cite
Mustafa, N., Sardar, T., Khan, N. U. S., Akhtar, M., Mumtaz, J., & Zubair, U. (2021). STRESS AND AGE AS PREDICTORS OF POOR FAMILY RELATIONS AMONG FEMALE HEALTHCARE PROFESSIONALS. PAFMJ, 71(Suppl-1), S19-22. https://doi.org/10.51253/pafmj.v71iSuppl-1.5914
Section
Original Articles